Jim Mora appears poised to close UCLA recruiting campaign with another flourish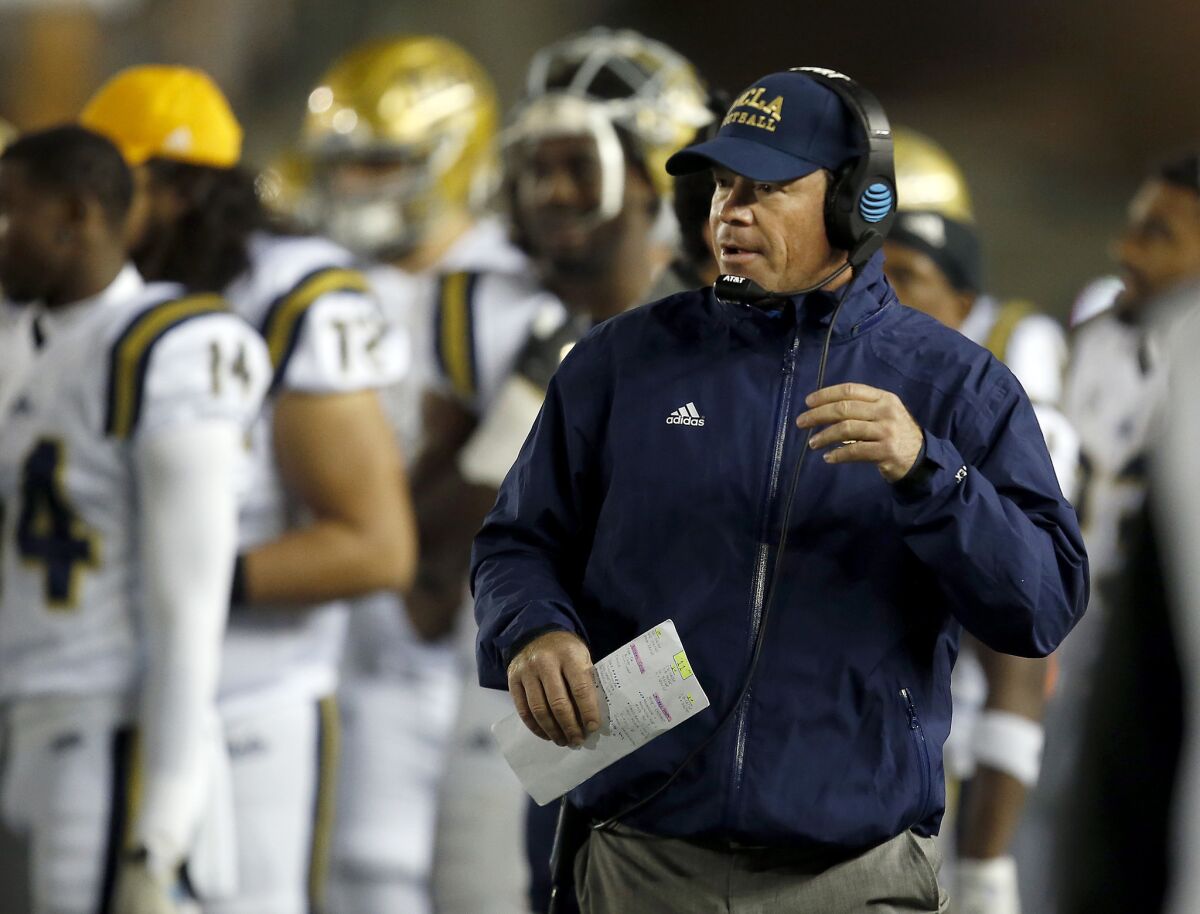 Jim Mora learned long ago how to pursue and close. It was part of what made him a scrappy defensive back at the University of Washington.
He has taken a similar approach to college football recruiting.
A late push has helped the UCLA coach secure commitments from what's shaping up as a top-25 recruiting class, even amid a recent coaching staff shake-up and lingering uncertainty about plans for the team's offense next season.
In the last two weeks, the Bruins have received commitments from cornerback Darnay Holmes from Calabasas High as well as defensive tackle Martin Andrus from Los Angeles High, linebacker Rahyme Johnson from L.A. Salesian High and tight end Moses Robinson-Carr from Antelope Valley High.
Johnson and Andrus trumpeted their commitments in a Bleacher Report video in which they appear to be kidnapped by masked marauders who force them into a van. The kidnappers later remove their masks to reveal themselves as Jaelan Phillips and Jaylan Shaw, also committed to UCLA, who have taken the players to the Rose Bowl.
"Are you ready to turn this thing around?" Phillips asks near the end of the video, which is a playful twist on a scene from the movie "Old School."
Mora has certainly changed the perception of a recruiting class that will officially become bound to the school on Feb. 1, national signing day for incoming freshmen. The Bruins have 14 players committed, including eight on the defensive side.
Finishing recruiting season with a flourish has become a tradition during Mora's UCLA tenure dating back to even before his first season, when he was hired in December 2011 and had only a few months to secure his first class.
"They've added elite players every single year in January and they always close well," said Brandon Huffman, director of recruiting for Scout.com. "The knock on them is, what would it be like if they recruited with this energy and enthusiasm the whole year, because they've always gotten the criticism of taking the summer off and that's always where the decommits happen or the curious offers. But then they close well every time."
Through a school spokesman, Mora declined to comment about his recruiting philosophy, but some people believe that ratcheting up recruiting efforts in the final weeks before signing day makes sense because it doesn't allow rivals to use negative recruiting tactics.
"It's pretty smart," Gardena Serra High Coach Scott Altenberg said. "When you have a kid who commits early, every other school knows who they're recruiting against. They're not recruiting against everybody, they're recruiting against you and your school. UCLA is much more comfortable saying, 'Don't commit, hold it in and we'll close late.' "
Altenberg noted that receiver Jordan Lasley and defensive back Brandon Burton, who went from Serra to UCLA, each committed late in the recruiting process, with Burton announcing his decision on signing day.
The Bruins have had the bulk of their recruiting success on defense. Holmes is widely considered the top cornerback prospect in the country and Phillips has been touted by recruiting experts as the best defensive end. Phillips and tight end Jimmy Jaggers have already enrolled at UCLA and are expected to participate in spring practice.
The results have been less impressive on offense, where the Bruins have secured commitments from only six players, including three offensive linemen, a particular area of need. Part of the problem could be uncertainty after the firing of Kennedy Polamalu led to the recent hiring of Jedd Fisch, UCLA's third offensive coordinator in as many years.
The Bruins also parted ways this week with offensive line coach Adrian Klemm and have not publicly announced who will coach their running backs or what role will be held by former quarterbacks coach Marques Tuiasosopo, whose duties were assumed by Fisch.
"What, exactly, is the scheme that they're going to run?" Huffman wondered. "They went in with the power mind-set at the beginning of the year, and by the end of the year they went back to more of the spread" after quarterback Josh Rosen suffered a season-ending shoulder injury.
Fisch said during his introductory teleconference with reporters that he believed in a diversified attack, but he didn't offer many specifics.
The ambiguity about UCLA's offensive plan appears to be felt by some recruits. Kanan Ray, a center from Chatsworth Sierra Canyon High who committed to the Bruins in March, said he texted Fisch after his hiring earlier this month but didn't know what system Fisch planned to implement.
"I think it's a pro-style; I'm not sure," Ray said. "I know whatever he's going to do, he's going to put us in a great situation."
Ray credited UCLA's coaching staff for remaining in constant touch even though he was the first player in his class to commit to the Bruins. UCLA's recent pursuit of other players hasn't made Ray feel neglected.
"I talk to those guys all the time," Ray said of the UCLA coaches. "They never lost contact with me."
Twitter: @latbbolch
ALSO
UCLA football commitments list grows
Adrian Klemm is out as UCLA's offensive line coach
A look at the UCLA-USC rivalry in 1970-71, the last time both won so many games to start a season
Get the latest on L.A.'s teams in the daily Sports Report newsletter.
You may occasionally receive promotional content from the Los Angeles Times.