Creator of UCLA's 'Frisbee Cheer' wants it halted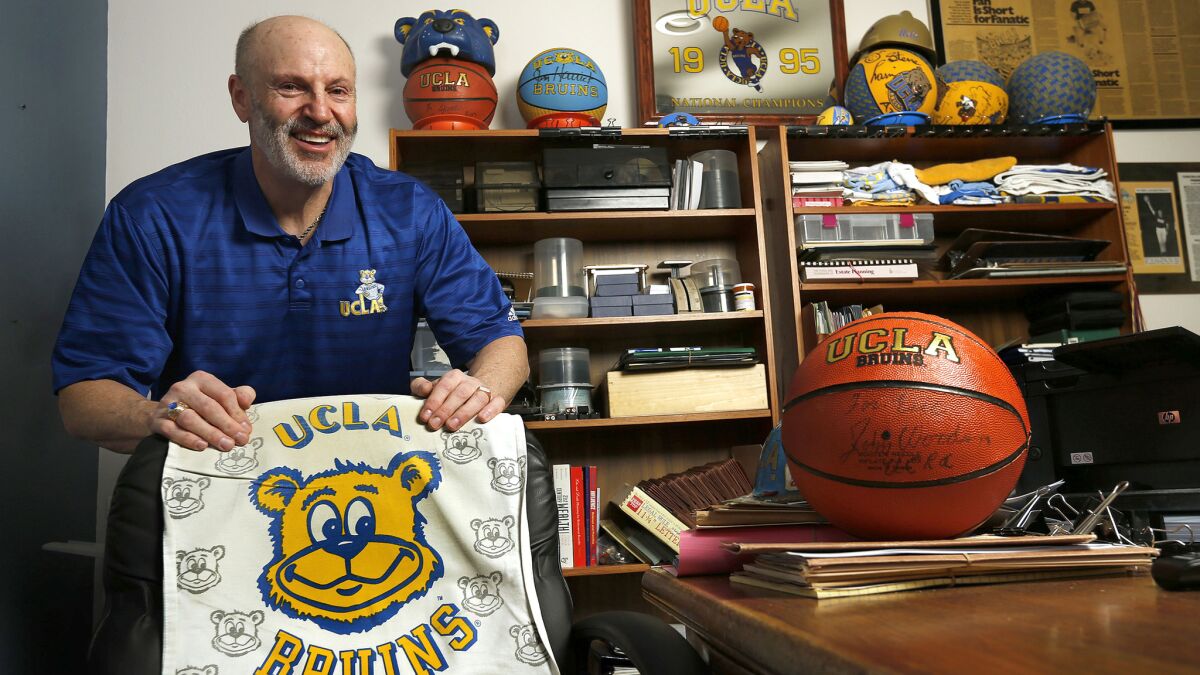 The loooooosing team could be UCLA in a dispute that has silenced the school's iconic basketball cheer.
A school spokesperson confirmed that Bruins alumnus Larry "Frisbee" Davis has asked for his pregame call-and-answer cheer to be halted for unspecified reasons. It was not conducted inside Pauley Pavilion on Thursday night before UCLA's 75-68 victory over Oregon State and its status remains in limbo heading into the Bruins' regular-season home finale against Oregon on Saturday.
Reached by telephone Friday, Davis declined to comment when asked about his request for the cheer to be stopped.
Davis, 62, told The Times last year that he was displeased with the way the cheer — which he invented more than 40 years ago — was being conducted by students, saying it was a hollow version of what was intended.
"It's terrible, absolutely terrible," Davis said last year. "Now the way they perform it, it's an afterthought. It's really an embarrassment. It's nothing compared to what I started and what it became."
Davis devised the cheer after legendary coach John Wooden retired in 1975 as a way to revive interest in UCLA basketball. He led it himself for roughly a quarter of a century and last performed it at a basketball game in 2011. In recent years it has been conducted exclusively by students.
Davis told The Times in 2017 that he had copyrighted the cheer, meaning UCLA needed his permission to conduct it.
Peter Duyshart, a former president of the UCLA student athletics organization known as the Den, said he hoped that Davis would reconsider and allow the cheer to resume.
"I'm sorry that it has actually come to this right now," said Duyshart, who was so taken by the cheer as a young UCLA fan that he memorized it in middle school. "It would be very sad and upsetting if a nationally recognized tradition suddenly ceased to exist. I know that Frisbee feels slighted and snubbed by athletics and the Den, and he has every right to express his perspective, concerns and disappointment with how he feels that his famous cheer is now done and performed.
"However, I always thought that we were carrying on Frisbee's legacy by continuing his cheer at every home game. I always kept in mind that it was his cheer."
Follow Ben Bolch on Twitter @latbbolch
---
Get the latest on L.A.'s teams in the daily Sports Report newsletter.
You may occasionally receive promotional content from the Los Angeles Times.