UCLA gymnast Katelyn Ohashi hopes to run the floor with her new Beyoncé-inspired routine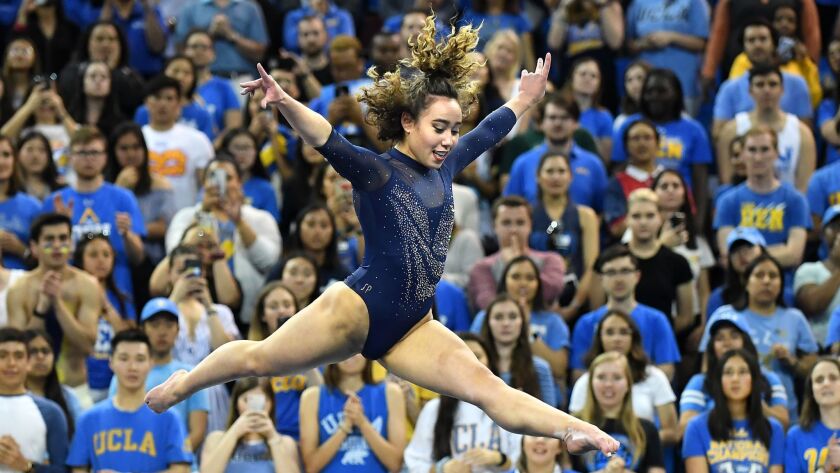 Reporting from WEST VALLEY CITY, Utah —
The word flowed freely as coach Valorie Kondos Field described Katelyn Ohashi's new floor routine, from the music to the message behind it.
Perfect.
Ohashi's new floor routine, which she will debut at the Pac-12 Championships on Saturday, is even more joyful than before, and even more quintessentially Katelyn Ohashi. Her tumbling passes, and the presence of songs by Tina Turner, remain constant. But her new routine spotlights songs by strong women — including Turner, Janet Jackson and Beyoncé.
"Who runs the world? Katelyn…" Kondos Field said, laughing. "Who runs the gymnastics world? Katelyn. It was perfect."
Ohashi beamed as she practiced it Friday, a wide, open-mouthed grin that punctuated every shimmy and head shake.
"It's been a blast," Ohashi said. "It's been so much fun."
Ohashi enters the Pac-12 Championships with the top-ranked floor routine in the nation, averaging 9.975 for the rotation.
Ohashi's old routine earned five perfect 10s and 117 million views online, the most of any sports video this year. Since it went viral she has appeared on "Good Morning America," "Access Hollywood" and Steve Harvey's talk show, and has gotten praise from Janet Jackson, Sophia Bush, Kamala Harris and others.
So why change?
"Because I can," Ohashi said, grinning.
It's not just different — it's harder. Ohashi added three straight illusions, flipping one outstretched foot 360 degrees while the other remains planted, and even more dancing.
UCLA alumna Ariana Berlin sent the new music to Kondos Field on March 12. They began choreographing last Friday.
"All of the things that I spend about three months doing with floor routines," Kondos Field said, "all the little nuances that make it pop, I've done with her in two weeks."
The change followed the release of "Leaving Neverland," in which two men accused Michael Jackson of child sexual abuse. Ohashi told ESPNW the documentary was "in the back of my mind." Kondos Field said removing Michael Jackson's music was a coincidence, but they stood behind it.
"When we got the music, it was like, 'OK, this is perfect,'" Kondos Field said. "Because she doesn't want anyone to not feel joy watching this."
Kondos Field agreed to the change because she saw the joy Ohashi's new routine evoked. And she loved Ohashi's message — of empowering women, finding joy and embracing a challenge. Neither Kondos Field nor Ohashi is concerned about whether the last-minute change will affect her score.This decision was never about winning.
Sign up for our daily sports newsletter »
---
Get the latest on L.A.'s teams in the daily Sports Report newsletter.
You may occasionally receive promotional content from the Los Angeles Times.