No one knows what kind of UCLA team we'll see in the Cactus Bowl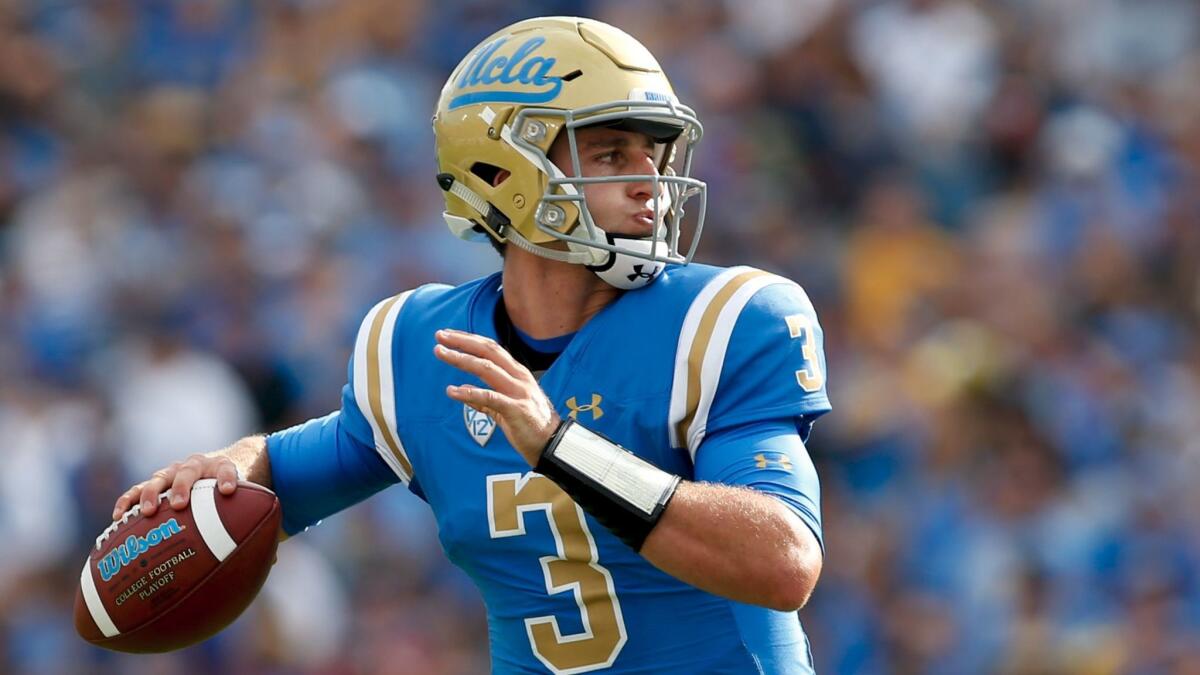 Reporting from Phoenix —
Like a desert sunset awash in soft shades of bluish purple and red, the hues of UCLA's football team are changing by the moment.
What you see now quickly melds into something different. Eventually it will fade to black, heralding the start of a new dawn.
Players and coaches repeatedly have said it's the 2017 UCLA Bruins who will face Kansas State in the Cactus Bowl on Tuesday before the Chip Kelly era fully gets underway. But these Bruins are quite unlike the ones who opened the season with so much promise.
Coach Jim Mora and two assistants are gone as a result of the team's fading fortunes. Seniors Darren Andrews, Matt Dickerson and Nate Starks have suffered season-ending injuries. Quarterback Josh Rosen might have played his final college game, as his availability to play against the Wildcats at Chase Field is uncertain after he suffered a concussion last month against California.
A victory over Kansas State would tie a nice post-Christmas bow on the Mora era while serving as further validation that interim coach Jedd Fisch is ready to become head coach at another major program, even if it requires one more stop as an offensive coordinator.
"We're playing for coach Mora and coach Fisch," Rosen said.
Of course, that is if Rosen can play. He leads the Pac-12 Conference and ranks third nationally with 341.5 passing yards per game, a number that would have been higher had he not sat out the Bruins' loss to Utah and missed most of two more games with concussions.
Rosen's injuries have prompted doctors to proceed carefully with a player who could be the No. 1 pick in the NFL draft should he choose to forgo his senior season. Rosen hopes the last image fans have of his UCLA career isn't him slamming his helmet to the field while seated on the bench after learning he would not return in the regular-season finale.
"It's just my second year in a row of not finishing the last game at the Rose Bowl for that given year," Rosen said of his reaction, "and that was frustrating but it's life. You deal with it. I just kind of needed to vent for a split-second and then gather it back together."
Rosen recently learned he set the UCLA single-season passing record after being credited with a 39-yard pass to Eldridge Massington against Arizona State that initially had been ruled a run. That gave Rosen 3,756 passing yards, surpassing Brett Hundley's 3,740 in 2012.
One thing Rosen has not done is lead his team to a bowl victory. The Bruins fell short in the 2015 Foster Farms Bowl against Nebraska before sitting at home last season in the wake of a 4-8 record that came as the result of Rosen missing the final six games because of a shoulder injury.
Rosen has gone 17-13 as a starter, a record that does not fully reflect his often exceptional play.
"We've had good years, we've had average years, we've had disappointing years, we've had injured years, we've had healthy years and then some in between," Rosen said. "So all of this is a learning process of how to deal with adversity."
Rosen started this season with a wink and a smile, a gesture captured by a Fox camera that seemed prophetic after the Bruins completed the biggest comeback in school history by wiping out a 34-point deficit during a 45-44 triumph over Texas A&M. But the defense that created the need for that epic rally ultimately was the team's undoing, forcing it to beat Cal just to reach .500 and become eligible for a bowl.
UCLA (6-6) will face a surging Kansas State team that has won four of its past five, including two victories in which the Wildcats (7-5) wiped out double-digit deficits in the fourth quarter as well as a triumph over then-No. 13 Oklahoma State.
If Rosen is unable to play, the Bruins likely will turn to redshirt freshman quarterback Devon Modster in what could be an audition for the starting job next fall. Modster was steady and efficient in leading the Bruins to their 30-27 victory over Cal, completing 14 of 18 passes for 191 yards in the second half.
Modster is expected to battle incoming freshman Dorian Thompson-Robinson to become the successor to Rosen, whenever that need arises.
UCLA could have as many as 18 starters returning next season, though Rosen isn't the only junior who might head to the NFL. Receiver Jordan Lasley, left tackle Kolton Miller, safety Adarius Pickett and cornerback Nate Meadors also must decide whether they want to be part of Kelly's first season as Bruins coach.
Fisch has called the run-up to the Cactus Bowl "championship week," a prelude to what the Bruins hope are even more meaningful titles under Kelly. UCLA has not won a conference championship since 1998 or a national championship since 1954.
"He wants to come in here and win championships," Pickett said of Kelly before refocusing on the present. "We're out here trying to win a championship right now."
Follow Ben Bolch on Twitter @latbbolch
Get the latest on L.A.'s teams in the daily Sports Report newsletter.
You may occasionally receive promotional content from the Los Angeles Times.