UCLA running back Bolu Olorunfunmi draws inspiration from his late father
Bolu Olorunfunmi hears the message before every game.
Sometimes he'll play it on his iPhone. If the UCLA tailback worries he might get too emotional, he'll just think about what was said. He long ago memorized every word from his father's final voicemail.
Sorry I can't make it to your game today. I'm proud of you. Everything you said you would do you have done, and I got to see it. Keep going and try to get as far as you can.
Olorunfunmi was surprised to find the voicemail on his phone after his father died in December 2015 because he usually deletes his messages. He had no reason to save this one because although he knew his father was fighting liver cancer, he didn't realize the disease was in its final stages.
"When he passed away," Olorunfunmi said Wednesday, "I just was like, wow, this is almost like it was meant for me to have because I usually don't keep my messages like that."
Peter Olorunfunmi would have turned 52 on Sunday, the day after his son will play in what amounts to a tribute game against Hawaii at the Rose Bowl during what he called "the weekend of remembrance."
Bolu started the Bruins' season opener against Texas A&M last week and struggled, gaining 31 yards in 10 carries. He also lost a fumble in the first quarter.
It's the kind of situation where the messages his father delivered long before that final voicemail resonate most.
"If there's one thing I learned from my dad," Bolu said, "it's that no matter the situation, you've just got to keep fighting through and have faith. You've got to work hard and things are not handed to you."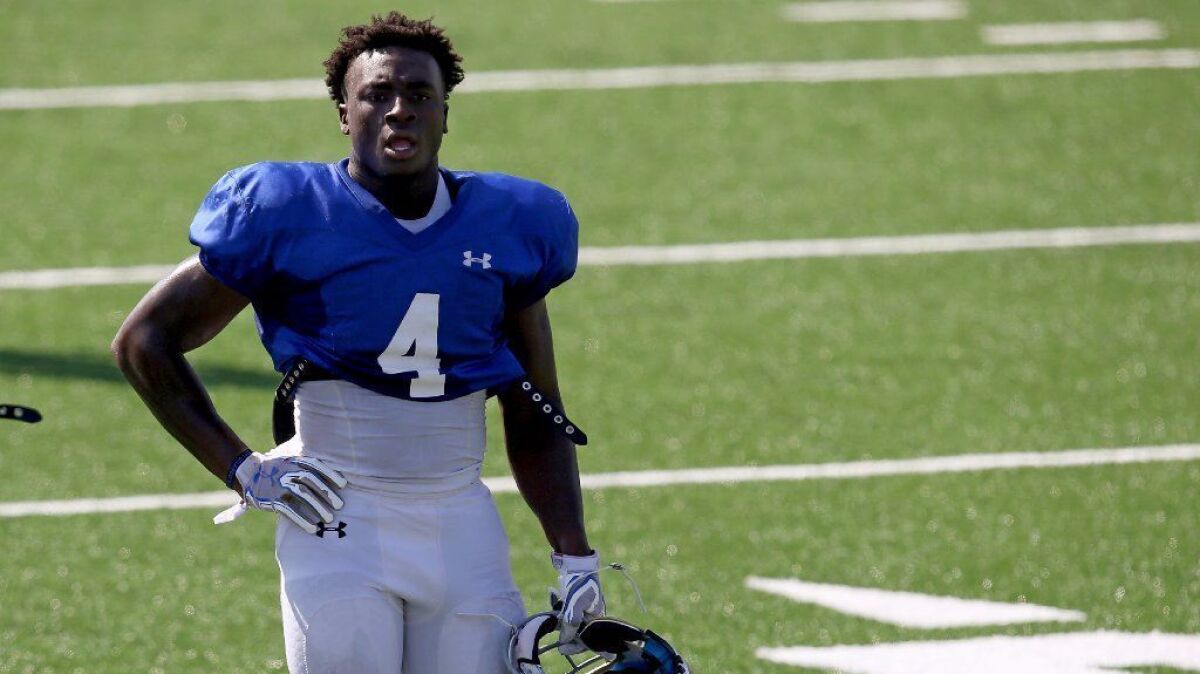 Bolu had that in mind this summer when the 5-foot-10, 215-pound junior shed several pounds while lowering his body fat to 9%. The body changes helped increase his speed and made him the top tailback during training camp.
Hard work has been a family signature for generations. The Olorunfunmis immigrated to the United States from Nigeria when Bolu was 2 after winning a visa lottery, settling in Fresno because they had relatives in the area. Peter worked as a civil engineer and also served as a pastor.
Then, in 2004, came the devastating diagnosis: Peter had cancer. Husband and wife initially hid the news from their four sons, not wanting to burden them with the thought that they might lose their father.
"Normally, according to our culture, if something like that is going on, we're not supposed to involve the kids too much so it doesn't affect them," said Mercillina Olorunfunmi, Bolu's mother. "But after a while, we had to let them know what was going on."
Bolu already knew some of the details because he had overheard his parents talking about the illness in their native language, which he understood. Peter underwent a liver transplant six years into the ordeal and went in and out of remission.
He continued to work even as the cancer spread, traveling to Southern California to see his son play as a freshman while suffering from shortness of breath. Mercillina pushed him around the Rose Bowl in a wheelchair equipped with an oxygen tank on his final trip.
"As God would have it, sometimes whenever we got to UCLA, I think it was a little bit better for his breathing so he doesn't use the oxygen," Mercillina said. "So I was really, really happy that he was able to witness [Bolu] playing before he passed."
Peter left the voicemail on his son's phone not long after his last trip to the Rose Bowl. Bolu didn't discover the extent of his father's sickness until he received a phone call after completing final exams during the fall of his freshman year. He heard crying in the background and was told to come home.
Bolu made it in time, getting to say goodbye to his father in person. A GoFundMe page established to help offset funeral expenses received more than $13,500 in donations. Even after Peter died, it was as if he was still looking out for Bolu, who had never seen his father cry or even tear up during his sickness.
"He prepared, he talked to the coaches," Mercillina said. "He told them, 'Please make sure that you take care of my son.' "
Mercillina continues to attend UCLA games, home and away. She cooks for other families, providing food at hotels whenever the team travels, and prays with Bolu before games.
"I don't want him to feel like, Daddy's not there, Mommy cannot do it," Mercillina said.
Mercillina said Bolu reminds her of her husband in that he's resilient but often hides his hurt.
"Sometimes he calls and he starts crying," Mercillina said. "But I told him it's the same for everyone. I know it's going to take a little bit of time for us to heal from this loss."
Last year, the Bruins played Nevada Las Vegas on Peter's birthday. Bolu tweeted a tribute to his father that day, including emojis of an angel and a balled fist to show that he was going strong.
"Happy birthday to my angel watching over me," the tweet said. "Love you and miss you."
Bolu delivered another tribute during the game, scoring on a one-yard touchdown run. He's hoping for more of the same this weekend against Hawaii after his usual pregame contemplation.
The voicemail from his father is saved on his iPhone 5, an outdated model Bolu intends to keep as long as he can because of its valuable contents. A message wrought with meaning includes a bit of levity.
"He ends the message saying, 'I'll put some money in your account,' " Bolu said. "I love having that message."
Follow Ben Bolch on Twitter @latbbolch
Get the latest on L.A.'s teams in the daily Sports Report newsletter.
You may occasionally receive promotional content from the Los Angeles Times.