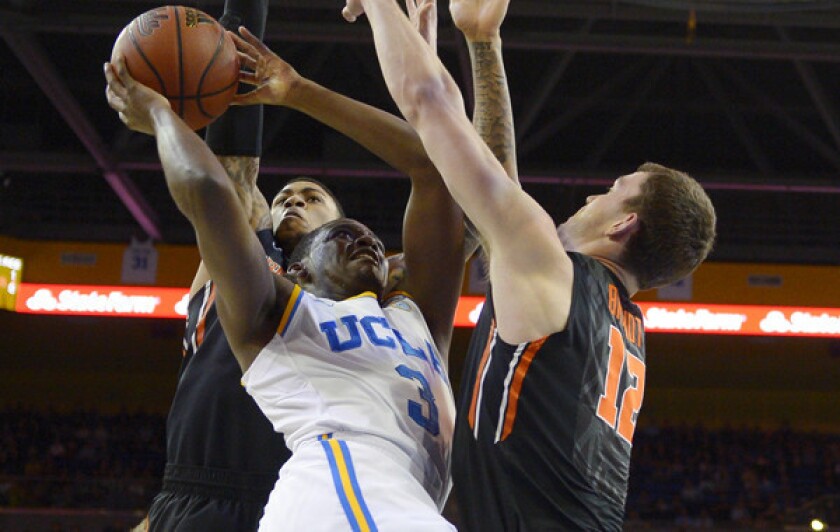 Some things were settled by halftime Sunday.
UCLA was not going to repeat as Pac-12 champion. Arizona clinched the conference regular-season title while the Bruins were sorting out issues in the locker room.
Some things were unsettling by halftime.
BOX SCORE: UCLA 74, Oregon State 69
Steve Alford, UCLA's always dapper-looking coach, ditched his jacket. That he didn't consider replacing it with a straitjacket was to his credit.
In the first half the Bruins showed why they've lagged so far behind Arizona in the standings. Then in the second half they showed why they could have taken the title chase further.
The 74-69 victory over Oregon State at Pauley Pavilion was a brow-wiper for the Bruins. The frustration was seen in Alford's appearance.
"I took off my jacket because it was an interesting halftime," Alford said. "I was not happy with our effort."
A month ago, after a loss to Oregon State in Corvallis, Alford chewed on the Bruins like a tough piece of steak. This time, he apparently wasn't willing to wait for a postgame postmortem.
The Bruins (22-7 overall, 11-5 in Pac-12 play) responded. They erased an 11-point second-half deficit and turned up some defensive pressure. Jordan Adams scored 20 of his 24 points after halftime. The Bruins made 11 of 12 free throws in the last 1 minute 13 seconds.
What it got them was second place.
Arizona's 79-66 victory over Stanford eliminated the Bruins' slim chance of sharing the title. As a consolation prize, the victory over Oregon State assured them of a first-round bye in the conference tournament.
"It's tough," UCLA forward Travis Wear said. "Arizona's a great team. We wanted to compete with them for the conference title. We're in second place. It's not bad, but we want to meet them again in the Pac-12 tournament."
There is work to do before then.
The Bruins play at Washington on Thursday and close the regular season at Washington State on Saturday.
"This is getting ready for the conference tournament, and also building our resumes for the NCAA tournament," Wear said.
Both tournaments will require the Bruins to improve their inside play.
The Beavers (15-13, 7-9) had the type of physical inside presence that is difficult for the Bruins. They can match the length, but not the banging inside.
Oregon State repeatedly went inside to build a 38-29 halftime lead.
Then the jacket came off, though in a gentlemanly manner.
"I like my clothing, so I didn't throw it," Alford said. "I just took it off and hung it on a chair."
Said Adams: "I didn't really notice."
That was fine. Listening was the important thing.
"Coach told us the defense had to be better, we had to take better shots, we had to run the offense they called, we had to stop trying to create on our own," Wear said. "It was pretty much everything."
The Bruins handled most of that to-do list.
It helped that this was Oregon State.
UCLA went 4 minutes 15 seconds without scoring late in the second half. Oregon State was able to shave only one point off a six-point deficit.
On some possessions, the Beavers looked like a legitimate NCAA tournament team. On others, they looked like an eighth-grade P.E. class.
The Beavers had 16 turnovers. A handful of them were unforced; the others were UCLA's 11 steals. Kyle Anderson had four, to go with his 14 points, nine rebounds and five assists.
The Bruins scored 20 points off turnovers. The Beavers scored five.
"I thought the effort we had in the second half was who we are," Alford said. "We got steals, which ignited our transition game. We got to the free-throw line. We ran the offense better."
All it took was a little disrobing.
Twitter: @cfosterlatimes
---