UCLA's season-opening opponent is just as much of a mystery as the Bruins
The team intends to play faster, winning at warp speed after consecutive losing seasons.
The quarterback situation is muddled, a more experienced candidate trying to hold off a freshman upstart for the starting job.
The expectations remain low, the media predicting a fourth-place finish in the division.
That's probably enough of a scouting report on the team UCLA will play in its season opener.
The Bruins and Cincinnati Bearcats will share more than the Rose Bowl field Saturday, both teams trying to rebound from sagging seasons with renewed enthusiasm for everything but making their starting quarterback known well in advance of their first game.
Cincinnati might be one step ahead on the slog back to respectability. Unlike the Bruins, who will be playing their first game under coach Chip Kelly, the Bearcats will be starting a second season under Luke Fickell.
That means no more of the first-year missteps the Bruins are trying to avoid on a daily basis.
"We're going through it — you're putting in new systems offensively, defensively and special teams," Kelly said. "I think they probably have a second year in his system in all three phases, so we expect them to be really well coached."
Fickell recently told reporters his expectations were "double what they were, even last year." That might make Bearcats fans happy considering the team finished 4-8 while featuring one of the worst defenses in the nation.
Cincinnati returns defensive tackles Cortez Broughton and Marquise Copeland, both former All-American Athletic Conference selections, but must find a mean streak after averaging just one sack per game last season.
The Bearcats also will need to pick a quarterback. Senior Hayden Moore started every game last season, completing 56.4% of his passes for 2,562 yards and 20 touchdowns with nine interceptions. It wasn't enough to assure himself of retaining the starting role, given the way redshirt freshman Desmond Ridder has looked in practice.
"We haven't named anything, probably are not going to name anything," Fickell said of the starting quarterback. "We are going to continue to do what it is we have done and see kind of what this week kind of brings."
Cincinnati features five returning starters on offense and seven on defense, giving Fickell some idea of what to expect on each side of the ball. Those players are also more familiar with a coaching staff that returned almost completely intact with the exception of new cornerbacks coach Mike Mickens.
"I think knowing them, I think them knowing us, us obviously being in some tough, adverse situations, you learn a lot about people," Fickell said.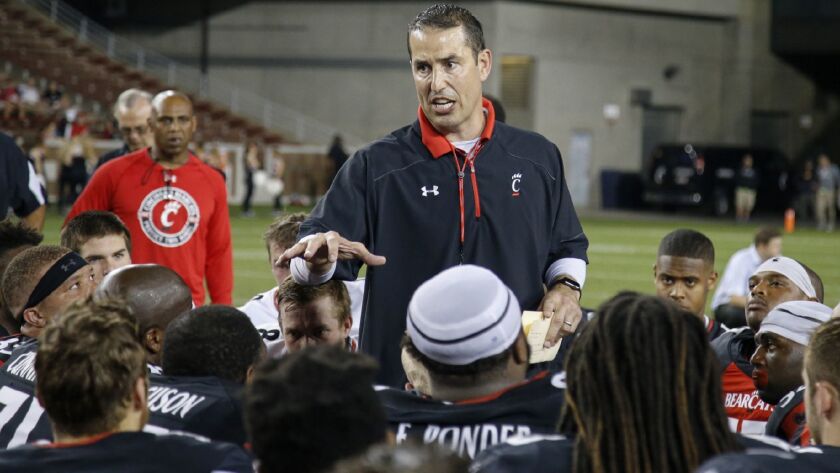 Allegations addressed
Fickell said he had no knowledge of the domestic abuse allegations facing then-coworker Zach Smith while they both served as assistant coaches under Urban Meyer at Ohio State.
"No, didn't know anything," Fickell said this week on a conference call.
Fickell was the co-defensive coordinator and linebackers coach under Meyer with the Buckeyes from 2012-16 before becoming Cincinnati's head coach. Ohio State fired Smith in July, a day before Meyer denied knowing about allegations against his longtime assistant from 2015.
The school last week suspended Meyer for three games for the way he handled the situation.
It was not the first time Fickell found himself in the midst of a coaching controversy. He was Ohio State's interim head coach during the 2011 season after Jim Tressel resigned over his handling of NCAA violations regarding players trading football memorabilia for tattoos.
Help wanted
UCLA was so thin at inside linebacker after Josh Woods suffered a season-ending knee injury that it converted Leni Toailoa and Bo Calvert from outside linebacker.
Now the Bruins might need replacements for the replacements.
Calvert was wearing a yellow noncontact jersey Tuesday and riding an exercise bike as part of his recovery from an undisclosed injury. Only a few minutes into practice, Toailoa walked to the sideline while pointing to his chest area and was taken into a trainer's shed.
Fellow inside linebacker Lokeni Toailoa continued to practice with a yellow jersey, signifying he also was recovering from an injury, and Je'Vari Anderson was absent; he has made only a cameo appearance at practice the last few weeks.
That left presumed starting inside linebackers Krys Barnes and Tyree Thompson in need of some reinforcements only four days before the opener.
Follow Ben Bolch on Twitter @latbbolch
---
Get the latest on L.A.'s teams in the daily Sports Report newsletter.
You may occasionally receive promotional content from the Los Angeles Times.