UCLA tight end Caleb Wilson is drawing extra attention from defenses this season
Caleb Wilson is the tight end in blue who's increasingly been circled in red on scouting reports.
Defenses are no longer giving the UCLA redshirt junior room to roam after a breakthrough start to 2017 that preceded a season-ending foot injury.
"I don't get covered the same way I did last year," Wilson said this week. "I mean, I don't really get a lot of one-on-one matchups anymore, I don't really get a lot of free releases. So it's a little more difficult for me to get as many open looks as I did last year because I'm no longer a secret."
Fresno State held Wilson without a catch earlier this month, becoming the first team to do so since he was a freshman. He had at least three catches in 10 consecutive games before the loss to the Bulldogs.
Wilson gained some widespread exposure before the season when Pro Football Focus, the site that grades every snap a player takes, rated him as the top returning player from any Power Five conference school heading into 2018. That was largely based on his having caught 38 passes for 490 yards and one touchdown in only five games last season.
UCLA coach Chip Kelly has used Wilson in a variety of ways, lining him up in the backfield, next to offensive linemen and as a wide receiver.
"You've got to be versatile to be a tight end," Kelly said, "and Caleb's really versatile."
Kelly will have a third tight end to mix into a rotation that includes Wilson and Jordan Wilson (no relation) on Friday when the Bruins (0-3) open Pac-12 Conference play against Colorado (3-0) at Folsom Field in Boulder. Devin Asiasi, a transfer from Michigan who sat out the last three games as part of a suspension for violating unspecified athletic department rules, is available to make his UCLA debut.
Caleb Wilson said he anticipated it being a memorable one.
"Devin's a big-time athlete, one of the most talented tight ends I've been around," Wilson said. "So him being back will definitely help our group as far as productivity."
Kelly noted that his team's passing game, which has generated a Pac-12-worst 189 yards per game, has suffered from various breakdowns including dropped passes, poor protection and bad throws.
"We need improvement from everybody," Kelly said.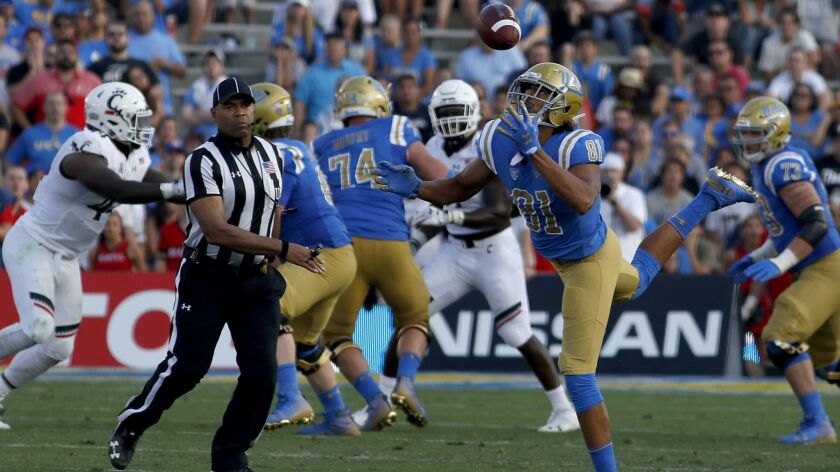 Inside job
Bo Calvert figured he was going to play inside linebacker as part of UCLA's 3-4 defensive alignment, just not in his college debut.
But injuries and departures at the position triggered an immediate move for the true freshman, who had starred at outside linebacker at Westlake Village Oaks Christian High before a broken shin sidelined him for the final half of his senior season.
Calvert played in his first game as a Bruin this month against Fresno State, making three tackles. His position mattered far less to him than the opportunity to participate.
"One of the biggest things, biggest reasons why I wanted to come here," Calvert said, "was to play early."
Having once committed to USC, Calvert switched allegiances in part because of that opportunity. Now he's trying to make playing for UCLA a family tradition.
Calvert said he was trying to lure his two brothers to Westwood. Josh Calvert is a senior quarterback-linebacker at Oaks Christian who has narrowed his choices to UCLA and Michigan State. Ethan Calvert is a sophomore receiver on the same high school team who is also drawing some college interest.
"They're really excited about everything here," Bo Calvert said, "and I've told them that the opportunities are endless for younger guys here."
The 6-foot-3, 215-pound Calvert said inside linebacker suits him better than his former spot because it has fewer coverage responsibilities and accentuates his aggressive nature.
"I like to get my head in there," he said, "hit guys behind the line of scrimmage."
Follow Ben Bolch on Twitter @latbbolch
---
Get the latest on L.A.'s teams in the daily Sports Report newsletter.
You may occasionally receive promotional content from the Los Angeles Times.