Arizona's Khalil Tate won't play against UCLA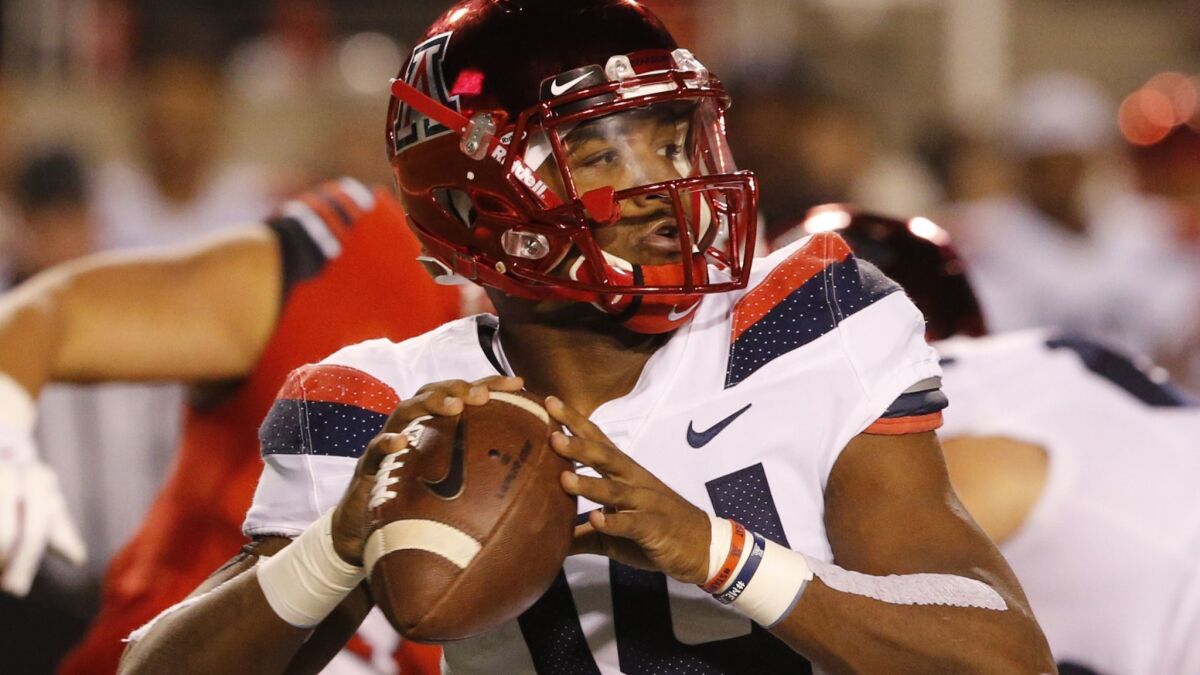 Defenses have contended with a half-speed Khalil Tate in recent weeks because of an ankle injury that has bothered the Arizona quarterback since early in the season.
UCLA won't have to deal with Tate at all.
Wildcats coach Kevin Sumlin announced Tuesday that Tate would sit out his team's game against the Bruins on Saturday at the Rose Bowl, the latest setback in an injury-marred season for the preseason Heisman Trophy candidate from Gardena Serra High.
Tate's absence should drastically alter the to-do list for a surging UCLA defense.
"Well, we don't have to chase the fastest kid in the country around," Bruins coach Chip Kelly cracked.
Tate lost that designation when he hurt his left ankle Sept. 8 against Houston. He continued to play at less than full strength until getting sacked and reaggravating his injury last week during Arizona's second offensive series against Utah.
Sumlin said sophomore Rhett Rodriguez, one of two quarterbacks to play against the Utes after Tate was hurt, would make his first career start against the Bruins. Rodriguez, the son of former Wildcats coach Rich Rodriguez, completed 20 of 38 passes for 226 yards and a touchdown in more than a half of play last weekend.
Freshman quarterback Jamarye Joiner also played sparingly against Utah, completing three of four passes for 17 yards.
"They still seemed to be doing the same things, maybe not to the extent they were doing it with Khalil, with the other two quarterbacks," Kelly said of Arizona's offensive plan. "So we'll just have to prepare" for both quarterbacks.
With his status in doubt for what amounts to a homecoming game for the Los Angeles native, Tate met with Sumlin on Monday to discuss the best plan for the balance of his season.
"I made the decision this week to sit him down," Sumlin said on a coaches teleconference. "It's the best thing for him. It's just for this week, to give him a chance to get healthy. He's been very courageous in what he's tried to do the last couple [of] weeks."
Tate never resembled the player who rushed for 1,411 yards last season as one of the most dynamic quarterbacks in the nation after taking over as the starter in October. He rushed for just 112 yards in seven games this season, his average of 2.4 yards per carry well below the 9.2 yards he averaged in 2017.
"It's sad," Kelly said of Tate's injury. "I'm a big Khalil Tate fan. I think he's a heck of a quarterback and I know he's a tough kid because I watched how he tried to gut it out."
A son's love
Left tackle Andre James did not attend practice Tuesday after the death of his father, Marcus, who had been battling an aggressive form of testicular cancer for more than a year.
"Obviously, it's a very sad situation," Kelly said. "His dad has been sick for a little bit of time, so Andre's been dealing with this for a while. I lost my dad a year and a half ago, so I understand what he's going through and we're here to support him in any way we can."
James posted a tribute to the man he once called "my inspiration" on Twitter, with pictures of his father standing alongside him as a child, a budding football player and while father and son wore UCLA T-shirts on campus. There was also a picture of Marcus wearing a T-shirt featuring an extended middle finger above the word "Cancer."
"Lost for words," wrote Andre, who is wearing No. 77 this season because it represents the last two digits of his father's birth year, 1977. "Thank you all for the love and support to me and my family. This was the strongest man I've ever met, mentally and physically he never gave up once. Thank you for showing me what being a man is truly about. Rest in paradise pops. I love you."
Freshman Alec Anderson took James' spot along the offensive line in practice Tuesday.
Etc.
Defensive back Colin Samuel and long snapper Johnny Den Bleyker returned to practice as full participants after being slowed by injuries Monday. … Defensive back Nate Meadors and tight end Jordan Wilson wore yellow jerseys to signify they were recovering from injuries and off limits from contact. … Right tackle Justin Murphy wore a gray T-shirt while working off to the side during conditioning drills. … Tailback Bolu Olorunfunmi and receiver Kyle Philips were absent during the portion of practice media was allowed to observe. It was the second consecutive practice Olorunfunmi has missed. Philips has not participated in practice for more than a week because of an unspecified injury. … Kelly, when asked where UCLA has made the biggest strides the last two weeks: "Points scored and points against."
Follow Ben Bolch on Twitter @latbbolch
---
Get the latest on L.A.'s teams in the daily Sports Report newsletter.
You may occasionally receive promotional content from the Los Angeles Times.