UCLA's defense is having a blast creating turnovers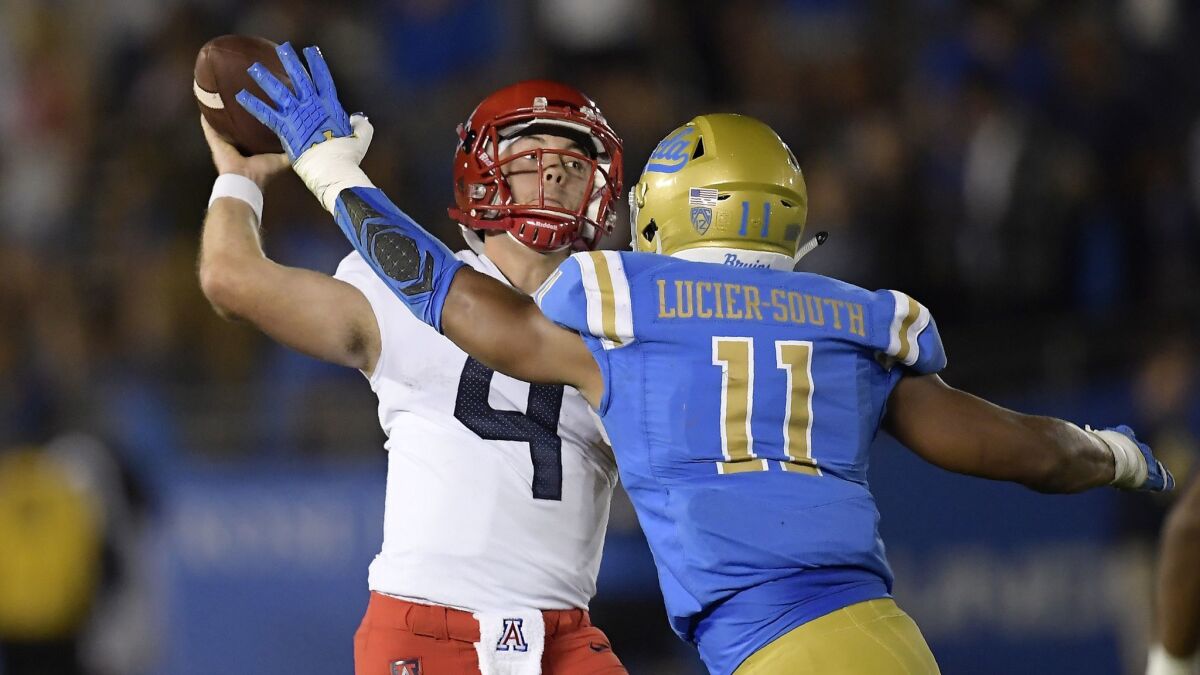 They talked breathlessly among themselves Saturday at the Rose Bowl, the UCLA defenders buzzing about chase-downs, fumble recoveries and interceptions, everyone eager to see what might come next.
"I was running across the field just screaming and yelling and all that stuff," Bruins safety Quentin Lake said this week, recalling his enthusiasm after cornerback Elijah Gates had matched Lake's first career interception with his own, "because I was so excited for him."
The Bruins have had plenty to delight in lately in the turnover department.
They forced three turnovers during a 31-30 victory over Arizona, giving them eight over their last two games. UCLA's 13 turnovers forced over its first seven games match the team's total for all of last season.
The Bruins (2-5 overall, 2-2 Pac-12 Conference) have a plus-six turnover margin for the season heading into their showdown against No. 23 Utah (5-2, 3-2) on Friday at the Rose Bowl. They are tied with Colorado for the best mark in the Pac-12 and tied for No. 14 nationally.
"They kind of come in bunches," said Lake, who started the flurry of takeaways against the Wildcats when he made a leaping interception in the end zone in the first quarter.
Cornerback Darnay Holmes followed with a play that wowed his teammates no matter how many times they saw the replay. He chased Arizona tailback J.J. Taylor from behind on what looked like a sure touchdown, ripping the ball out near the goal line before recovering the ball in the end zone.
"You see it on TV, you see it on 'SportsCenter' and you're just like, 'Wow,' " Lake said, "but when you see it in person, it's kind of like you're speechless. It was a freakish play."
Gates joined the fun in the third quarter when he knocked a pass away from its intended receiver with his right hand before grabbing it with both hands.
"It was funny because I was on the sideline after Quentin Lake got his pick and I'm talking to him and Darnay like, man, everybody has a pick on a season, I gotta get one soon, and it just happened," Gates said. "So it was a great feeling."
Not everybody on UCLA's defense has logged an interception this season. Holmes, safety Adarius Pickett and linebackers Keisean Lucier-South and Krys Barnes are the others with interceptions. Lucier-South and Holmes tie for the team lead with two forced fumbles apiece.
Forcing turnovers in mass quantities was a staple of UCLA coach Chip Kelly's teams at Oregon, where the Ducks led the nation in takeaways during his four years at the school.
"It's really a momentum shifter," Lake said of forcing turnovers, which helped the Bruins win a game in which their defense allowed a season-high 520 yards.
It's also all sorts of fun for the Bruins.
One more try?
Right tackle Justin Murphy tweeted a photo of himself in a hospital gown after knee surgery, suggesting his season was over. If all goes well, however, his college career might have only been placed on pause.
Murphy tweeted in what appeared to be an attempt to lobby for another year of eligibility: "Hey @NCAA, I've played in 3 football [seasons] and had 3 knee surgeries ending them short. Any chance I can get another year?"
Murphy arrived at UCLA this summer as a graduate transfer after having taken a medical retirement in 2016 following two knee surgeries. He started the season's first four games before hurting his knee late in the game against Colorado on Sept. 28.
Murphy spent the 2015 and 2016 seasons at Texas Tech.
Flagging effort
UCLA was a repeat offender when it came to penalties against the Wildcats.
The Bruins were flagged five times for false starts and twice for holding and grabbing a facemask. Add an illegal forward pass, unnecessary roughness and an illegal block, and it added up to a season-high 12 penalties for 103 yards, hurting the team across the board.
"We can't afford negating big plays when we're on offense or giving the other offense extra yardage with our penalties," Kelly said, "so we have to clean that up."
Follow Ben Bolch on Twitter @latbbolch
---
Get the latest on L.A.'s teams in the daily Sports Report newsletter.
You may occasionally receive promotional content from the Los Angeles Times.