For some draft-eligible Bruins, their college careers could end Saturday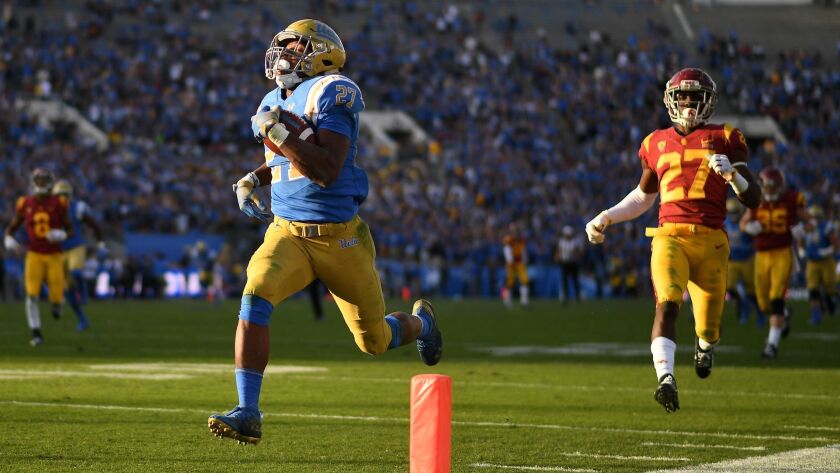 Caleb Wilson called UCLA's victory over USC the second-best of his college career, trailing only the Bruins' epic comeback against Texas A&M last season.
The question confronting the tight end this week is how many more memories he has left to make after the season finale against Stanford on Saturday at the Rose Bowl.
Wilson is among a handful of draft-eligible juniors facing a decision whether to return for one more college season or try their luck in the NFL draft.
Others who might consider going pro based on their success this season include tailback Joshua Kelley, left tackle Andre James and receiver Theo Howard.
"I haven't really even thought about that," Kelley said earlier this week when asked about the NFL. "That's crazy. I haven't really [taken] much time to consider [it]."
Kelley has been the breakthrough star of the offense as the first Bruin to surpass 1,000 yards rushing since Paul Perkins in 2015. His 289 yards rushing against USC last weekend were the most by any player in the history of the rivalry game.
James has led a retooled offensive line that helped revive the team's run game following two inert seasons. He may or may not be back to help provide continuity in 2019.
"I haven't made any decisions," James said. "We've still got a game left and I'm just focused on that right now."
Howard has been steady since the end of his freshman season, making at least one catch in 27 consecutive games. He's created some memorable highlights along the way, including an over-the-shoulder catch for a 33-yard touchdown against the Trojans.
Wilson has reliable hands, deceptive slipperiness as a route runner and has improved his blocking. Unlike most college players, Wilson won't have to wait for an NFL draft evaluation to receive valuable input about his pro stock; his father, Chris, is the defensive line coach for the Philadelphia Eagles.
"He'll always be honest," Caleb said. "He's not going to be a typical parent where it's like, 'Oh yeah, you're the best, you can go do this.' He'll be honest with me. And I always appreciate that about my dad."
UCLA coach Chip Kelly said his job was to educate his players about the choice confronting them.
"It's up to the individual player and individual families to make the decision on what is best for them," Kelly said. "I can give them [information] from my experience coaching in that league and what it's about and what that report says back from the NFL and that part of it, but it's all entirely up to them and we support them either way.
"Whether they're coming back or whether they're going to leave, I've never weighed in with anybody on, 'You should stay, you should go.' That's not my decision, that's their decision."
One-hit wonder
UCLA's most impressive display of composure last weekend came well before the Bruins shrugged off USC players dancing on the field before the fourth quarter.
Freshman guard Christaphany Murray did not retaliate after absorbing a punch to the helmet from Trojans defensive lineman Brandon Pili.
"I feel like earlier in the year, maybe like during fall camp, he would have responded," Wilson said. "But I think he's just matured so much in the season, and knew that by him being patient and not responding, it helped our team win the game."
Said right tackle Justin Murphy: "I think it really got him focused and brought the aggressiveness out of him, which I thought was really good to see."
The punch earned Pili a personal foul but not an ejection.
"That's up to the league, so I don't deal with that," Kelly said. "The officials officiate the game."
Etc.
A scuffle broke out in practice between defensive backs Stephan Blaylock and Rayshad Williams, who were separated by teammates and coaches. Safety Adarius Pickett played peacemaker, getting the players to shake hands. … Kelly said defensive lineman Rick Wade, who has been absent from practice this week, was dealing with an unspecified injury. … Kelly said he hasn't attended a high school game this season, but recruits have flocked to the Wasserman Football Center in recent days to watch practice. A group of prospects from Gardena Serra High attended practice Wednesday.
Follow Ben Bolch on Twitter @latbbolch
---
Get the latest on L.A.'s teams in the daily Sports Report newsletter.
You may occasionally receive promotional content from the Los Angeles Times.