UCLA adds some flash during 89-73 rout of Stanford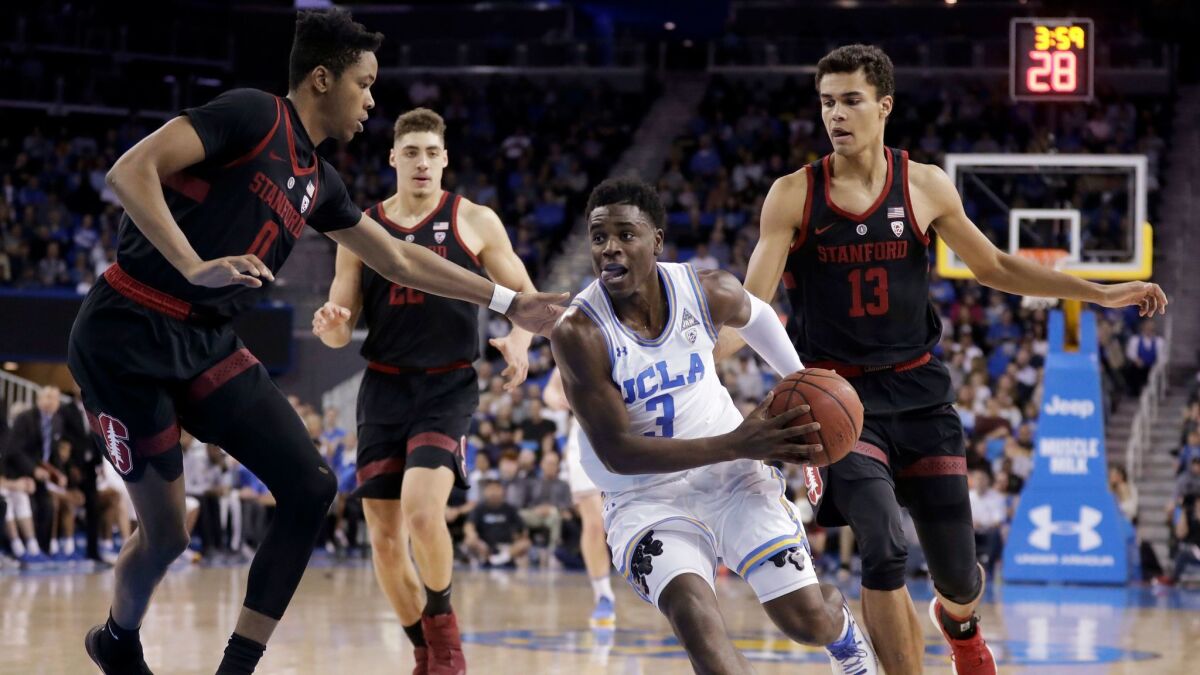 Jaylen Hands had infuriated his coach only moments earlier, chucking up a three-pointer that prompted Steve Alford to yell "Why?" so loudly that it could be heard across the court and in the upper reaches of Pauley Pavilion.
So when Hands was granted an opportunity for redemption on UCLA's next possession, he decided to tempt fate once more. The freshman point guard went airborne and transferred the ball between his legs with his left hand before throwing an alley-oop pass with his right hand that teammate Kris Wilkes collected for a layup.
A crowd that had already been treated to a windmill dunk by Wilkes was wowed anew during the Bruins' 89-73 victory over Stanford on Saturday night.
"We're around Hollywood," Alford said, "so everybody liked that."
The second half was one extended highlight show for UCLA (15-7 overall, 6-4 Pac-12 Conference), which built leads as large as 22 points on the way to a second consecutive victory.
Fans roared when Wilkes threw down another alley-oop pass from Aaron Holiday for a dunk and when Hands went in for a reverse layup. UCLA was not about to lose another big lead to Stanford after squandering a 13-point advantage during the teams' first meeting this season.
Kareem Abdul-Jabbar got in on the fun earlier in the game when he was shown on the video board tugging at a blue shirt underneath his sweater. The former Bruins great, who went by Lew Alcindor when he terrorized the rest of college basketball, revealed yellow letters reading UCLA. Fans went berserk.
On a night when the Bruins honored Abdul-Jabbar and his teammates on the 50th anniversary of UCLA's 1967-68 national championship, the current team also represented its school in fine fashion.
Holiday finished with 21 points and eight assists while Hands had nine points, 10 assists and only one turnover for the Bruins, who made 52.8% of their shots and 52.6% of their three-pointers. Center Thomas Welsh collected 13 points and 10 rebounds, and Wilkes had 18 points on six-for-seven shooting.
Daejon Davis had 23 points for Stanford (11-11, 5-4), which dropped its third consecutive game.
Hands remained in the starting lineup for a second straight game and quickly alleviated one of Alford's concerns about a four-guard lineup when Hands found Wilkes for a three-pointer in transition.
Hands and Wilkes connected on the alley-oop midway through the second half after Hands collected a loose ball and started a fastbreak with Wilkes running ahead of him along the sideline. Hands leaped into the air just beyond the three-point line before moving the ball through his legs and throwing the lob to Wilkes.
"I saw Kris running and I remember I had a lot of space," Hands said, "so I was like, I have to do something like crazy. I didn't know what to do and then it just came to my head. … I used to do it in high school, so I thought why not try it again?"
ESPN's "SportsCenter" Twitter feed called it the"ASSIST OF THE YEAR" and Hands' teammates were equally in awe.
"At first I was like, ooh," UCLA guard Prince Ali said while seated next to Hands, prompting a laugh from his teammate. "And then when he connected on it, I was like, OK, that was good. I liked it."
Hands might have faced the wrath of his coach a second time had the trick pass gone awry.
"It probably would have been bad, especially after that shot," Hands said in reference to his three-pointer that was off the mark early in the shot clock. "I know he was hot about that."
Alford said, "He made the play, so you've got to clap and applaud and move on."
UP NEXT
vs. USC, 3 p.m. Saturday, Pauley Pavilion, ESPN2 — The Trojans (16-6 overall, 7-2 Pac-12 Conference) have been playing their best basketball of the season over the last three weeks and will face California on Sunday before meeting the Bruins.
Follow Ben Bolch on Twitter @latbbolch
Get the latest on L.A.'s teams in the daily Sports Report newsletter.
You may occasionally receive promotional content from the Los Angeles Times.