UCLA pulls away in Pac-12 opener against Stanford as Bruins show some life under Murry Bartow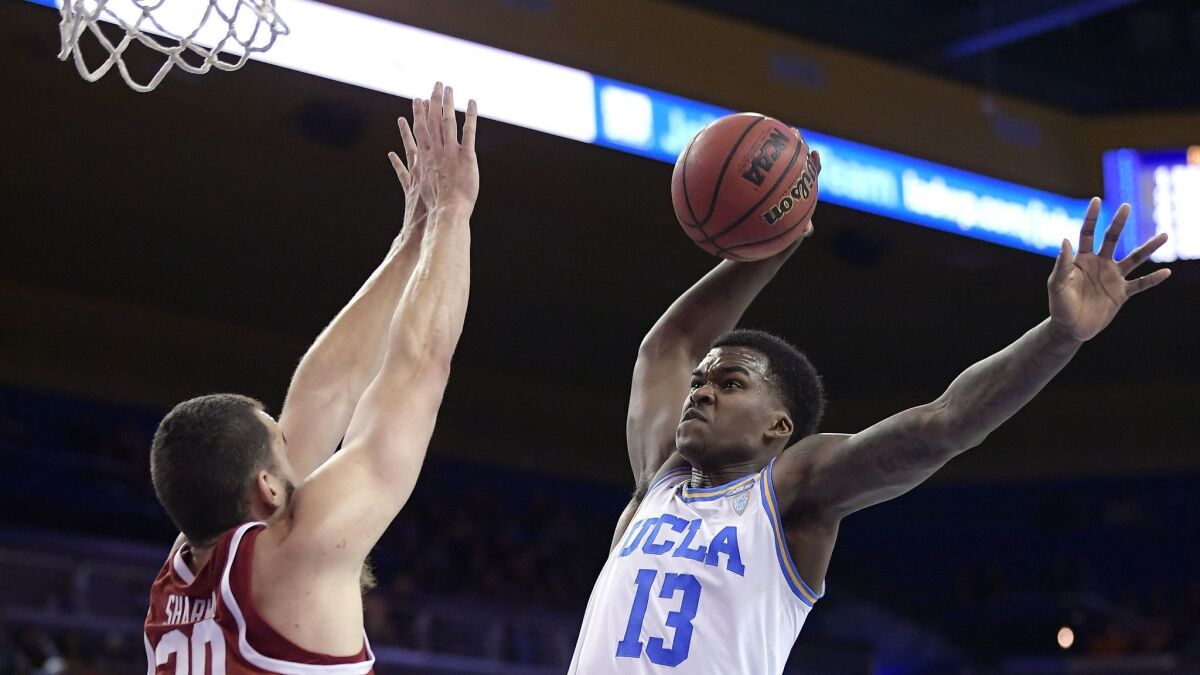 UCLA's Kris Wilkes had just stolen the ball in the backcourt and driven for a vicious dunk to cap a massive run, forcing Stanford to call a timeout that felt more like a surrender.
As Wilkes leaped into the air at midcourt, bumping chests with teammate Jaylen Hands, a strange sound washed over Pauley Pavilion.
A lusty ovation.
The acoustics were far more pleasing for the Bruins on Thursday night on their home court than they had been in weeks. Fans who vacillated between booing the team and steeping in uneasy silence during the end of the Steve Alford era became enthusiastic supporters anew.
There was plenty to cheer during UCLA's 92-70 victory in its Pac-12 Conference opener, the Bruins' first game since Alford was fired amid a heavily fraying season.
The Bruins attacked the basket with gusto, unleashed an active zone defense to go with some effective pressure in the backcourt and looked like they actually enjoyed playing basketball again. It all resulted in the end of UCLA's four-game losing streak and gave interim coach Murry Bartow a victory in his debut in charge of the team.
Wilkes playfully whipped his teammates with a towel on their way toward the locker room as fans roared and the band played. There was something to celebrate for the first time in nearly a month.
"We've got a very, very excited locker room," said Bartow, who is already assured of as much success with the Bruins as he had in his last stint as an interim coach.
When Bartow took over at South Florida in January 2017, his team lost its first 10 games before a breakthrough victory against East Carolina. The Bulls finished 1-16 under Bartow.
UCLA (8-6 overall, 1-0 Pac-12) looked like it might run away with the game after Wilkes' dunk bookended a 20-4 run and put the Bruins ahead 30-16 in the first half. But this triumph would have to be earned the hard way.
Stanford (7-6, 0-1) responded with 10 consecutive points as the Bruins started taking more jump shots than they had in building their lead. UCLA scored 30 of its 38 first-half points in the paint and pulled away once it went back to that approach in the second half.
"There weren't a lot of sets called," Bartow said. "We just kind of let them play a little bit."
Center Moses Brown was a constant interior menace for the Bruins, collecting five dunks on the way to 17 points and 10 rebounds one day after spraining his ankle so severely it was unclear if he would be able to play. One dunk came off a no-look alley-oop pass from Hands, who finished with 15 points and six assists to go with only one turnover.
Wilkes added 14 points as one of five Bruins in double figures. KZ Okpala had 22 points for Stanford.
Bartow's first notable change was to insert sophomore forward Chris Smith, mired in a six-week slump, into the starting lineup in place of Cody Riley, later explaining it was because of Smith's versatility and his being a difficult matchup. Smith finished with seven points, eight rebounds and three assists.
Bartow was nearly as active as his team in the early going, animatedly shouting instructions to his players as they ran back on defense and later motioning for them to trap in the backcourt. As he stood and clapped late in the first half, the coach looked like he was ready to get down in a defensive stance.
Bartow's detail-oriented style has immediately endeared him to his players.
"We just saw how much energy and how much effort he put into us and making us a better team," Brown said, "and now that he's the head coach all of that is starting to manifest itself on the court. We came together as a family."
The effort was preceded by two-a-day practice sessions Tuesday and Wednesday and an impassioned speech from UCLA assistant coach Tyus Edney on Monday.
Edney, the point guard on the last Bruins team to win a national championship in 1995, spoke of the meaning of wearing the UCLA uniform.
"The two-a-days, they really helped us concentrate," said UCLA freshman guard David Singleton, who finished with a career-high 13 points. "As a team, we had to learn to concentrate and I feel like we did that.
"I feel like we focused on the mission even more and we felt how serious how Bartow was on us and we really felt his love, because when coaches care and coaches love us, they're on us like that, so it helped us."
Follow Ben Bolch on Twitter @latbbolch
---
Get the latest on L.A.'s teams in the daily Sports Report newsletter.
You may occasionally receive promotional content from the Los Angeles Times.