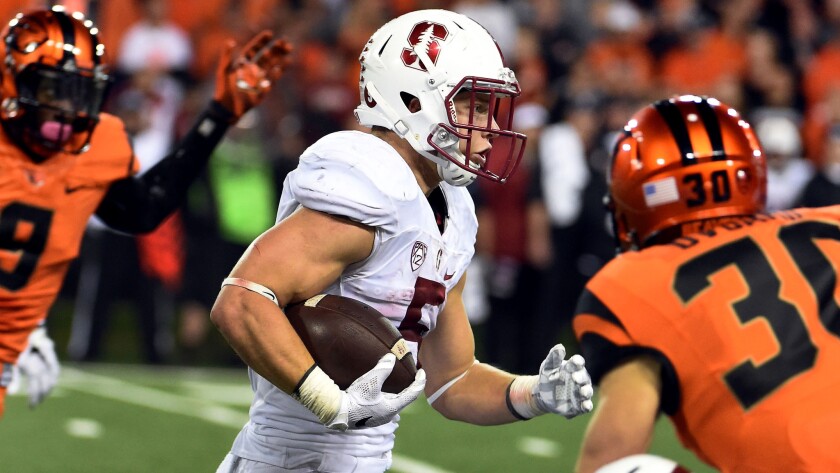 Rushing to judgment is rarely a good idea. For openers, Stanford was sluggish in losing to Northwestern, while UCLA was sharp in defeating Virginia. Now, it's the No. 15 Cardinal that looks more formidable, while the No. 18 Bruins have question marks. Times staff writer Chris Foster examines the game's matchups and story lines:
Ground control
Both teams have a run-first look. Stanford has owned that persona for years. UCLA seems to be leaning on it more with a freshman quarterback, Josh Rosen.
Containing the other team's ground game is key for both defenses.
UCLA's Paul Perkins might be the best college running back without a national profile, but Arizona State loaded up the box and neutralized him in the Sun Devils' 38-23 victory Oct. 3.
Stanford, led by linebackers Blake Martinez and Peter Kalambayi, is 33rd nationally against the run, allowing 129.6 yards per game. Opponents average 3.6 yards per carry.
On offense, the Cardinal goes with a tag team of running backs, Christian McCaffrey and Barry Sanders, and averages 209.8 yards rushing per game. Stanford had 639 yards in its last two games, against Oregon State and Arizona.
UCLA has been vulnerable to the run after losing defensive tackle Eddie Vanderdoes and linebacker Myles Jack, key components in its defensive front. The Bruins have allowed 572 yards rushing in their last two games, against Arizona and Arizona State.
Hogan the hero
A year ago, Stanford quarterback Kevin Hogan carved up UCLA for 234 yards passing and 46 rushing in a 31-10 victory.
Hogan, a senior, ranks seventh nationally in passing efficiency at 169.8. He has completed 79% of his passes since suffering a sprained ankle against USC on Sept. 19.
Coming up Rosen
The Bruins stubbornly tried to run the ball against an Arizona State defense that was stacked up close to the line of scrimmage. Rosen's passing rallied UCLA in the second half, but he wasn't let off his leash until after the Bruins had fallen behind, 29-10.
A better mix might get UCLA off to a better start. Rosen has shown he can move the offense with his passing even though he is not the running threat Brett Hundley was, making the zone-read option less of a guessing game for the defense.
Back to back
A year ago, Remound Wright led Stanford with 601 yards rushing. It was the first time the Cardinal did not have a 1,000-yard back since 2007.
This season, McCaffrey has matched Wright's total in five games. He is also the team's leading receiver, with 15 catches for 168 yards, and ranks second nationally in all-purpose yards, averaging 229.8 per game.
For a change of pace, there is Sanders, who has 233 yards rushing and averages 9.7 yards per carry. He has been tackled for a loss once this season.
They run behind a typically strong Stanford offensive line, led by tackle Kyle Murphy.
Big targets
Stanford has been a tight end factory. This season, the Cardinal has Austin Hooper, who is 6 feet 4 and 248 pounds. He has 12 receptions and is averaging 15.4 yards per catch.
Thomas Duarte (6-2, 225), UCLA's big-body receiver, has 18 receptions for 274 yards and four touchdowns.
Extra points
Both teams have quality kickers.
Stanford's Conrad Ukropina has made seven of eight field goals and is four for four on kicks of 40 yards or more.
UCLA's Ka'imi Fairbairn is also seven of eight on field goals. He struggled from distance in the past, but made a career-long 53-yard try against Arizona State.
---