UCLA's Chip Kelly cites continuity, excellence in teaching as reasons for keeping Jerry Azzinaro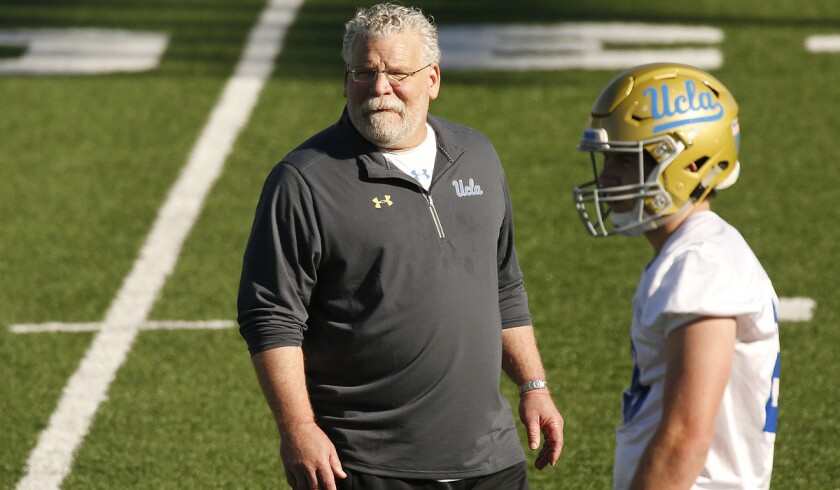 It's a job listing that would have seemed absurd.
Must have presided over a defense that ranked No. 100 or worse nationally in yardage allowed in each of the last two seasons. Must have overseen a pass defense that surrendered a school record in yardage. The pay is $700,000.
When he sized up what he wanted in his defensive coordinator, UCLA coach Chip Kelly found all of those things in Jerry Azzinaro, the longtime friend whom he retained after two abysmal seasons on the job with the Bruins.
"I've known Jerry for a long time and I think No. 1, as a mentor and a role model, I think he's tremendous," Kelly said Thursday. "I think he's an excellent teacher, he's coached football at all levels and has been very successful, so I don't think a snapshot of one season means anything."
Kelly also mentioned the continuity gained by keeping Azzinaro, who has worked under him at every stop since Kelly became head coach at Oregon in 2009. But Azzinaro had been a defensive line coach with the Ducks and the NFL's Philadelphia Eagles and San Francisco 49ers before Kelly promoted him to defensive coordinator upon his arrival at UCLA before the 2018 season.
A seven-game win streak and a first-place standing has brought a lot of attention to UCLA's basketball team. But the Bruins' focus on their game against USC on Saturday.
It's a spot that Kelly said he wanted to keep Azzinaro in despite the Bruins ranking No. 102 in total defense during Azzinaro's first season before slipping to No. 112 last season.
"When you change everything and just throw out everything and then you have to learn a whole new system," Kelly said, "well, then we need a year or two to learn a whole new system and then once we do that we're on an ongoing cycle of it just changes and changes and I think he's a hell of a football coach."
Azzinaro was the only UCLA assistant coach with an expiring contract who received just a one-year deal, his counterparts receiving two-year extensions. Kelly said the length of Azzinaro's contract was not a reflection of his standing with the team.
"I look at everybody as an individual," Kelly said. "We're not a socialist, so we don't group things together and I sit down with everybody and talk to them about what their plans are and where we're headed and how that all works."
Viral threat
Kelly joked two years ago about pandemics that could preclude UCLA from holding a spring game, mentioning bubonic plague and the ebola virus.
UCLA began spring football practice Tuesday with 99 players available. That's nearly 40 more players than the Bruins had the previous two springs, but backup quarterback reportedly to transfer.
The threat to the game April 18 at Drake Stadium isn't nearly as far fetched.
Concerns about the rapidly spreading coronavirus have prompted daily updates from campus officials but have not resulted in the cancellation of any UCLA sporting events besides a meet-and-greet photo session Sunday involving the women's gymnastics team and its fans.
"It's a very, very serious thing and any time you get a situation like that, you better be prepared," said Kelly, adding that the team would defer to medical experts and campus officials when it comes to protecting players. "If they say we can't have a gathering because of it then we won't have a gathering because of it. There's no reason for us to put anybody in harm's way."
Linebacker Bo Calvert said he was "a little freaked out" when he contracted laryngitis last week but wasn't worried about mingling with crowds or the possibility of the spring game being canceled.
"I think we'll be fine," Calvert said.
Quarterback quandary?
The departure of quarterback Austin Burton to the transfer portal has elevated Colson Yankoff to becoming Dorian Thompson-Robinson's primary backup, with walk-on Chase Artopoeus taking third-string repetitions.
Kelly said Burton's leaving was just part of life for backup quarterbacks in major college football. "If you're not the starter at your school," Kelly said, "you're probably looking to go somewhere else."
Kelly intimated that Thompson-Robinson would be the starting quarterback heading into his junior season and said he did not face discipline for a recent obscenity directed at UCLA on Snapchat.
"I think he was having a bad day and you've got to make sure that you have some responsibility, especially being a quarterback at a Power Five school," Kelly said. "You live your life in a fishbowl and those are things that I think you have to kind of think before you tweet. It's just a real good learning experience for him on social media, so we've talked about it."
Etc.
Defensive lineman Tyler Manoa said the Bruins were playing with four down linemen as opposed to the 3-4 scheme they ran the previous two seasons. … Manoa said he would play for the Bruins next season, completing his Mormon mission at a later date. … Kelly said defensive lineman Elijah Wade, who played in four games last season before being sidelined by injuries, had left the program. … Kelly said he expected defensive lineman Martin Andrus, who tore knee ligaments in warmups in October before a game against Oregon State, to return in time for fall camp.
---
Get the latest on L.A.'s teams in the daily Sports Report newsletter.
You may occasionally receive promotional content from the Los Angeles Times.