No. 2 UCLA bloodied but turns in its most complete effort of season in win over UNLV
LAS VEGAS —
Roughly 18 feet from the basket, Nevada Las Vegas' Bryce Hamilton rose for a jump shot, thinking it was safe from disruption. The ball met the massive hand of UCLA's Myles Johnson as it left Hamilton's fingertips, falling back to the court.
Runnin' Rebels guard Keshon Gilbert picked up the loose ball and drove toward the basket, only to find Johnny Juzang standing in his way and knock the Bruins guard over. Gilbert was called for a charge and UCLA got the ball back after another stop.
There was a comforting familiarity to the way the second-ranked Bruins played Saturday afternoon during a 73-51 victory, prioritizing defense and toughness over who might make the most jump shots.
UCLA senior walk-on Russell Stong won't be playing in the NBA but he's arguably the most beloved player on one of America's most popular teams.
Four days after offering little resistance to Gonzaga during a 20-point loss, UCLA (6-1) held UNLV (4-3) to 30.4% shooting, the Rebels making only one of 10 shots during one stretch in the second half and going scoreless for more than 6½ minutes.
"I told the guys it was good to have my team back," UCLA coach Mick Cronin said. "It's been since last year where we've played that kind of defense. So we had a couple of spirited practices, talked a lot about what it takes to be a real team, not relying on scoring and offense and jump shots, getting back to why we got to the Final Four and getting back to why we were ranked, just focus on whatever we've got to do to win a tough road game."
Nobody represented that toughness more than Bruins forward Jaime Jaquez Jr., who played the second half with a bandage over one eye after absorbing an elbow from Johnson late in the first half while fighting for a rebound. The crowd reacted in shock when blood was shown trickling down Jaquez's face on the video board. Jaquez had to be helped to the locker room before returning early in the second half.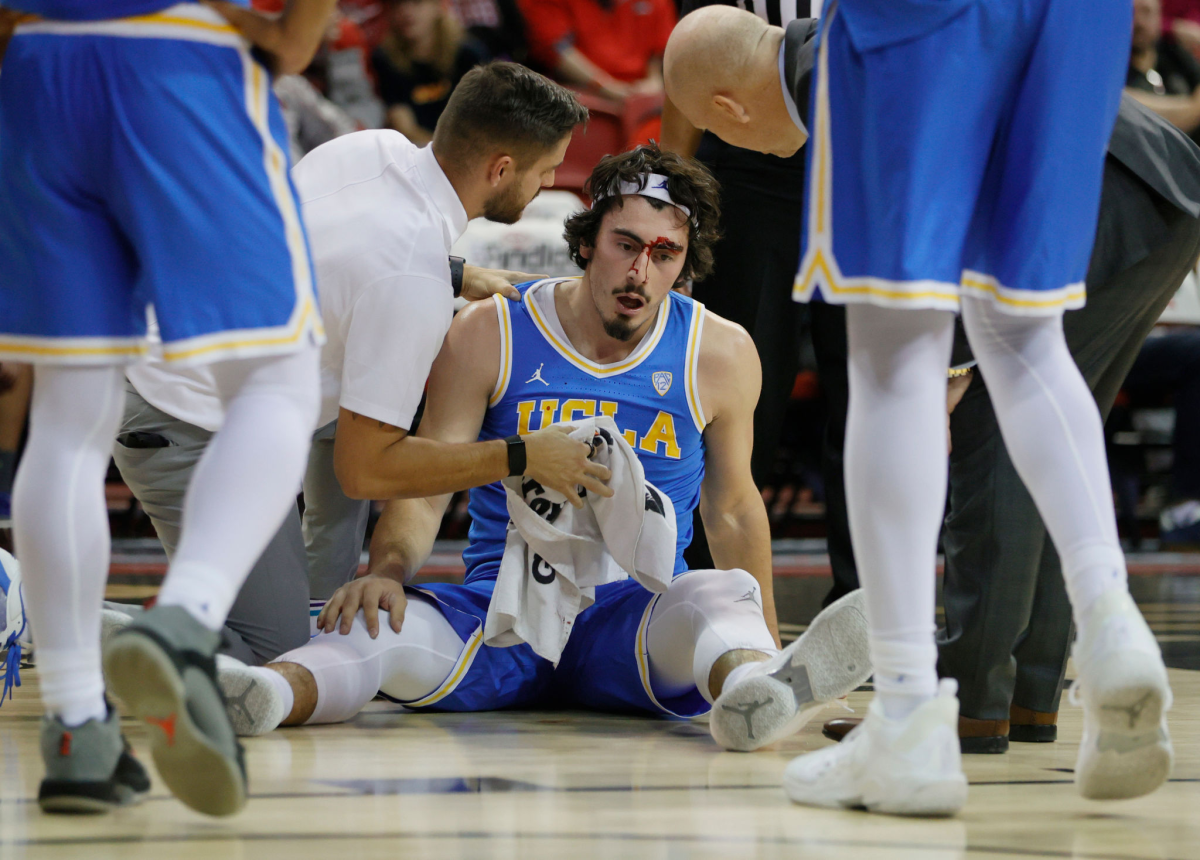 Guard Jules Bernard led the Bruins with 18 points, including an off-balance circus shot that he banked in while being fouled in the second half. Guard Tyger Campbell added 15 points and Juzang had 12 points and nine rebounds as UCLA softened the blow from its setback against Gonzaga.
"We had a lot to think about after our last game and just going to the hotel, we had a day off to really think about our game and what we needed to work on and we got straight to practice," Bernard said. "We had two great practices, super intense, high activity and I think just that pace we played at in practice really led into the game and we came out with a fast start."
UCLA started with the sort of defensive intensity that was reminiscent of its most recent NCAA tournament run, staying in front of drivers and rotating quickly. The Rebels made only one of their first eight shots while falling behind 14-2.
UCLA's leading tackler on the defensive line will deliver a Thanksgiving spread fit for even the most ravenous of his 300-pound teammates.
Predictably, once the Bruins' defensive concentration started to wane, UNLV made a run. Hamilton (15 points) had a dunk in transition that pulled the Rebels to within 22-19 and the long-silent crowd began to roar.
After making things difficult again for UNLV and repeatedly forcing tough shots, UCLA went on a 15-3 push to take a 37-22 halftime lead. The Rebels made a couple of mini-runs to start the second half and had three chances to cut the Bruins' advantage to single digits but missed three consecutive three-pointers as part of their extended cold spell.
"I'm really happy with our effort and our attitude and like I told them, I don't care about losing — I really don't — it's about how you play the game," Cronin said. "I don't think we competed and played the game the way UCLA is supposed to play it, really this year defensively, other than the last seven minutes against Villanova, so it's nice to have them back."
Get the latest on L.A.'s teams in the daily Sports Report newsletter.
You may occasionally receive promotional content from the Los Angeles Times.