Healthy Cody Riley and Jaime Jaquez Jr. combine with Tyger Campbell to key UCLA win
BERKELEY —
Go ahead, clobber him in the head and watch the blood gush. See him limp off the court with a rolled ankle. Rake him across the arms so hard that he goes down in a heap.
Jaime Jaquez Jr. will always get back up and try to keep playing, no matter the level of pain.
Two days after a sprained ankle sidelined him for a half, UCLA's sturdiest guard was back. All it took was intensive ice therapy, a heavy taping job, prolonged stretching and a bunch of tiny needles inserted in his leg to loosen the muscle tension.
"We did all sorts of crazy things," Jaquez said, recalling the efforts of trainer Tyler Lesher to help the Bruins' second-leading scorer and spirit guide play in the team's first Pac-12 game in more than a month.
No. 5 UCLA played for the first time in over three weeks with a 96-78 rout of Long Beach State on Thursday at Pauley Pavilion.
In a reasonably comfortable win over California, it was all about the comebacks for the Bruins.
Forward Cody Riley, playing in only his second game back since missing nearly two months because of a knee injury, logged a career-high four steals and forced another turnover after the Golden Bears threatened to create late drama.
UCLA point guard Tyger Campbell did the rest Saturday evening at Haas Pavilion, helping the No.5 Bruins pull away for a 60-52 victory that relied heavily on the team's defensive efforts.
Campbell tallied 17 points, four assists and three steals to help the Bruins (10-1, 2-0 Pac-12) withstand Cal forward Andre Kelly's 22 points and win their ninth consecutive game against the Golden Bears (9-7, 2-3). Campbell made seven of 10 shots and two of three three-point tries against a defense that regretted its decision to not play him more aggressively.
"We knew they were going to sag off him," UCLA coach Mick Cronin said, "so we had told him to make sure to shoot the ball."
Campbell has made 24 of 48 three-pointers this season, his 50% accuracy a stunning figure for someone who shot only 25% from beyond the arc a year ago.
"It's cool that I'm shooting 50% right now, but I just want to extend it until the end of the season," Campbell said. "That's all that matters, help my team. It's not about personal stuff."
The Bruins won despite off shooting nights from guards Johnny Juzang and Jules Bernard, who combined to make three of 16 shots. They prevailed largely because of defense in what Cronin has compared to starting the season over after a lengthy pause sparked by a COVID-19 outbreak.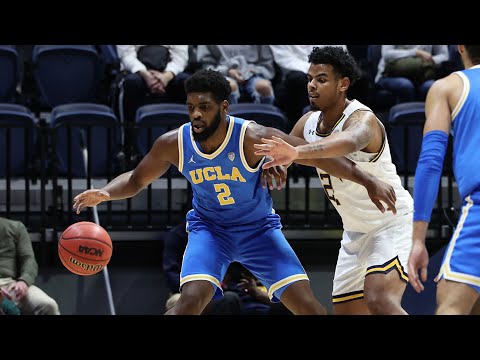 UCLA held Cal to 40.4% shooting, including one of 14 on three-pointers (7.1%), while forcing 15 turnovers.
Riley finished with nine points and five rebounds in addition to nearly half of his team's 10 steals. He also forced a Cal turnover after the Golden Bears had scored five consecutive points in a rare burst of offense to come within nine points.
As UCLA improved its ball movement late in the game, Juzang followed with a three-pointer to extend the Bruins' lead back to double digits and that was that for Cal's comeback hopes.
Jaquez, who sat out the second half of UCLA's game against Long Beach State on Thursday with a sprained right ankle, made his usual array of tough shots on the way to 14 points.
But there was more pain for the player who once needed five stitches in his head and had to clear concussion protocol, among other bodily harm he's sustained this season. He got hammered on the arms fighting through two defenders in the second half Saturday and made both free throws, leading to murmurs of unease in the crowd as the Bruins seized a 40-31 lead.
UCLA coach Mick Cronin says senior Jules Bernard is one of the best wings in the nation and is a 'great kid with a great attitude.'
As if on cue when he met with reporters after the game, Jaquez noticed that his hand was bleeding.
"Whoa, look at that," he said. "I cut myself."
Jaquez agreed with a reporter's suggestion that he deserved a name, image and likeness deal with a bandage company or the maker of healing ointment.
"I cut my eye open right here," he said, pointing to his face, "next thing I got a concussion, come back play a game, now I got an ankle issue. A lot of little things that have not been going my way. But I'm happy we got to go out here and get a win."
Get the latest on L.A.'s teams in the daily Sports Report newsletter.
You may occasionally receive promotional content from the Los Angeles Times.