Five things we learned about UCLA in its win over Memphis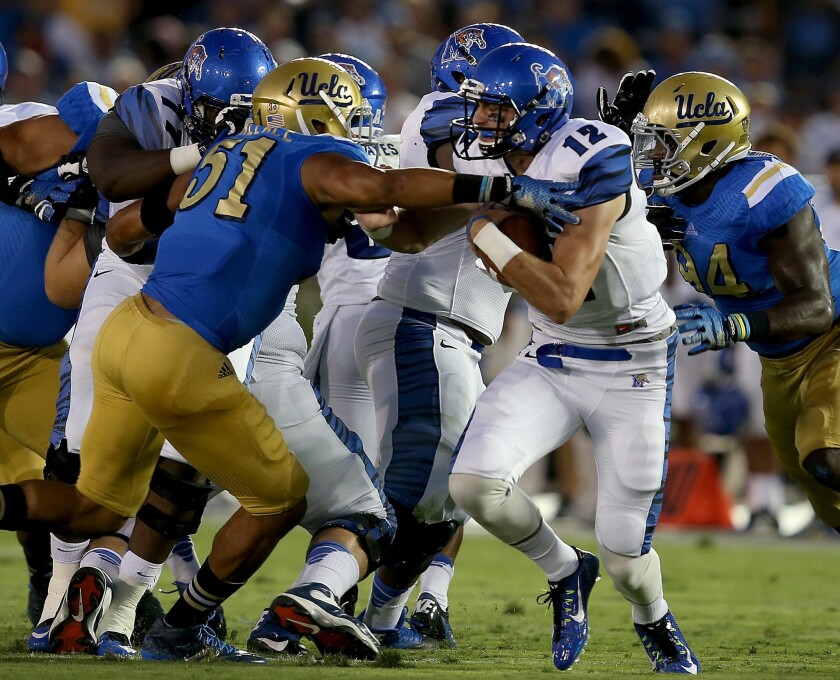 Memphis wasn't supposed to be a test, but UCLA was one mistake away from losing to a team that hasn't beaten a team from one of the five power conferences in 17 consecutive games. The Bruins pulled it out in the end, but it wasn't pretty.
Here are five things we learned in UCLA's 42-35 win over Memphis:
Maybe expectations are where they now should be for this team
Realistically, UCLA could have won this game by 30 and it still probably wouldn't have been enough. That's what insane preseason expectations can do — no matter what happens, people are always imagining something more.
The Bruins were a popular preseason national championship pick. Quarterback Brett Hundley was in the spotlight as a potential Heisman candidate. Someone asked Coach Jim Mora during Pac-12 media days if he was going to jump for an NFL coaching position.
After two games, that team isn't there yet. Really, not all that close. UCLA has played both Virginia and Memphis down to the wire, and while those two teams may be better than we're giving them credit for, they are not contenders for the national championship. This Bruins team is not there yet.
But after the game, UCLA defensive coordinator Jeff Ulbrich said something interesting. Sometimes, he said, these close games are more valuable than playing great and blowing teams out early in the season. Figuring out you can win even if you aren't playing your best is important, as is having something to build on.
Wide receiver Jordan Payton brought up the same thing, saying that he was looking over the 2004 New England Patriots' season this week. That team eventually won the Super Bowl, but had a lot of close calls in the early-to-middle part of the season.
Who knows what will end up happening to this Bruins team. The expectations put on this team make it seem like playing mediocre this early is catastrophic. Two wins are two wins, though, and maybe in a few months, we'll see that it was a good thing UCLA wasn't playing its best football right now.
Brett Hundley needs to be on the move more
Well, Hundley had a heck of a game. He totaled 422 yards of offense, the fifth-highest single-game total in UCLA history, including 396 yards passing, the seventh-highest. The redshirt junior also ended with 33 completions, which tied a single-game completions record, and threw for three touchdowns. There was also an awful interception for a pick-six, but that was really Hundley's only major mistake of the game.
The issue with UCLA's use of Hundley is that he isn't being maximized as a dual-threat quarterback. Heck, even Memphis quarterback Paxton Lynch was given more opportunities to make plays outside the hash marks than Hundley was.
Mora and offensive coordinator Noel Mazzone are understandably cautious to have Hundley run the ball 20 times a game, but that doesn't mean he can't be used in rollouts on play-action calls. The quarterback is best in space, where he can use his legs and strong arm to scramble and improvise on deep passes.
Hundley has a cannon. We've seen it before and we saw it on Saturday. He's also faster than some running backs, which gives him a very unique skill set. Hundley had a great game against the Tigers. Maybe the Bruins are hiding some wrinkles in their playbook for the Pac-12 season, but at some point, we're going to need to see Hundley in space on a more frequent basis.
UCLA needs to get more pressure on the quarterback

Ulbrich has said in the past that sacks are overrated, and that pressure is what's important.
Which is fine, if that pressure exists. Against Memphis, it was inconsistent at best. The Tigers averaged 4.2 yards a carry and their lead back, Doroland Dorceus, ripped the defense for 86 yards on 6.6 yards a carry. Lynch, the Memphis quarterback, threw for 305 yards. It took the Bruins until the fourth quarter to record their first sack of the season.
"I still feel like we're getting pressure," Ulbrich said after the game. "I have a feeling sacks will come in bunches, because we've got the right personnel to get it going."
The Bruins are having other defensive issues, too. They had serious tackling problems, and cornerback Fabian Moreau, who Mora called a potential first-round draft pick during training camp, was beat on several occasions.
After the game, Mora mentioned that Memphis runs an unorthodox offense, which could have something to do with Saturday's defensive struggles. That's fine. The Tigers run a diverse offense and featured a lot of screens, slants and misdirections on Saturday. It's not traditional.
Regardless, it's also something that the Bruins need to be able to stop, and that starts with getting pressure up front. The further those lineman get into the backfield, the more difficult everything gets for the offense. Through two weeks, that's not happening as much as it's going to have to once Pac-12 play starts.
Thomas Duarte can be a real difference-maker
After the game, the sophomore wide receiver came into the media room, sat down at the interview table and smiled. He then said, "Man, I've never got to sit at this table before."
Duarte had 16 receptions last year and tied a UCLA freshman record with three touchdown catches, but they were also spread out. He never had more than three catches or more than 80 yards in a game.
On Saturday, he caught a career-high four passes for 110 yards and two touchdowns. Both of his scoring grabs were deep passes that found Duarte wide open.
"Man, it felt like a dream," Duarte said. "It really did. Everything was just going right."
Duarte was slowed by a hamstring injury during camp, but now that he's healthy, he gives Hundley and the offense a unique look in the passing game. He's somewhere in between a tight end and an inside receiver, 6-foot-3 but fast and quick, and Memphis didn't quite know how to defend him.
There is also a spotlight on Duarte because UCLA had seven dropped passes last week, and dropped another seven on Saturday. That's not good for anybody. So as long as Duarte continues to find seams in the defense, as long as he creates mismatches, he'd better get used to sitting at that table.
Jake Brendel is most assuredly a difference-maker
The difference between UCLA's offensive line from Week 1 to Week 2 was pretty clear. The Bruins didn't flat-out dominate — they needed a first down at the end of the game to seal the win and were stuffed three straight times at the line of scrimmage — but they were significantly better.
Against Virginia, Hundley was sacked five times and UCLA averaged just 3 yards a carry. Those numbers didn't jump an incredible amount against Memphis (four sacks and 3.5 yards a carry) but the difference was noticeable.
"I felt like we were more settled," Mora said. "The ball was snapped, and we were, like, moving together, like you're supposed to. I thought the protection was excellent."
Not all of that credit should go on the shoulders of Jake Brendel, who returned to the starting lineup after missing last week's game with a sprained left knee, but a good amount of it should. His return allowed Scott Quessenberry to move back to guard. The starter last week, freshman NaJee Toran, didn't play a single down on Saturday.
Hundley had much more time in the pocket to throw, which allowed some of the deeper routes to develop. Running back Paul Perkins ran for 104 yards and two touchdowns. The Bruins finished with 540 total yards of offense.
Brendel is a center, which means that one of UCLA's most important offensive players is going to go under the radar. In a way, it's almost easier to tell when he isn't in the game than when he is.
For more Bruin observations, follow Everett Cook on Twitter @everettcook
---
Get the latest on L.A.'s teams in the daily Sports Report newsletter.
You may occasionally receive promotional content from the Los Angeles Times.