Gap issues continue to plague UCLA's defense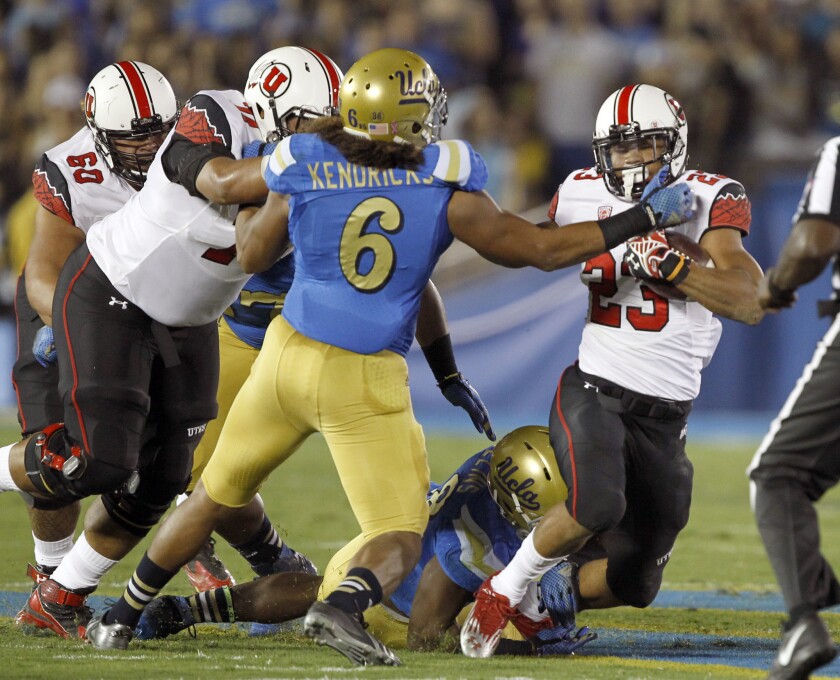 It's easy to point a finger at kicker Ka'imi Fairbairn. He missed a 50-yard field goal that would have given UCLA a win over Utah, but the reality is, he shouldn't have been in that situation in the first place. Really, the offense shouldn't have been forced to do anything in the final minute of the game.
Down one point with five minutes left in the game, Utah took 10 plays and more than four minutes to drive 63 yards and kick the game-winning 29-yard field goal. On that drive, the Utes didn't pass the ball once. UCLA knew what was coming, and couldn't stop it.
As defensive coordinator Jeff Ulbirch said after the game, it was a situation where his defense needed to step up and make a stop. It didn't work out that way, and the Bruins lost the game.
Besides having issues containing the edge, the Bruins have continued to struggle with gap assignments. Players will bite toward a hole or gap they weren't assigned to, trying to make a play. Against a good running back or a good offense, those mental mistakes are easy to exploit.
"I think that mental toughness can mean a lot of things, and one of those things is having the internal discipline to avoid the temptation to get out of your lane to make a play, and instead doing exactly what your assignment calls for and having the trust that your teammate will do the same, and that it will work," Coach Jim Mora said Saturday. "That's hard to do. You start to scramble, because you want so desperately to make a play, that sometimes you try to do too much. Sometimes it works out, but more often than not, it ends up hurting you."
Added redshirt senior linebacker Eric Kendricks on Monday: "It's always extremely hard, especially when there are double teams up front and things like that. They're game planning for it, but staying in your gap isn't an easy thing, always. That's a key on this defense and that's what we need to maintain."
The task doesn't get much easier this week in Oregon. The Ducks have been ravaged by injuries on the offensive line and were taken to task by Arizona last week, but they also have one of the fastest quarterbacks in the nation, Marcus Mariota and are averaging 209 yards per game on the ground.
"Everyone thinks they do all this crazy stuff, but at the end of the day, they're a run-first team," Kendricks sad. "They run zone read, run stretches and like to get to the perimeter and get blocks downfield. It's going to be a challenge. I'm excited."
For more Bruin observations, follow Everett Cook on Twitter @everettcook
---
Get the latest on L.A.'s teams in the daily Sports Report newsletter.
You may occasionally receive promotional content from the Los Angeles Times.