Josh Rosen is chosen as UCLA's starting quarterback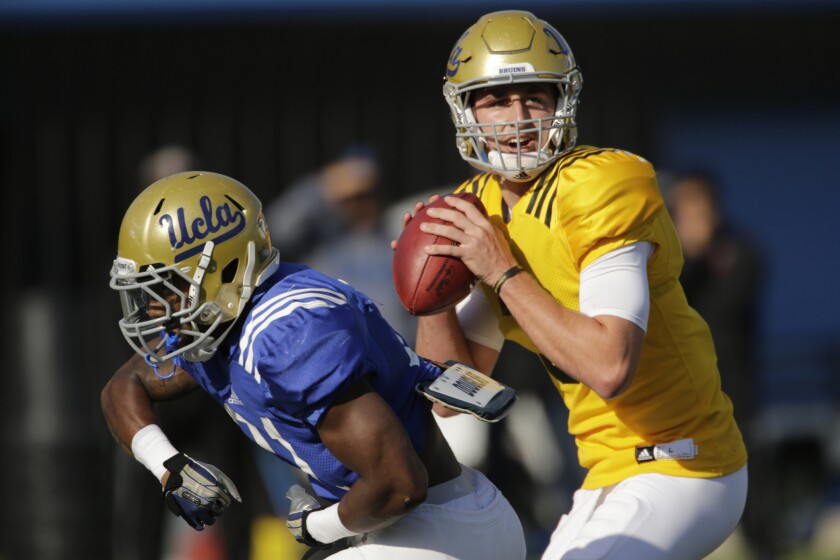 It didn't come as shocking news, but it was finally delivered as official news. Freshman Josh Rosen was named UCLA's starting quarterback Wednesday.
Coach Jim Mora met with the team's quarterbacks in the morning and made the announcement in the afternoon, after practice. While making sure to praise quarterbacks Jerry Neuheisel and Mike Fafaul, Mora said, "we made a decision and we made the decision to go with Josh."
With that, Mora and offensive coordinator Noel Mazzone handed a potentially explosive UCLA offense over to a quarterback who was leading Bellflower St. John Bosco High at this time last season.
The Bruins, ranked 13th in the Associated Press preseason media poll, will now see if they can out-distance other teams that have decided to start a freshman at quarterback.
USC, with a plethora of talent, finished 9-4 in Matt Barkley's freshman season, 2009. A rebuilding California team went 1-11 with Jared Goff as the starter in 2013. Penn State was 7-5 with Christian Hackenberg as the starter in 2013. Miami was 6-7 with Brad Kaaya as the starter last season.
The only team that has won a national championship with a first-year freshman at quarterback was Oklahoma in 1985. Jamelle Holieway took over for the injured Troy Aikman in the fourth game of the season and led the Sooners to the title.
Mora tempered expectations a little Wednesday.
"When you recruit the No. 1-ranked quarterback; you hope he lives up to that billing," Mora said. But, he added, "We haven't played one single snap of football yet."
Rosen was considered the top high school quarterback in the nation by some recruiting analysts a year ago. He passed for 8,473 yards and 90 touchdowns during his high school career.
There will be freshman mistakes, Mora said, which he was ready to absorb.
"He will be playing some really good teams this year," Mora said. "There are going to be some plays that are frustrating and there are going to be some plays that are dumbfounding. But we're also going to see some great plays."
Mazzone said it will be a one quarterback show.
"You have to go through the good times and the bad times," Mazzone said. "It's not going to be one of those things where if someone thinks his shoe is untied, he'll get yanked."
Mazzone said there are four things he wants from Rosen: "Protect the football, be accurate throwing the football, create some plays for us — not many, but some — and be a great decision maker."
It will help that the Bruins return four starters on the offensive line, as well as running back Paul Perkins, who gained 1,575 yards to lead the Pac-12 Conference last season. Rosen also has a cadre of talented receivers at his disposal.
Mazzone said that when Brett Hundley won the job as redshirt freshman in 2012, "he was a solo artist. Now we've got the band back together."
Hundley "had to create plays," Mazzone said. Rosen "has to manage the game."
Perkins and the other running backs will be ready to shoulder some of the burden.
"We can make the job easier for the quarterback," Perkins said. "We are loaded with talent around him. Hand the ball off to one of us and we are guaranteed to bail him out of any situation."
The choice of Rosen was far from a surprise to anyone who saw spring practice.
Rosen, 18, enrolled at UCLA in January and had a tremendous spring. He was clearly the best quarterback, but it required the past three weeks of summer camp for coaches to be sure.
"I can't say it was one thing," Mora said. "You evaluate every little thing. I can't say there is a checklist, but when you watch guys as long as we've done it at some point it becomes apparent to you."
Mora said getting into school early helped Rosen assimilate with teammates, which will now make his job easier.
"It's not like he showed up two weeks ago," Mora said.
Rosen and the other quarterbacks faced tremendous pressure from the UCLA defense during training camp. The Bruins blitzed often during 11-on-11 drills, which gave Rosen a taste of what will come during the season.
"We can play defense," Mora said. "I thought Josh handled the pressure better every day. He became less flustered and delivered the ball where it needed to go."
Mora said he would stick by Rosen no matter what.
"I made it very clear I'm a one-quarterback type of coach," Mora said. "I like to put a guy in that position, support the heck out of him, hope he has success and rally around him if he's struggling."
chris.foster@latimes.com
Twitter: @cfosterlatimes
Times staff writer Mike Hiserman contributed to this report.
---
Get the latest on L.A.'s teams in the daily Sports Report newsletter.
You may occasionally receive promotional content from the Los Angeles Times.