St. John Bosco quarterback Josh Rosen eager to start UCLA career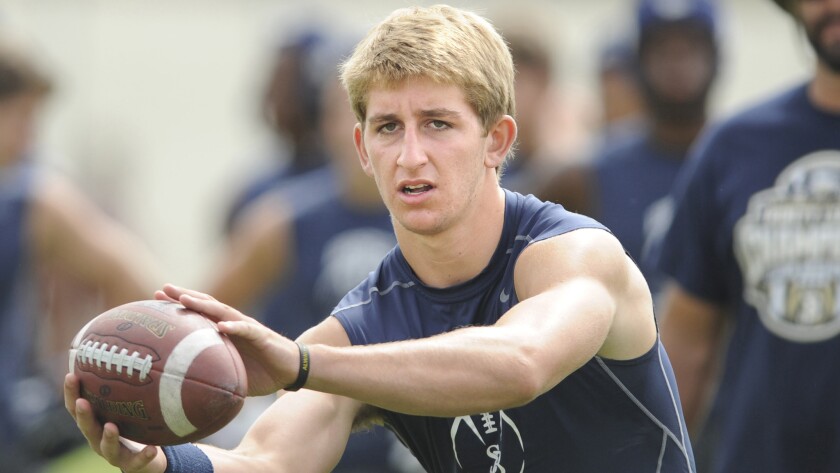 Bellflower St. John Bosco High quarterback Josh Rosen couldn't wait to get started. So he signed a letter of a grant and aide document with UCLA on Monday.
Rosen, regarded as the top high school quarterback prospect this year, committed to the Bruins in March. He will enroll for the winter quarter.
"I was going to go there anyway, so I decided to get the paperwork and just do it," Rosen said.
Enrolling early, Rosen said, "gives me the best opportunity to get ahead academically so I can be on track to graduate as a junior. It also gives me the opportunity to partake in spring practice to compete for the starting job."
UCLA quarterback Brett Hundley is a junior, but has said he will declare for next spring's NFL draft. That was well before he suffered an elbow injury Saturday against Texas. His status remains unclear for a game against Arizona State on Sept. 25.
Rosen, who is 6 feet 4 and 207 pounds, can begin conditioning programs and get a jump on learning the offense this winter. UCLA has three quarterbacks on scholarship besides Hundley: sophomore Jerry Neuheisel, freshman Asiantii Woulard and freshman Aaron Sharp. It was Neuheisel who took over when Hundley was injured.
"It'll give me a chance to compete on the most level playing field as I can manage," Rosen said.
Rosen said that the "stars aligned" to draw him to UCLA, and he certainly has a vision for his future.
He said the Anderson School of Management was appealing and "if I end up graduating my junior year, I want to look into it as a master's program," he said. And the football was on the rise.
"They are churning out NFL players," Rosen said. "They are on top in Los Angeles. Coach [Jim] Mora is an awesome coach. It's something special to be a part of."
With Rosen at quarterback, St. John Bosco is 3-0 and ranked No. 1 in The Times' poll.
"We had a rough week last week," Rosen said.
The Braves beat Portland Central Catholic, 42-14.
"Yeah, but it was tight at halftime," Rosen said.
---
Get the latest on L.A.'s teams in the daily Sports Report newsletter.
You may occasionally receive promotional content from the Los Angeles Times.