Looking for positives after UCLA's loss? Enter Marcus Rios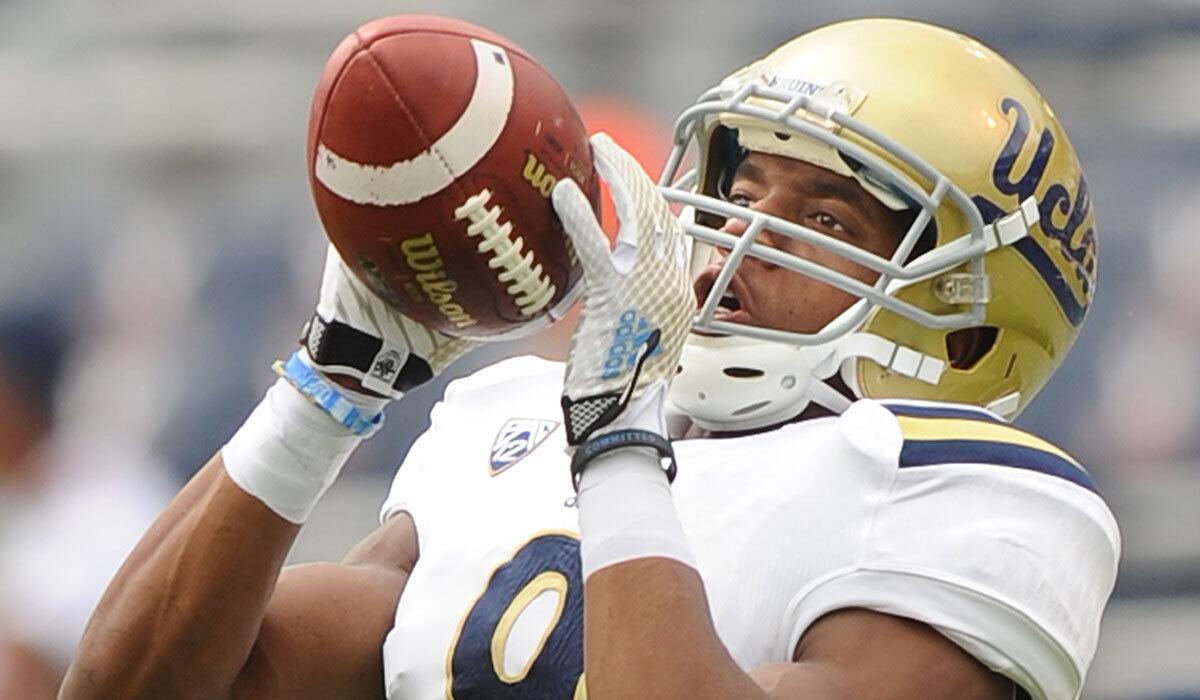 After a loss like the one UCLA suffered against Utah on Saturday, it's easy to point to all the negatives. Because, well, there are a lot of negatives.
Brett Hundley was sacked 10 times. The defense couldn't hold a late lead and was gashed by an offense with no desire to throw the ball more than 20 yards. The Bruins couldn't convert a 50-yard field goal to end, and win, the game.
But there were also some positives, one of the biggest being the play of redshirt sophomore Marcus Rios. The defensive back spent most of the first month of the season on the bench, but played a significant amount of snaps at nickel against the Utes. He took the place of sophomore Priest Willis, and got the most playing time of his young career.
"I think that Marcus is really developing, and that's great to see considering all that he's been through," Coach Jim Mora said Sunday. "He played well, he's getting better, getting more confidence, and to have him develop the way he's been developing, along with the way Priest is developing, is something we need here down the stretch."
When Mora says "all that he's been through," he's referring to Rios almost dying. The details of Rios' tale can be found here, but the short version is that he dealt with a rare and aggressive fungal infection that almost took his life. Rios wasn't expected to see the end of 2013, much less be seeing the field in 2014.
"With what I went through and stuff, it felt good to be back on the field with my team and my brothers," Rios said after the game Saturday.
UCLA shuffles defensive backs around a lot. Willis was healthy against Utah and almost never saw the field. Ishmael Adams has played corner, nickel and safety. Where Rios fits into the group depends on the opponent and probably won't be permanent, but for now, it's a good sign that he's even on the field at all.
For more Bruin observations, follow Everett Cook on Twitter @everettcook
Get the latest on L.A.'s teams in the daily Sports Report newsletter.
You may occasionally receive promotional content from the Los Angeles Times.