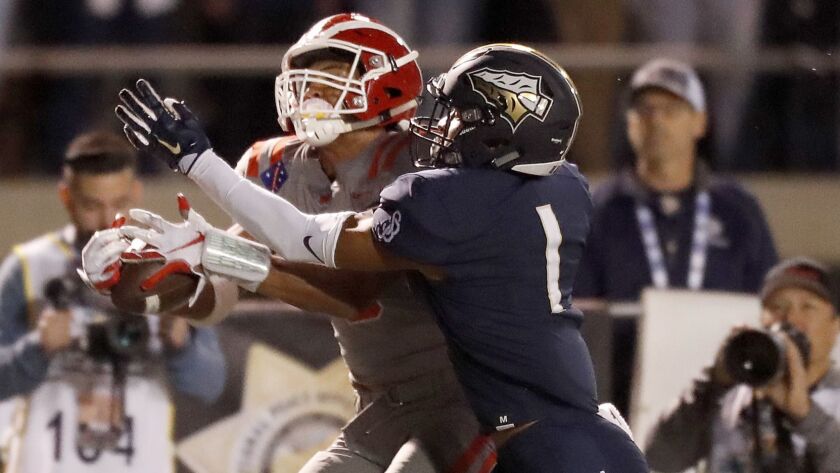 Within the last year, star prep cornerback Chris Steele committed to USC, reneged on that commitment, signed with Florida, completed a semester of classes in Gainesville, announced his decision to transfer from the Gators and then committed to Oregon.
If that felt dizzying, then hold on tight.
Because, as it turns out, there will be one final twist in Steele's highly publicized recruiting saga that has taken him from coast to coast and back again.
According to his father, Norman Steele, Chris Steele's journey is now expected to end right where it began, with the Bellflower St. John Bosco product choosing to play college football for his hometown USC Trojans.
"It's looking like that's going to happen," Norman Steele told the Los Angeles Times on Wednesday. "I don't see anything else happening."
After everything, it isn't surprising Norman Steele wanted to leave his son an out. Trying to be careful, he said Chris will be a Trojan barring unforeseen circumstances. He indicated there were some matters that needed to be handled before he could say it was official.
"It's never done until you've got a legal document," he said.
If the last week has taught observers of college football recruiting anything, it is that nothing is done — ever.
Last week, the Trojans got five-star wide receiver Bru McCoy back in the fold. McCoy, the Santa Ana Mater Dei product, signed with USC and enrolled there in January before having a change of heart and transferring to Texas. McCoy completed the spring semester in Austin, participating in spring practice, all the while battling an extreme case of homesickness that brought him back to Southern California, and, ultimately, USC.
Now, Steele, whose decision to renege on his commitment to the Trojans during their 5-7 season last fall was viewed as another sign of their declining fortune, is on his way back, too.
And, all of a sudden, the USC football program can't lose.
Norman Steele said that his son left Florida because he was upset with the way the school handled an issue with Chris' roommate, quarterback Jalon Jones, who was reportedly accused of sexual battery by two female students at Florida. Steele requested a new living situation, but Florida denied the request, saying it would have to wait until after the semester.
Norman Steele said that USC did not have a scholarship available for Chris at the time of his transfer, which led to his son committing to the Ducks. The Trojans apparently now have room for Steele, who would immediately compete for playing time at cornerback this fall if he's eligible.
Sign up for our daily sports newsletter »
NCAA rules require a player who has transferred to sit for a year before he is eligible. But Norman Steele said Chris will file a waiver with the NCAA for immediate eligibility because of the circumstances of his transfer from Florida, which he said had nothing to do with football.
Norman Steele told The Times in January that Chris chose Florida over USC because he was more confident he would be developed as a football player with the Gators. Norman was complimentary then of USC coach Clay Helton's high character, and that quality is what now makes the school appealing, along with the academic profile.
Norman said Chris intends to major in journalism at USC.
He's already got a good story to tell.
Twitter: @BradyMcCollough
---