Graham Harrell hopes to transform USC's offense into something more player-friendly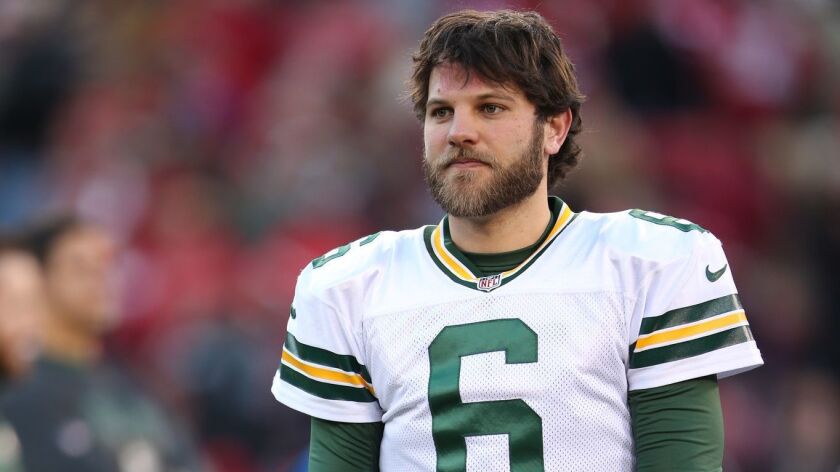 After five seasons as a Texas Tech quarterback under Mike Leach, Graham Harrell graduated with a football worldview that would age well. He felt confident in his unorthodox rearing, and as his education in the game continued as a backup to Aaron Rodgers with Mike McCarthy's Green Bay Packers, Harrell took away validation that his old coach had been onto something.
"The best thing about Green Bay is I got to see it done a different way, see it called a different way, and I think it just really strengthened my belief in the way we do things," Harrell said Monday in his first interview with reporters since becoming USC's offensive coordinator and quarterbacks coach.
"There it's the West Coast offense, the playbook is this big and every play call feels like a paragraph. I used to tell them all the time, 'If you pay me enough money, I'll simplify this whole thing for you and make it a lot easier.' They didn't like that. It was a badge of honor that they could remember a paragraph."
Six years after Harrell's last game with the Packers, USC coach Clay Helton decided to take him up on a similar offer. Harrell, 33, has been hired to simplify the Trojans offense and make it more player-friendly.
With Helton hiring two Leach guys in Harrell and Kliff Kingsbury this offseason, it's natural to assume that USC is going "Air Raid." Helton has said it won't be "true Air Raid" because Harrell actually cares about running the ball and has utilized sets with one or two tight ends. But that's taking it too literally.
Harrell will not be running Leach's playbook. He will, however, be trying to take the best of what Leach's mind has to offer from a bigger-picture sense.
"The Air Raid offense is more of a philosophy than actual Xs and Os," Harrell said. "The philosophy is keep it easy and let the guys go play. It's an execution-based offense. You're not going to go in there and try to out-scheme people. It's an identity. It gives you an identity. This is who we are, and we're going to be good at what we do."
If Monday's talk with reporters was any indication, Harrell will be a breath of fresh air in the McKay Center at a time when positive vibes are sorely needed. His Texas drawl is deep-set like Helton's, but his message about offensive football seemed to be much clearer despite a softer delivery.
Harrell doesn't claim to be a genius. His whole point is that, in his offense, nobody has to be.
"I don't believe there's any magic or anything secret to what we do," he said. "If anyone wants to come, any college or high schools, come in, and I'll tell them everything we're doing. I don't think what we're doing is any different than what anyone else is doing. There is a lot of great offense out there, and a lot of great plays out there. You just can't be great at all of them. That's what I think Leach does an unbelievable job of: 'We're just going to be great at these plays, and that's it.'"
The other thing Harrell says he took from Leach, who hired Harrell to coach outside wide receivers at Washington State during 2014-15: make fun a priority.
USC quarterbacks under Harrell will be given the freedom to fail enough times that they start succeeding without thinking. In that freedom lives the fun, and, when the quarterback harnesses it, there should be a trickle-down effect to the rest of the offense.
"Coach Leach used to tell me this, and I don't ever tell my quarterbacks this … 'What I'm giving you is a suggestion. You can call whatever you want,'" Harrell said. "If they see something, and they want to change the play I've called, I'm fine with that, just make it work. If it didn't work, I'll tell them that's a dumb idea. If it does work, I'll say great idea."
Harrell chuckled to himself, showing off an easy sense of humor. A small-town kid from Ennis, Texas, he carried himself like a guy who believed he belonged at a big-time place such as USC. But he didn't angle for it.
Well into January, Harrell assumed he would be at North Texas for a fourth season as offensive coordinator and quarterbacks coach. He had a senior quarterback returning in Mason Fine, and the Dallas-Fort Worth Metroplex is home for him and wife Brittney. He said Monday that he turned down a couple of job offers before Helton called and piqued his interest.
The day after their first talk, Harrell asked a North Texas staffer to pull up some film of USC's offense. He saw the Trojans wide receivers and got excited. Harrell could not deny the talent he saw in quarterback JT Daniels, although he said the quarterback position and every other will have an open competition when spring practice begins March 5.
Harrell was asked about the perceived pressure to win right away due to Helton's job security after a 5-7 season. He seemed to think that type of thing was precisely why he uprooted his young family to Los Angeles.
"I don't ever worry too much about pressure," Harrell said. "The great thing about SC, I don't really think it matters if you win a Rose Bowl or you go 5-7, the next year it's always pressure because they want you to win again. A lot of jobs throughout the country, you can be average and everyone is happy with you.
"You don't get into this profession to be average. You get into this profession to win championships, and realistically there aren't many schools in the country where you can win a national championship. … If you ever get to one of those schools, you better jump on it. You may never get it again. That's why I'm here."
Sign up for our daily sports newsletter »
Twitter: @BradyMcCollough
---
Get the latest on L.A.'s teams in the daily Sports Report newsletter.
You may occasionally receive promotional content from the Los Angeles Times.