Markese Stepp getting up to speed in USC's new offense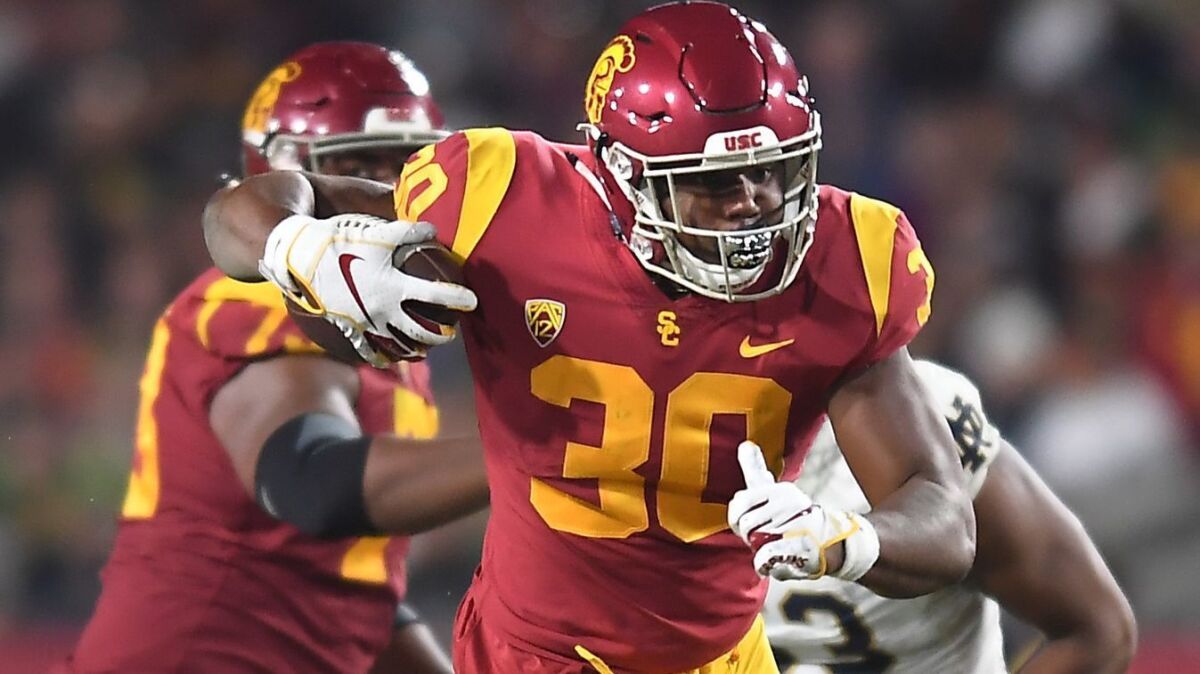 The new USC offense prides itself on its fast tempo, and no Trojan has had to get up to speed as quickly as running back Markese Stepp.
During a redshirt year in 2018, Stepp established himself in practice and limited game action as a bulldozer of a back who was likely to fit right into the mold of strong runners at "Tailback U."
But it wasn't long after his encouraging five-carry, 23-yard performance in the season finale against Notre Dame that Stepp figured out he might have to adjust his game. Kliff Kingsbury and then Graham Harrell were in for Tee Martin at offensive coordinator, which meant Stepp would have to carve out space for a battering ram in the pass-happy "Air Raid" attack.
Harrell may like to mix in the run, achieving more of a balanced look than Mike Leach's vintage version of the offense, but there is little doubt that more versatility will be needed from USC's running backs.
Harrell's backs the last three years at North Texas averaged a combined 54 receptions — compared with an average of 35 at USC — and USC coach Clay Helton recently said he thinks the Trojans' backfield could haul in 100 balls in a season.
To this idea, Stepp can't help but laugh.
"I might have caught like seven passes my whole high school career," Stepp said of his time at Cathedral High in Indianapolis, where he was a four-star recruit.
This offseason, Stepp has been happily working to become a more complete player. He has lost 12 pounds and is checking in at a sleeker 6-foot, 230. He has been drilling consistently on his receiving technique, taking advice from wide receiver Amon-ra St. Brown, who told him that he needs to use his fingers to catch and not his palms.
"I think it's something that I've improved a lot," Stepp said. "It's something that I really focused on."
Said St. Brown, "If you're not a receiver, you don't really know why you're dropping it. It was just a quick reminder for him to look the ball in. Now he's doing extra catches after every practice."
With only three scholarship running backs in spring and only one more joining the team in the summer, speedster Kenan Christon, the Trojans will need to count on Stepp in 2019. Vavae Malepeai and Stephen Carr have missed significant time during the spring nursing injuries, which has allowed Stepp and walk-on Quincy Jountti plenty of reps in the new system.
"The fact he's going to be a redshirt freshman really excites me," said new USC running backs coach Mike Jinks. "Because right now, when the young man has the ball in his hand, he's a load to tackle. He's shown he's viable in the passing game. There are things we need to clean up, but I'm glad he's on our football team."
Jinks, who coached in the "Air Raid" under Kingsbury at Texas Tech, was asked to recall a big back who has excelled in the scheme. The best example he could come up with was Samaje Perine at Oklahoma.
"They're similar in size and strength," Jinks said, "and both have unbelievable balance. He's an elite talent. You don't find that many guys that big with that type of vision. In the offense, once he learns everything and he's able to go out and just play, I think we may have something pretty special."
To Helton, it's clear what Stepp has to do to earn the playing time he desires at USC.
"You don't want to just be known as a runner," Helton said. "You want to be known as an every-down back."
Sign up for our daily sports newsletter »
Swann responds
USC athletic director Lynn Swann penned a response Tuesday to a Los Angeles Times story that addressed his Saturday trip to Virginia to sign autographs for money.
"In regards to today's story about me in the Los Angeles Times, the article would have you believe that I traveled to sign autographs with no concern for what is going on at USC," Swann wrote in a note posted to the department's official website. "Nothing could be further from the truth. While on this brief weekend trip back East, I was constantly connected with people at our university.
"Also, as a matter of principle, I live up to my commitments and contractual obligations. I signed a contract months ago to appear at the event, well before news broke of what is going on at USC now. Not showing up would have been a breach of contract."
Times reporters requested comment from Swann twice prior to the story being published, the first attempt coming in person at the autograph event. He refused.
"The most important thing for all of us in USC Athletics as we move forward during this challenging time is to serve our student-athletes," Swann continued. "USC will continue to learn, change and be better. We are diligently working to identify and solve the problems and prevent them from happening again."
Twitter: @BradyMcCollough
Get the latest on L.A.'s teams in the daily Sports Report newsletter.
You may occasionally receive promotional content from the Los Angeles Times.