Bennie Boatwright's three-pointer gives USC 69-67 win over Arizona State
The USC Trojans lined up for Arizona State forward Zylan Cheatham's one-and-one free throw and waited for instruction. They trailed by one with 24 seconds left when Andy Enfield signaled in the play they would run on the other end.
Bennie Boatwright knew the call well. He had won the championship game of the Diamond Head Classic last season with a three-point shot off a variation of it. Odds were, the ball was going to find him again Saturday night with second place in the Pac-12 standings on the line. But in that moment, prepping for Cheatham's free throw, he wasn't thinking about the high stakes or the fact he had missed two game-winning shots in a loss at Oregon State on Jan. 10.
"Got to stay calm," Boatwright would say. "Even keel. If I don't get it, it's all good. If I get it, gonna try to knock it down."
Cheatham missed the front end. USC point guard Derryck Thornton would set the design in motion, moving toward Boatwright near the top of the key. As Thornton went left, Boatwright set a screen on the Sun Devils' Remy Martin, and then popped. At the same time, USC guard Jonah Mathews set a screen on Boatwright's man, Cheatham. Mathews' man, Luguentz Dort, did not flash to Boatwright, leaving him the space to shoot a three-pointer in rhythm off Thornton's pass.
"It's going in," USC guard Shaqquan Aaron thought as he watched the ball spin off Boatwright's hands.
Swish.
Boatwright yelled and punched the air with his right hand. His shot made Galen Center vibrate like a real basketball arena, and, after a couple of missed Arizona State three-point tries, the Trojans and their fans could celebrate a 69-67 victory over the Sun Devils.
USC's bench poured onto the court and ran toward the student section behind the opposite baseline. Enfield found himself over there with them, dropping his usual stoicism to get caught up in the emotion of what could be a defining win for this team with plenty of basketball left to be played.
Enfield smiled and enthusiastically doled out high fives as he practically skipped around the edge of the court back to the USC locker room.
In a little more than a month, his Trojans had turned a 5-6 record into 12-8 and 5-2 in the Pac-12.
"I was just really excited about how they battled," Enfield said, "to see that maturity and that heart that they showed, to see even guys that weren't shooting the ball great or were making mistakes, they just kept battling all night. It was so impressive, and that's what makes this job fun at times."
Fun is not exactly how one would describe this season until this three-game homestand. For those who haven't been following, the CliffsNotes version is that USC has been held back by a rash of injuries, some off-the-court issues and an overhanging question of whether Enfield's program in Year 6 had developed the backbone to overcome the type of in-season drama that good programs can somehow push through year in and year out.
USC came back from its two-loss Oregon trip at 9-8 and with talented freshman wing Kevin Porter Jr. suspended indefinitely. Porter came back for Thursday's win against Arizona, but he had nothing to do with the Trojans' win over the Sun Devils. In fact, USC probably won in spite of Porter, who missed all four of his shots and turned the ball over three times in nine minutes.
The inspired play of Aaron, a fifth-year senior, made up for it. He had 13 points and added three steals and was everywhere.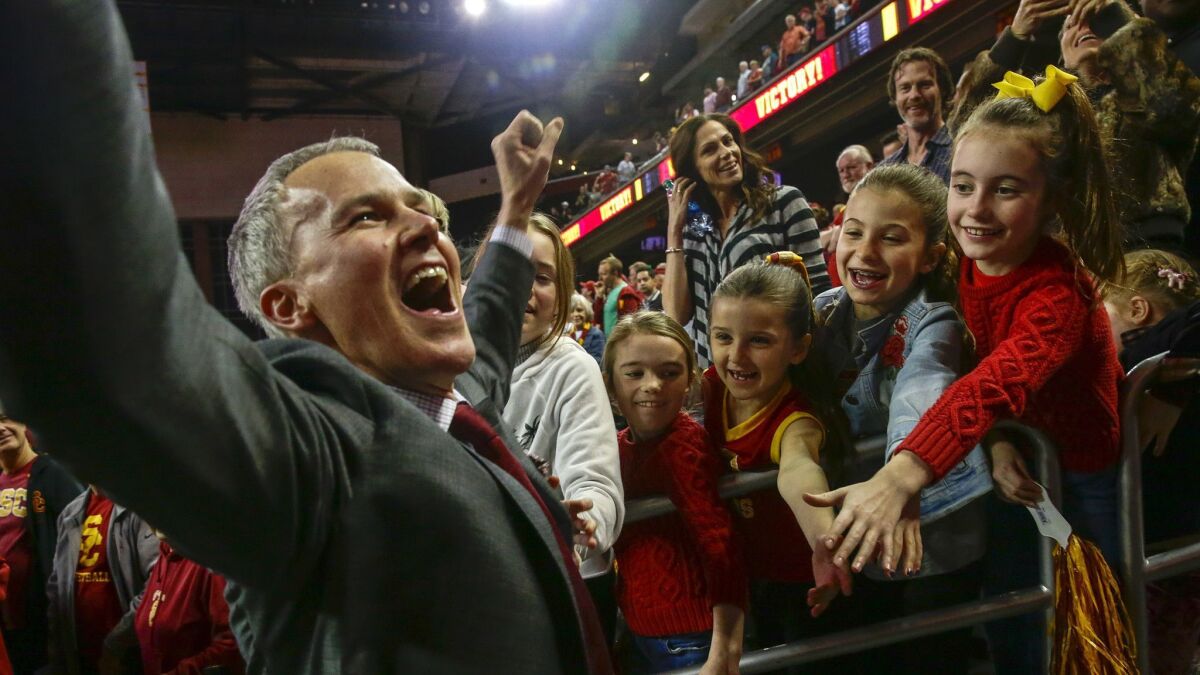 Arizona State (14-6 and 5-3) is USC's first victory of the season against a team that could make the NCAA tournament. The Sun Devils are deep, rebound like their next meal depends on it and have playmakers all over the floor.
The Trojans' blowouts over UCLA and Arizona leading into this one were fun, sure, but this was better.
"It shows that we have toughness," Aaron said. "It shows that we can hang with the tougher teams. That was a gritty, grimy team."
To finish it off, though, the Trojans needed a pretty shot. They knew who would take it.
"Very fortunate to get it," said Boatwright, who had a game-high 17 points. "That Oregon State shot, that's a shot I missed. It's over with, happened in the past. I was able to knock this one down."
USC next
Wednesday at Washington, 8 p.m., Alaska Airlines Arena, FS1 — The top two teams in the Pac-12 standings will meet in a game that will go a long way in deciding how legitimate USC's league titles hopes are. Washington (16-4 and 7-0 in the Pac-12) will be tough to beat in Seattle.
Sign up for our daily sports newsletter »
Twitter: @BradyMcCollough
---
Get the latest on L.A.'s teams in the daily Sports Report newsletter.
You may occasionally receive promotional content from the Los Angeles Times.