Playing big minutes is helping USC's Bennie Boatwright get up to speed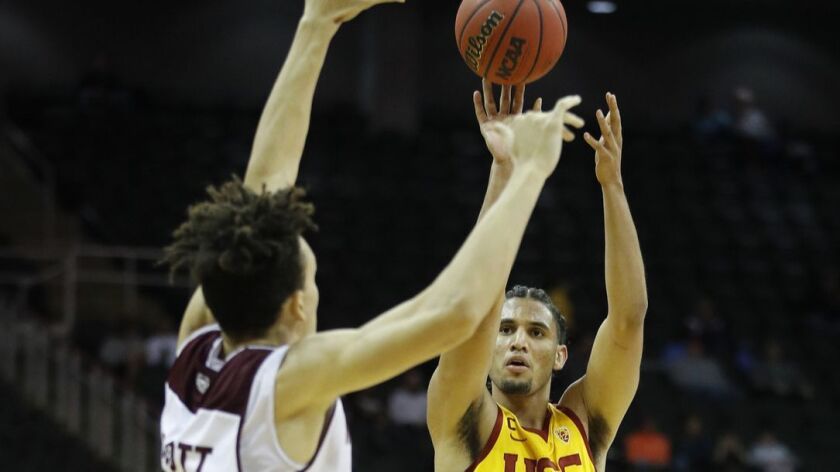 Twice during the USC basketball team's come-from-behind win over Cal State Bakersfield on Sunday, Andy Enfield asked senior forward Bennie Boatwright if he needed a break.
Each time, Boatwright shook his coach off, but it wasn't because he couldn't have used the rest.
"I'm tired, I'm tired," Boatwright said after the Trojans' 90-75 victory, which brought their record to 4-2. "I didn't get the preseason to get in shape with these guys. I'm just going on the run. I need to get in shape while playing. This game is going to help me for the next game."
Boatwright missed USC's first two games while finishing his recovery from off-season knee surgery. Now that he's back, the Trojans still find themselves undermanned, as they have been since practice began in late September. Sunday night, Kevin Porter Jr. (quad bruise) and Derryck Thornton (sprained ankle) joined Charles O'Bannon Jr. (finger) on the bench, which meant that USC was down to eight scholarship players.
Between the lack of depth and the fact that Bakersfield led USC in the second half, Boatwright was forced to play 38 minutes whether he was ready for that kind of workload or not.
"Luckily he got to the foul line so he could catch his breath," Enfield joked.
Boatwright had 19 points and added eight rebounds and four assists, playing a complete game for USC. In four games this season, he is averaging 17.8 points and 6.3 rebounds, but it's his percentages that tell a bigger story about his evolution as a player in his final college season.
Boatwright is shooting 56.6% from three-point range and 57.1% overall. He said before the season he hoped to be around 45% from three.
"Just trying to take good shots," Boatwright said. "My first couple years here, just whenever I felt space I would shoot it. Now, I'm taking the right shots within the flow of the offense."
UP NEXT
vs. Long Beach State
When: Wednesday, 8 p.m.
Where: Galen Center.
On the air: TV: Pac-12 Networks; Radio: 710.
Update: Long Beach State (2-5) has lost to Pac-12 teams UCLA, Arizona State and Oregon State. The 49ers played the Beavers tough Sunday in a 75-72 defeat.
Twitter: @BradyMcCollough
---
Get the latest on L.A.'s teams in the daily Sports Report newsletter.
You may occasionally receive promotional content from the Los Angeles Times.