USC pulls away late to beat Cal State Bakersfield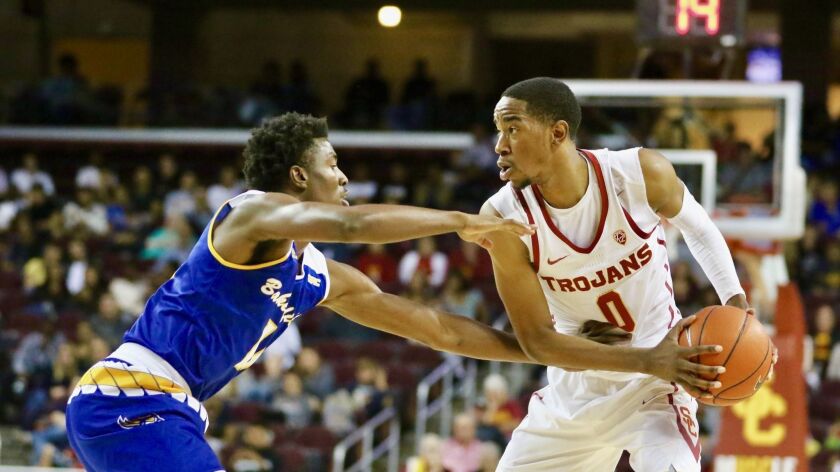 Fans at Galen Center were on the edge of their seats throughout the first 35 minutes of Sunday's game as the USC men's basketball team got all it could handle from Cal State Bakersfield before pulling away late to post a 90-75 nonconference victory.
Jordan Usher came off the bench to score a career-high 22 points and pull down a career-high nine rebounds in 30 minutes. Bennie Boatwright made three three-pointers on his way to 19 points and eight rebounds. Guard Shaqquan Aaron added 18 points, 10 in the second half, as the Trojans (4-2) ended the contest on a 23-7 run.
"I was just waiting my turn… we have a bunch of guys who can step up on any given night," said Usher, a 6-foot-7 sophomore guard/forward from Canton, Ga.. "Tonight was my night. I felt like it was coming. I made cuts to the rim for easy baskets and my teammates were finding me. If we share it we are effective. When the ball has energy, it's hard to miss."
Making his first career start, freshman guard Elijah Weaver had a game-high five assists and scored seven points, including a three-pointer on a fast break to give USC the lead for good, 71-68 with 6:26 remaining. He had ankle surgery in late August and was expected to miss three months, but returned Nov. 14 against Stetson.
"It was a challenging game for us," USC coach Andy Enfield said. "Give Bakersfield credit. They came out strong and shot the ball at a terrific rate. We ramped up our defense, forced some missed shots and got key stops at the end."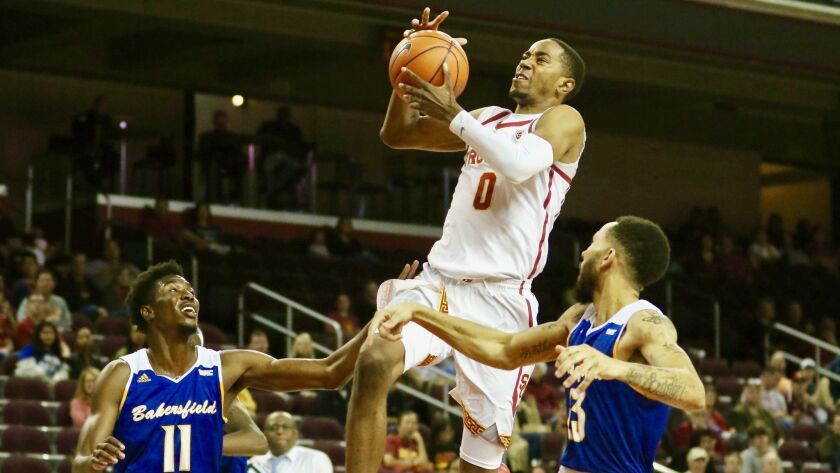 Jonah Mathews had 13 points and Nick Rakocevic added 11 points, eight rebounds, four assists and four blocks, but the Trojans allowed a season-high 46 points at halftime and trailed by two.
USC has won back-to-back games for the first time this season. Despite being shorthanded, the Trojans won Sunday even with guards Kevin Porter Jr. (right quad contusion) and Derryck Thornton (right ankle sprain) out with injuries. Both started the Trojans' previous game against Missouri State (a 99-80 win) and are day to day.
"We had a terrible preseason … nobody got any repetition and we couldn't go five-on-five," Enfield said. "It's been a comedy of injuries but in truth it's no laughing matter. Nick had to play a long time with four fouls, Bennie did a good job of taking quality shots and putting the ball on the floor when he needed to. Elijah is still learning the speed of the game but he contributed."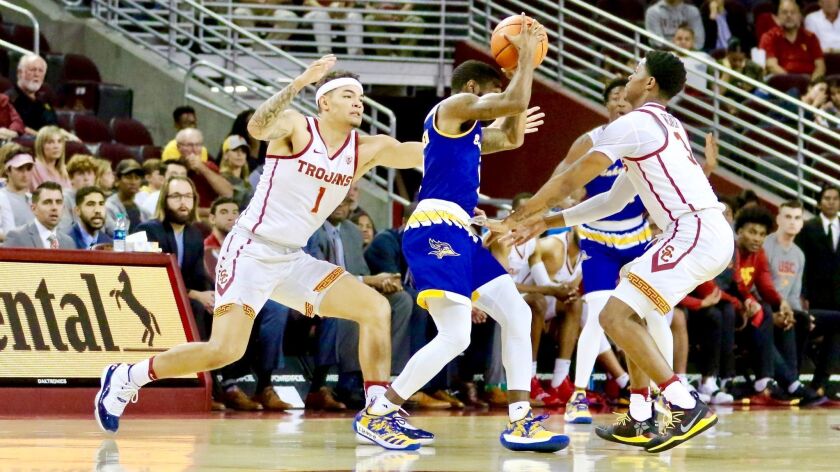 Damiyne Durham had 22 points, including six three-pointers, and Greg Lee added 12 for the Roadrunners (3-3), who were held to three baskets in the last 11 minutes.
"They're a good team, no doubt about it," Cal State Bakersfield coach Rod Barnes said. "I thought we played hard, I thought we defended but we were playing against a better team. Down the stretch we had some shots that we made the last couple of games that we didn't make today."
There were 16 lead changes and eight ties in a game in which the Trojans bench was outscored 41-22. However, the Roadrunners' outside shooting cooled from 66.7 percent in the first half to 33.3 percent in the second half. USC shot 55.8 percent from the floor and made 10 of 22 three-pointers.
"Jordan came up big and gave us a boost," Boatwright said of Usher. "The coaches preached to us that the only way they could beat us was with the threes. Jonah stepped up to guard No. 23 [Durham] and held him to very few points in the second half. I'm tired. I didn't have the preseason to get in shape. This game will help me for Wednesday [versus Long Beach State]."
USC won its only other meeting against the Roadrunners on Dec. 15, 2013, at Galen Center in Enfield's first year, closing on a 13-3 run to post a 63-59 victory.
"We came out of the zone and had to guard and we made more stops," Usher said. "When we play like USC is supposed to play, we're hard to beat."
USC next
Wednesday vs. Long Beach State, 8 p.m., Galen Center, PAC-12 Networks — The Trojans (4-2) will try for their third win in a row against a 2-5 Long Beach State squad coming off a 75-72 home loss to Oregon State. It will be LBSU's fourth game against a Pac-12 opponent.
---
Get the latest on L.A.'s teams in the daily Sports Report newsletter.
You may occasionally receive promotional content from the Los Angeles Times.