Justin Wilcox has become more meme than coach for a subsection of USC fans. When the Trojans defense performs poorly enough to make one want to scream profanities over and over again, that is a Justin Wilcox game.
In other words, Wilcox's last contest as USC's defensive coordinator — a 41-22 loss to Stanford in the 2015 Pac-12 championship game, in which Christian McCaffrey accounted for 461 all-purpose yards — left a lasting impression. One juicy detail in particular. Reporters in the press box could hear a voice in the coaches' booth continually yell a four-letter obscenity. The voice belonged to Wilcox. Coach Clay Helton fired him and three other assistants the following day.
And so USC fans could be forgiven for their surprise when Wilcox, in one season as Wisconsin's defensive coordinator, ran the nation's fourth-best defense. And for their incredulity when Wilcox was hired by California as its head coach this season. And their bafflement that Cal heads into Saturday's game against USC at 3-0, with upsets of North Carolina and Mississippi.
The success actually fits the general trend of Wilcox's career. It was USC that was the aberration. At USC, Wilcox's teams slid to, or very close to, career worsts in points allowed, yardage allowed, completion percentage and turnovers produced.
What happened?
Wilcox himself did not provide many answers this week. He is not a typically extroverted head coach. The biggest adjustment to being a head coach, he said, is "probably the number of conversations that you have." He kept the one about USC vague.
"We just didn't play well enough, and that falls on me," he said. "There's a lot of things that go into that probably."
Did he take any lessons from those seasons?
"You look back at what you could've done better first and foremost as a coach and then maybe how could you have prepared your team better, the players," he said.
And what did he learn, by looking back?
"There's a lot of things you look back on," he said.
Linebackers coach Johnny Nansen, USC's only current defensive coach who worked with Wilcox, had a more concrete explanation.
"I think the personnel fits what they're doing at Cal now," Nansen said. "I don't think so much here."
Nansen continued: "You look at the body types that we have now, I think that fit Justin a little bit better than when he first got here."
In fact, USC's current defense still carries Wilcox's fingerprints. Many of USC's best defensive players were Wilcox recruits, including linebackers Cameron Smith and Porter Gustin, defensive lineman Rasheem Green and cornerback Iman Marshall, among others.
But there were times, such as when USC gave up 452 yards rushing to Boston College, when Wilcox's game plan simply broke down.
Helton said he fired Wilcox because Helton wanted a system with four down linemen, and Wilcox runs a 3-4. Helton praised Wilcox as "a brilliant defensive-minded coach."
Wilcox was once the sport's wunderkind, a 26-year-old defensive coordinator at Boise State. By 2008, his third season, Boise State had the third-best defense in the country.
Wilcox, now 40, is the youngest head coach in the Pac-12. And he has led an early turnaround at Cal.
A season ago, the Bears owned the second-worst scoring defense in the nation. Cal less than two months ago was picked by conference media members to finish last in the Pac-12 North Division. Cal has outscored opponents 40-6 in the fourth quarter, with three comeback wins.
Until last week, Mississippi had the nation's best passing offense. The Bears shut out the Rebels for the game's final 43 minutes.
Cal's defensive yardage still lags behind most Power 5 schools, but its scoring defense is a respectable 52nd in the nation — above average. Linebacker Devante Downs says the bend-but-don't-break style is a credit to turnovers and quick coaching adjustments.
"We started slow in a couple games, and we've given up a lot of yards, and I think at halftime we made some good adjustments to stop what the other team's doing really well," Downs said.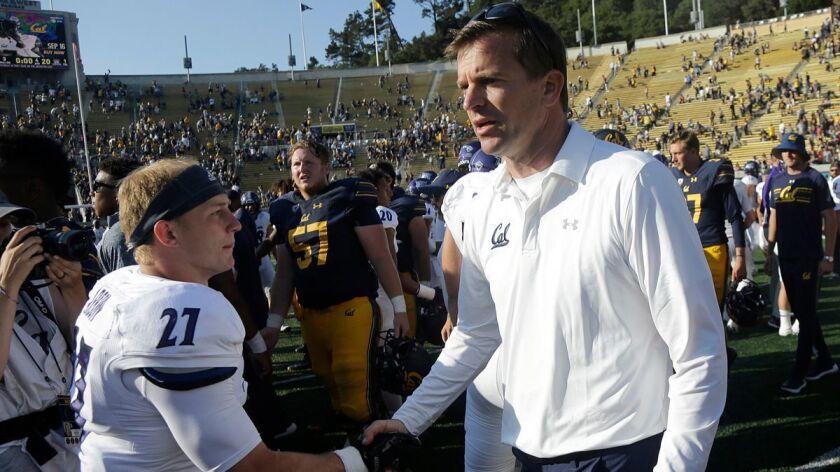 Wilcox's most important adjustment may have come during contract negotiations. He will make about $1.9 million per year, roughly $500,000 less than his predecessor, Sonny Dykes. But he was able to leverage a slightly larger salary pool for his assistant coaches, $3.1 million, a $100,000 increase.
Any increase at Cal is a win. The athletic department is saddled with the $460-million renovation to California Memorial Stadium that leaves the department with $18 million in debt payments each year.
But a coach can't succeed without quality assistants. And Wilcox used the money to find some. Both coordinators, Beau Baldwin on offense and Tim DeRuyter on defense, were former head coaches.
Helton said DeRuyter and Wilcox have added new wrinkles to the defense from Wilcox's time at USC.
Trojans safety Chris Hawkins added that Cal's offense was pretty explosive, too. But he laughed when asked about how he enjoyed playing for Wilcox.
"Y'all trying to get me in trouble," he said. "I see what you're trying to do,"
But when he turned serious, he said Wilcox was a players' coach. Hawkins texted Wilcox to congratulate him on the new job.
"Maybe we didn't have the right personnel for his type of defense, but when he took it to Wisconsin, they played lights out," Hawkins said.
After all, Hawkins said, there was a good reason that Wilcox got the job.
Follow Zach Helfand on Twitter @zhelfand
ALSO
Bill Plaschke: L.A. fans don't just give their devotion, teams have to earn it
Chase McGrath, USC's hero against Texas, rarely tried field goals in high school
Sam Darnold says give the Trojans just 20 seconds and they can mount a comeback
---