Column: L.A. fans don't just give their devotion, teams have to earn it
Two weeks into the NFL season, Los Angeles has two teams with a combined one victory, yet it seems the biggest criticism is being leveled at all those people with the audacity to ignore them.
The national narrative is not about the Rams and Chargers, but about the empty seats surrounding them, and whether Los Angeles is a good sports town. How dare anyone turn their backs on a mighty NFL gracious enough to grace our grounds with its riches.
Everyone wants to know, what's wrong with us?
To those billionaire owners who think their teams should be supported unconditionally, the more pertinent question is, what's wrong with you?
All those viral images of a half-filled Coliseum for a Rams team that won one-fourth of its games last year is not a bad look, it's a smart look. Los Angeles didn't ask for the Rams. It refused to pay for the Rams. Its sports landscape survived 22 years just fine without the Rams. So when the Rams spent their first season accruing only four wins and firing their coach while playing dull football, potential fans turned their backs, and who can blame them?
The reason pro football was absent around here for so long is because the NFL has always needed Los Angeles more than Los Angeles needed the NFL. Only now is everyone seeing how that looks. While an NFL owner's arrival in some cities is treated like the coming of a messiah, Stan Kroenke showed up on South Figueroa as just another new businessman peddling another new product. There was no community obligation to fall at his feet and occupy his seats. All the obligation belongs to Kroenke. If he puts out a winning and entertaining product, Los Angeles' discerning sports consumers will buy and, if not, they'll ignore. That's just how it works here.
The Rams know this. They understand it. So last winter they hired a new young coach who instilled an exciting offense and by the end of the season, here's guessing they will create some buzz. But it's going to take time. While they drew 91,046 fans for last season's Coliseum homecoming against Seattle, that number dwindled to 56,612 for Sunday's loss to Washington. No apologies from the crowd are necessary.
It's not about the fans, it's about the Rams.
And, of course, it's not about the fans, it's about the Chargers.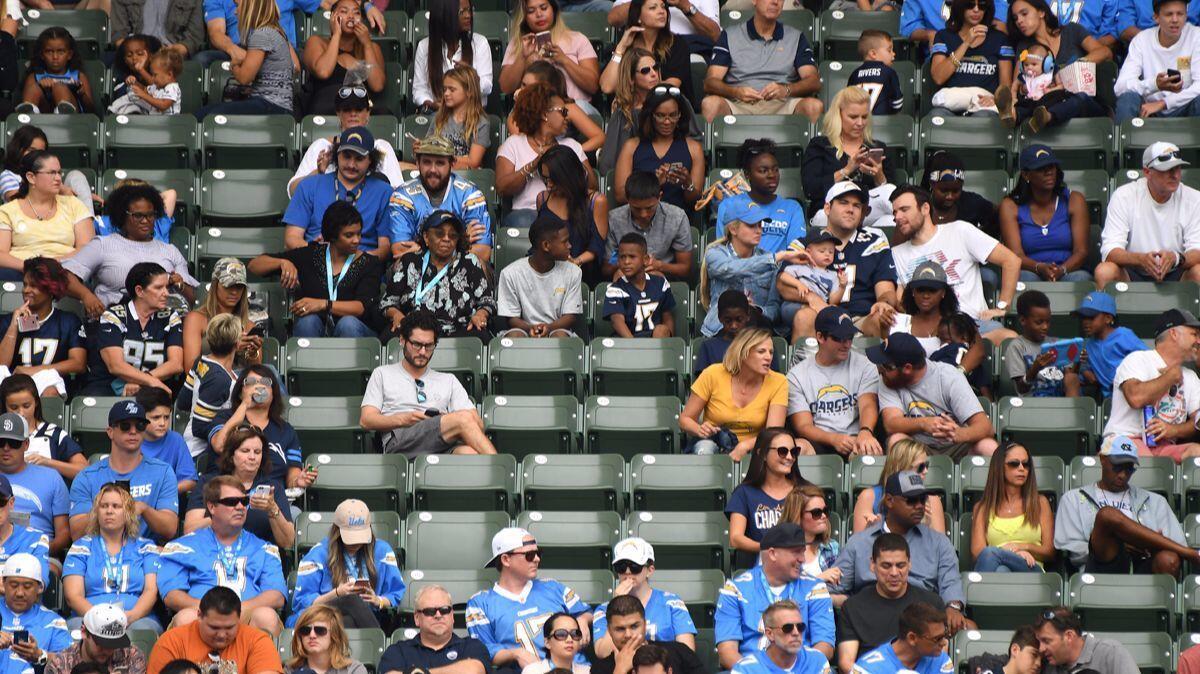 The former San Diego residents' problems in their return to Los Angeles have been endlessly chronicled, but it's not about apathy, it's about common sense. Los Angeles has scant historical or geographical connection to the Chargers. They are a team of strangers from another market who can only sell one thing, and that's winning, and so far they are 0-2 with both losses coming on botched final-second field goal attempts. For $200 tickets and $40 parking, even in their sweet little soccer palace, those field goals are going to have to be made.
Some have noted with glee that the Coliseum attendance at Saturday's USC-Texas game — 84,714 — was more than the attendance at both Sunday NFL games combined. But that's not because Los Angeles fans love college football more than the pros.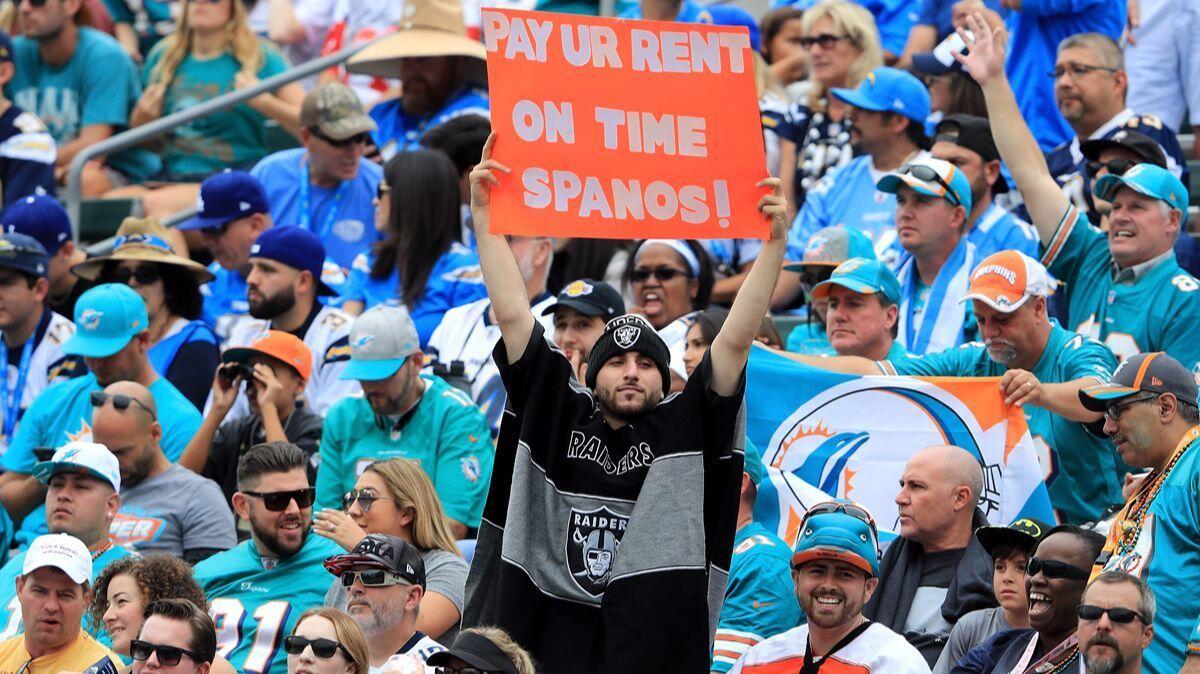 USC worked hard for those fans. You think the Trojans football team can just show up and sell it out? Think again. Just ask those longtime Trojan fans who haven't always had so much company.
During the final season of the brief Paul Hackett era in 2000, for a Nov. 11 game against Washington State, the Trojans drew 40,565. The program was mired in mediocrity. It wasn't fun. USC had to do something dramatic.
So Mike Garrett fired Hackett and made the out-of-the-box hire known as Pete Carroll. Carroll had to prove himself, and lots of folks including me didn't initially believe in him, and his fifth home game against Oregon State drew 44,880 fans.
But you win and entertain and what happens? Almost exactly a year after that Oregon State game, the Trojans drew 73,923 against Arizona State, and the party was on.
"USC is a tough, tough animal,'' Hackett said after his dismissal, and he could have been talking about every major team in town, because every sports executive here knows their teams are never simply given love, they have to earn it.
You think this was always a Lakers town? Think again. Ask anyone who has ever cheered for a team led by Vlade Divac and Nick Van Exel.
During the 1993-1994 season, the Lakers struggled to a 33-49 record amid crickets at the Forum. They averaged just 13,315 in the 17,505-seat arena.
Two years later, Jerry West knew he had to do something, so he signed Shaquille O'Neal and made a deal for Kobe Bryant and the average attendance immediately soared to 17,003.
By staying away, Los Angeles sports fans have historically made a real commotion. They can influence sweeping changes simply by their absence.
Nowhere has this culture been more compelling than with the Dodgers in 2011, when then-commissioner Bud Selig stripped the team from owner Frank McCourt partially because his customers had abandoned him.
It was the Los Angeles sports fans' finest moment. They didn't trust McCourt with their money. They didn't want to honor his awful game experience with their time. They had enough of a decaying stadium, endless food lines, and fan violence such as what happened on opening day in 2011 to Giants fan Bryan Stow.
Fans simply stopped showing up. In June of that year, I bought a midday reserved-level Dodger ticket for $2.55. The place was so empy and quiet, I fell asleep, and I wasn't the only one. McCourt had completely lost Dodgers fans, the team lost millions, and it took millions in stadium renovations and increased payroll from Guggenheim Baseball Management to win them back.
Yet for every one who returned, ownership has seemingly lost another one to the current TV blackout, which threatens the Guggenheim legacy, and they know it, because every sports owner understands the deal.
Devotion from the average Los Angeles sports fan is never simply given, it is earned, every day, every season, and if right now that means empty seats on a Sunday afternoon, well, the onus is on the Rams and Chargers. They have to figure it out.
They want the seats filled? Then fill them.
Get more of Bill Plaschke's work and follow him on Twitter @BillPlaschke
Get our high school sports newsletter
Prep Rally is devoted to the SoCal high school sports experience, bringing you scores, stories and a behind-the-scenes look at what makes prep sports so popular.
You may occasionally receive promotional content from the Los Angeles Times.