USC and United Airlines reach deal on Coliseum field naming rights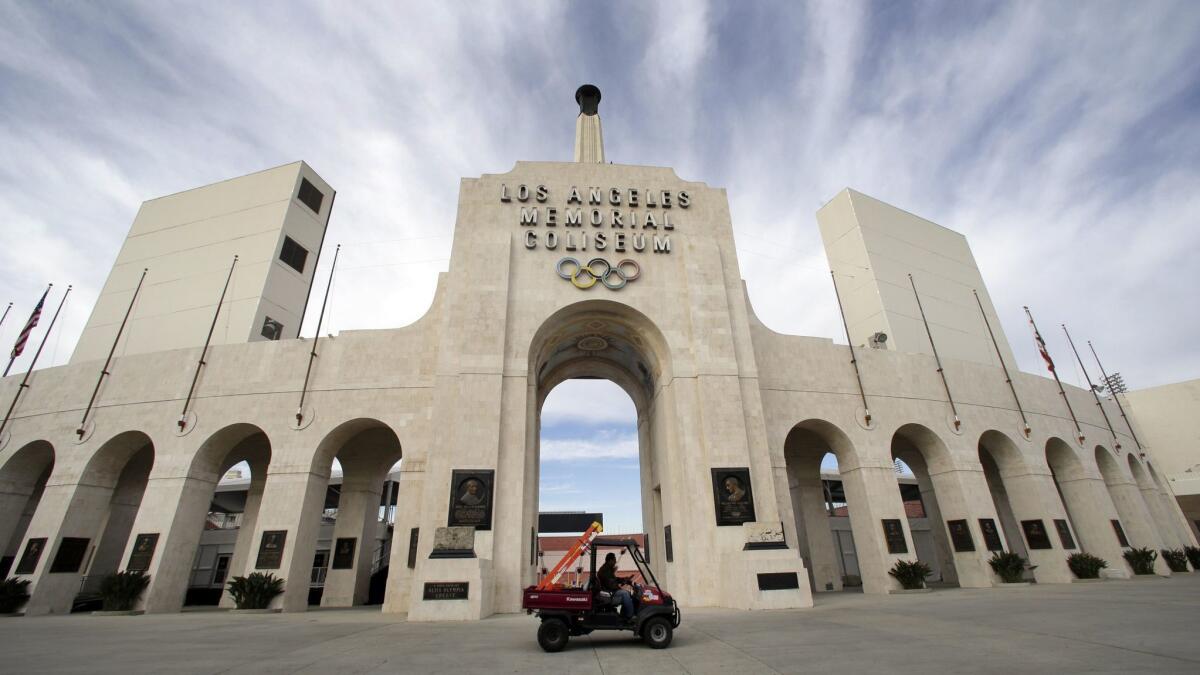 The Los Angeles Memorial Coliseum will not bear a new name that includes a corporate sponsor, but its field will.
USC and United Airlines announced a new agreement Friday that names the field at the historic landmark "United Airlines Field at the Los Angeles Memorial Coliseum." The deal will go into effect in August.
Under the terms of a previous agreement announced in 2018, United would pay USC $69 million over 16 years to have the Coliseum named United Airlines Memorial Coliseum. But that deal came under scrutiny this spring when Janice Hahn, president of the Los Angeles Memorial Coliseum Commission, started a campaign to preserve the name out of respect for the building's history as a war memorial.
"Unlike other modern sports venues, Los Angeles Memorial Coliseum is not just a stadium — it is a war memorial," Hahn wrote in a March 25 op-ed in the Los Angeles Times. "Removing 'Los Angeles' and replacing it with a corporate sponsor insults the memories of those the Coliseum was intended to honor."
Days after Hahn's op-ed, Janet Lamkin, president of United in California, reportedly offered to step away from its partnership with USC and end the agreement, which was vital to the school's financing of a $315-million renovation of the nearly century-old landmark.
The revised deal will be for 10 years instead of 16.
Maggie Schmerin, a spokesperson for United Airlines, said that the amount of money paid for the naming rights will not be disclosed. The agreement for the naming rights is between USC and United Airlines, Schmerin said.
"USC is honored to be the caretaker of this Los Angeles treasure and, together with United, we are ensuring the Coliseum's future as a world-class venue," USC interim President Wanda M. Austin said in a statement. "The naming of the field is a significant step in USC's efforts to usher in a modern era for this historic landmark and preserve its legacy. Through this process, USC was guided by doing the right thing for the community as we continue to honor our veterans. We look forward to the opening of United Airlines Field within the newly renovated Coliseum this summer."
The USC football team will unveil the renovated Coliseum and its newly named field Aug. 31 in a 7:30 p.m. kickoff against Fresno State that will be broadcast nationally by ESPN.
USC originally announced the renovation would cost $270 million, but costs grew as the privately-funded project developed.
If United had pulled out of the naming rights deal, it would have represented a major blow to USC's fundraising for the renovation.
"United has a long history in Los Angeles, serving the city for more than 80 years," Lamkin said in a statement. "With so many employees, many of whom are proud veterans themselves, and customers that travel to or call the area home, this sponsorship is a meaningful way to underscore our commitment to California. We always want to do what is best for the communities in which we operate — and in this case, reaching an agreement which upholds the name of such a respected venue while modernizing it for the benefit of future generations was the right thing to do."
Sign up for our daily sports newsletter »
USC and United also announced that they will honor local veterans in additional ways as part of the agreement, including providing support for veterans who attend USC as well as building a memorial in honor of veterans at the Coliseum.
In the end, Hahn's push to preserve the past worked to achieve her goal.
"I am pleased that USC and United have come together in a way that will honor the memories of veterans who served in World War I and our broader community of veterans," Hahn said in a statement. "This agreement ensures that United Airlines remains an important corporate sponsor of the Coliseum renovation project and that the legacy of the Coliseum remains. I am proud that we are moving forward with a shared commitment to veterans."
Times staff writer Matt Hamilton contributed to this report.
Twitter: @BradyMcCollough
Get the latest on L.A.'s teams in the daily Sports Report newsletter.
You may occasionally receive promotional content from the Los Angeles Times.