USC clinches Pac-12 South title with 38-24 victory at Colorado
USC linebacker Uchenna Nwosu leads fans in singing the team song after defeating Coloradoon Saturday.
(David Zalubowski / Associated Press)
Erik Krommenhoek pulls in a pass for a two-point conversion.
(David Zalubowski / AP)
USC quarterback Sam Darnold tries to evade the rush of Colorado's Rick Gamboa during the second half.
(Matthew Stockman / Getty Images)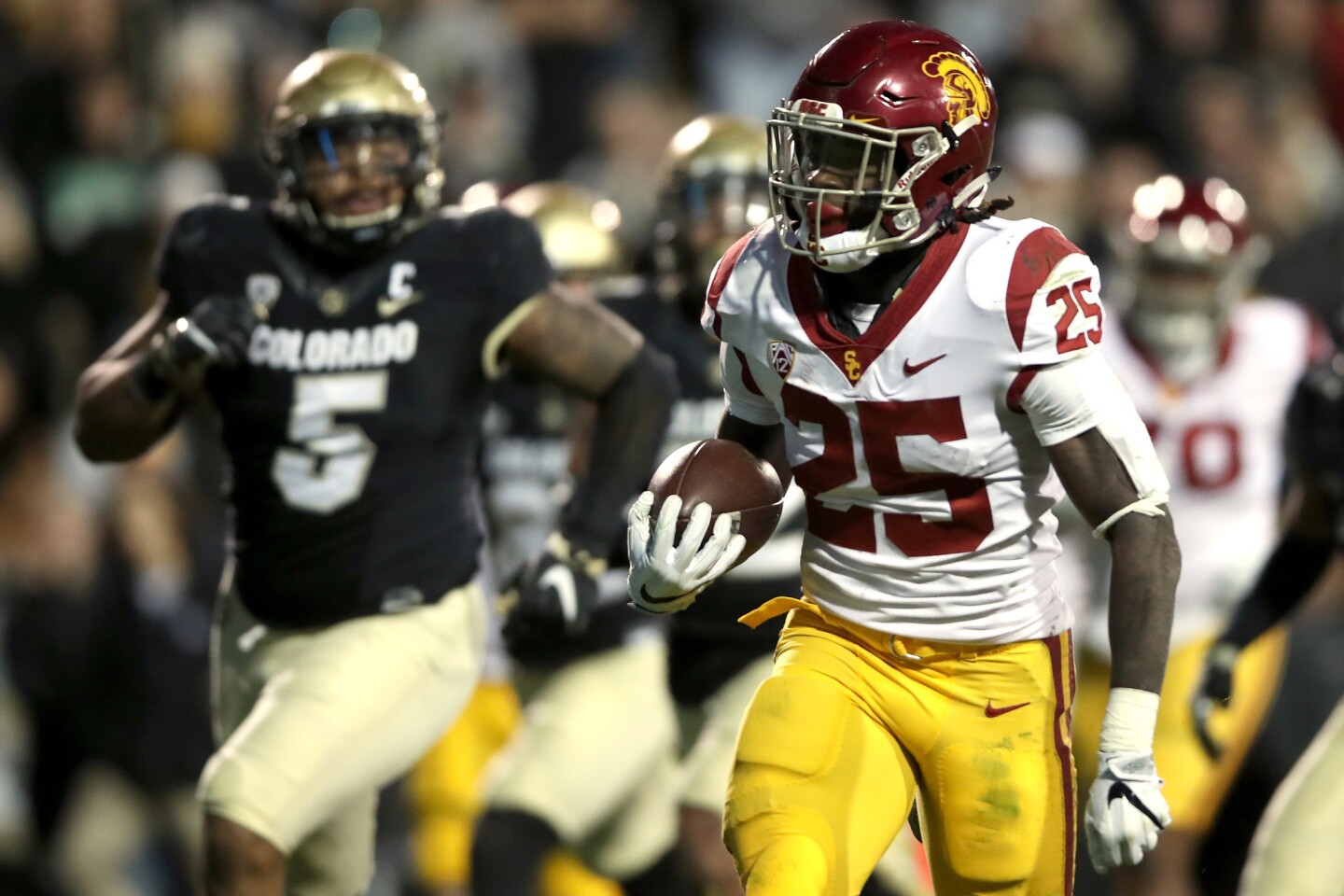 Trojans running back Ronald Jones II breaks into the Buffaloes secondary during a touchdown run Saturday.
(Matthew Stockman / Getty Images )
USC head coach Clay Helton directs his team during a time out against Colorado in the second half.
(David Zalubowski / AP)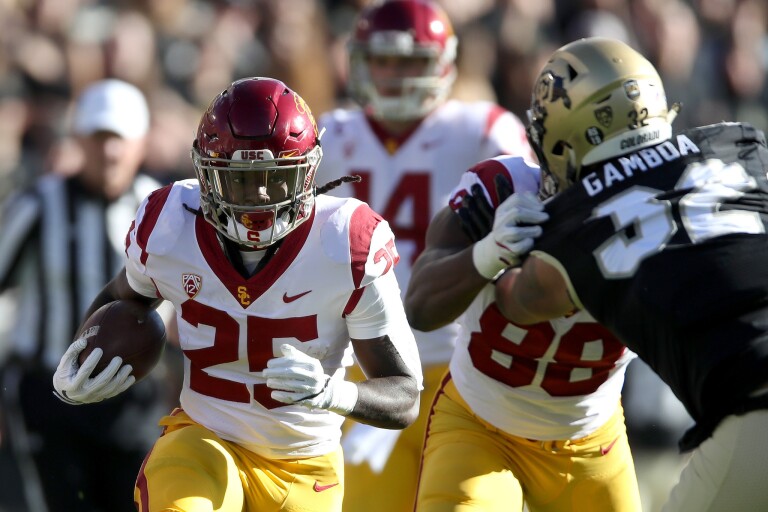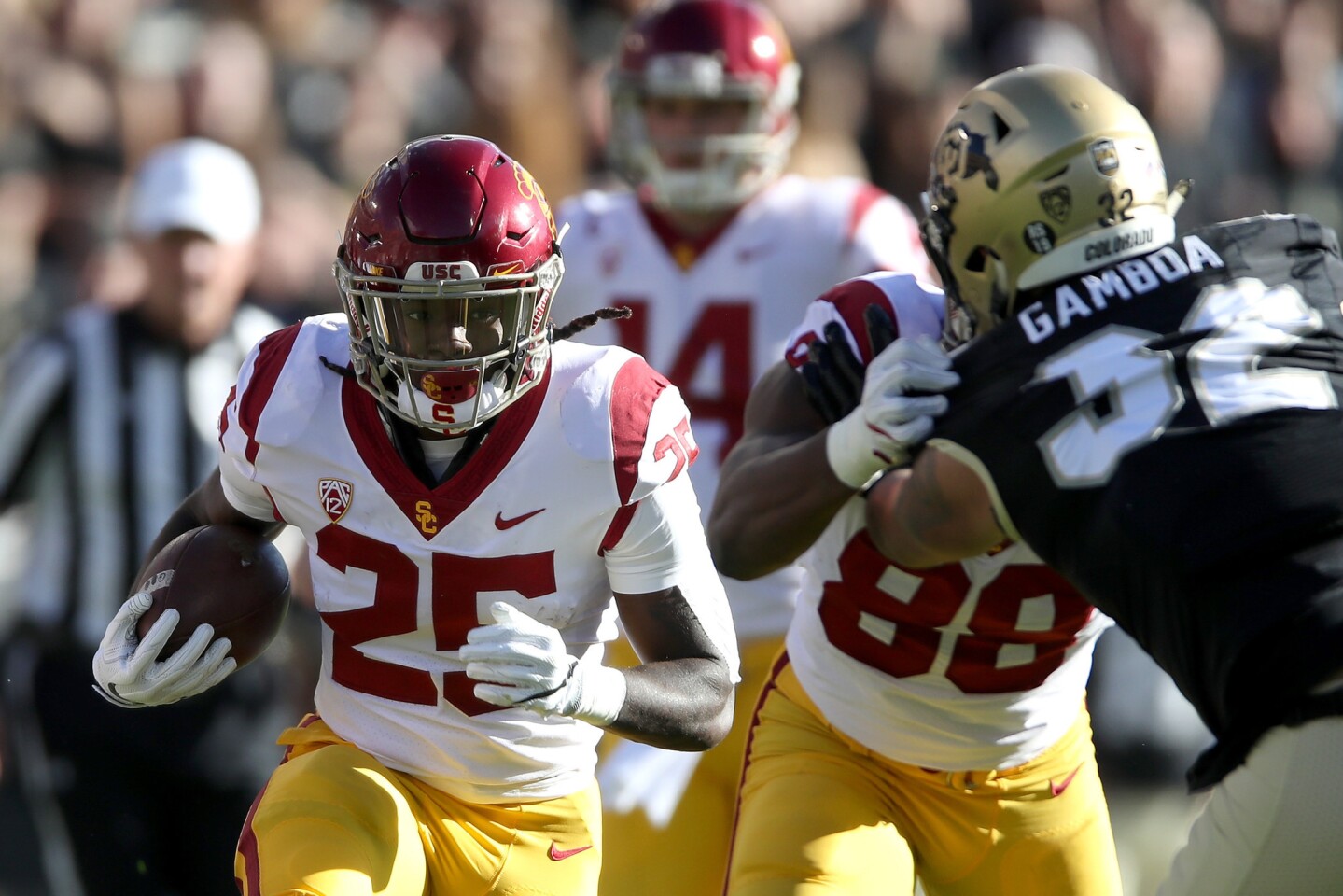 Trojans running back Ronald Jones II follows a block during a first-half run against the Buffaloes.
(Matthew Stockman / Getty Images)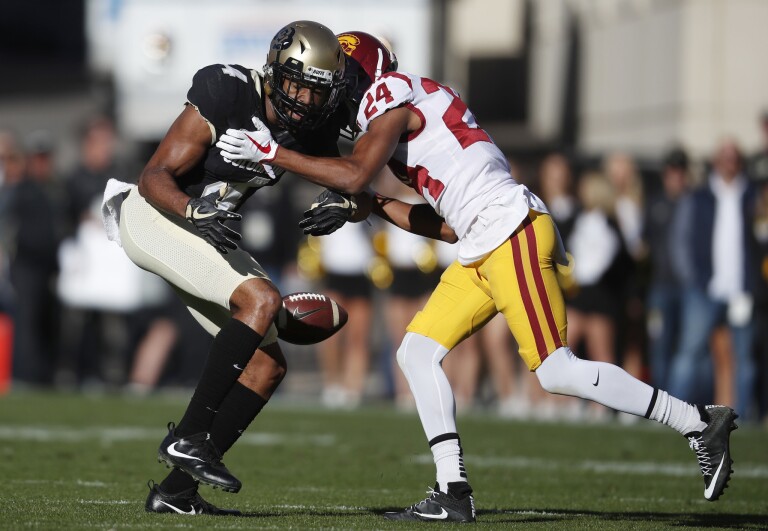 Colorado wide receiver Bryce Bobo fumbles the ball after he's hit by USC cornerback Isaiah Langley during the first half.
(David Zalubowski / Associated Press)
Trojans wide receiver Deontay Burnett scores on an 18-yard touchdown reception against the Buffaloes
(Matthew Stockman / Getty Images)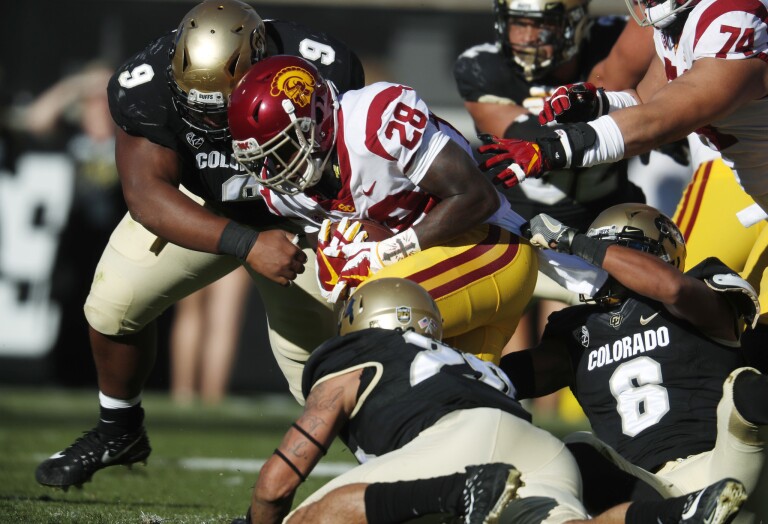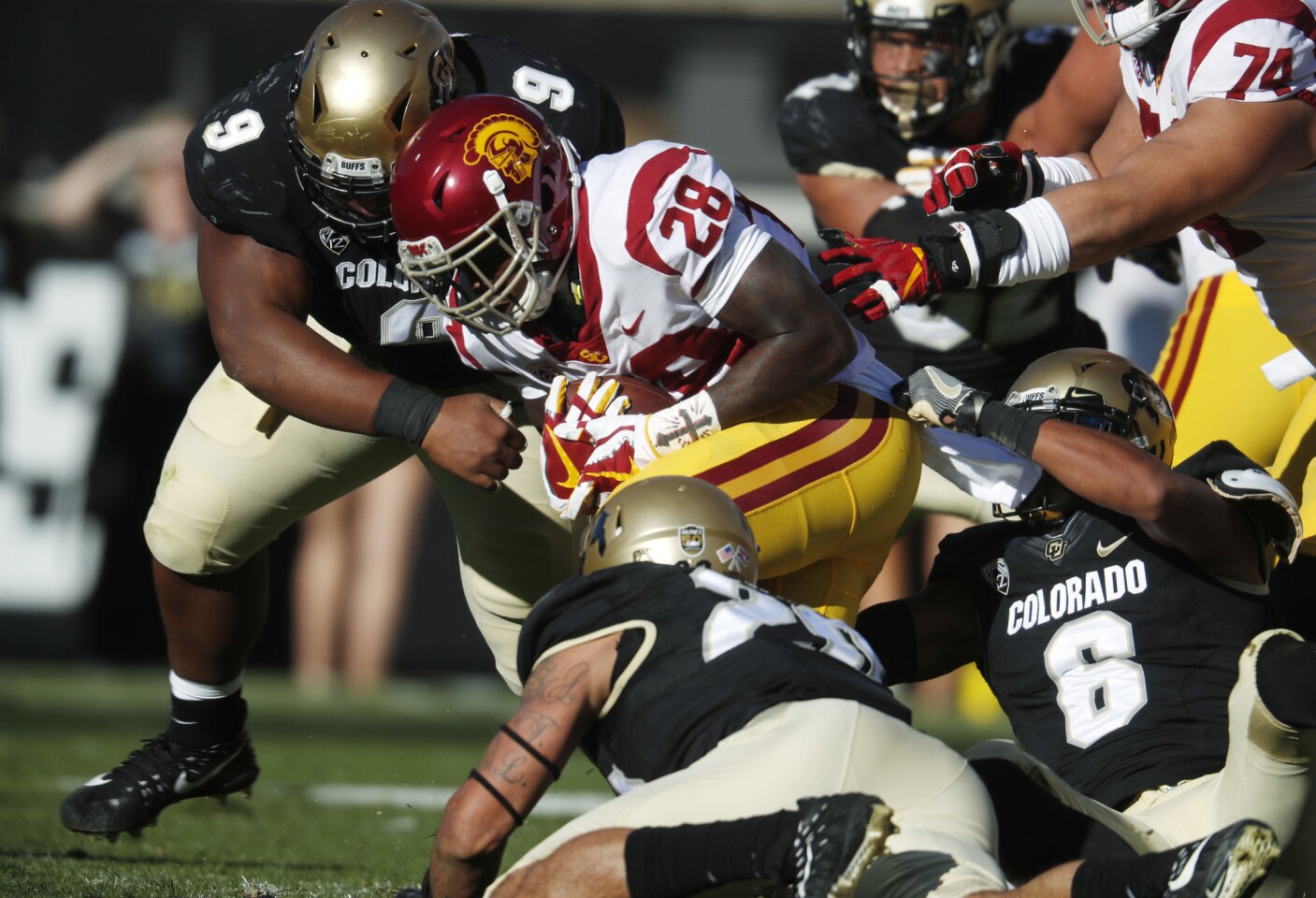 USC running back Aca'Cedric Ware is tackled after a short gain by (from left) Colorado nose tackle Javier Edwards, linebacker Drew Lewis and defensive back Evan Worthington during the first half.
(David Zalubowski / Associated Press)
Colorado quarterback Steven Montez scrambles as he's pursued by USC linebacker Jordan Iosefa during the first half.
(Matthew Stockman / Getty Images)
USC wide receiver Tyler Vaughns, front left, is tackled by Colorado defensive backs Isaiah Oliver, back left, and Trey Udoffia after making a reception during the first half.
(David Zalubowski / Associated Press)
Reporting from Boulder, Colo. —
The news pinged around USC's sideline during the fourth quarter of its 38-24 victory on Saturday at Colorado.
"We saw Georgia fell," running back Ronald Jones II said.
The idea bounced around a boisterous locker room, after No. 11 USC clinched its second Pac-12 South division title in three years. Then, in a cramped anteroom just outside the door, the question was posed to quarterback Sam Darnold: Somewhere, in the back of USC players' minds, is there a small hope that, maybe, the Trojans could, possibly, still make it into the College Football Playoff?
Darnold, always confident, minutes removed from perhaps his best performance of the season, did not blink. He did not hesitate.
"Yeah," he said. "A hundred percent."
USC remains an extreme longshot to make the final four by season's end. Yet some players liked their odds.
"I think it's looking pretty good," Jones said. "I feel like we can sneak back in there."
USC continued its tear through the South on Saturday with a dominant performance, if one that got sloppy late, in front of 49,337 at Folsom Field. Darnold, now fully recovered from a shaky start, was near flawless, completing 21 of 34 passes for 329 yards and two touchdowns. He also added a 24-yard rushing touchdown. It was his first game without a turnover this season. Jones added to the best USC rushing season in a decade with 142 more yards in 25 carries.
USC's defense was so impenetrable early that almost all 11 players broke out into an impromptu dance to the Ying Yang Twins' "Get Low" during a pause in the middle of the second quarter.
"I don't know," said safety Ajene Harris, who followed his shimmying with two interceptions, one returned for a touchdown. "I was feeling it."
In a week of upheaval in the top 10, USC (9-2, 7-1 in the Pac-12) lurks on the very edge of playoff relevance, in need of much more chaos but quietly positioning itself to feast on the scraps.
For now, USC will content itself with the division crown. The Trojans clinched a spot in the Pac-12 title game on Dec. 1 at Levi's Stadium in Santa Clara. They'll likely play either Stanford or Washington State, though Washington's slim chances remain alive.
Before USC can address its more unlikely dreams, lingering problems remain. The defense let up late. USC's offense sputtered early. It was again listless on fourth down (one of three) and struggled on third down (four of 14).
But the defense was smothering in the first 30 minutes. The Buffaloes did not score in the first half. Darnold capitalized on the cushion and connected on a 10-yard fade to Michael Pittman Jr. in the second quarter and an 18-yard slant to Deontay Burnett for another score.
Colorado (5-5, 2-5) tried to steal points before halftime with a late drive. Instead, Harris stole a Steven Montez pass, tiptoed along the sideline and returned it 34 yards for a touchdown.
A smart Darnold scramble gave USC a 27-0 lead in the third quarter.
For the second week in a row, USC made a blowout interesting. On the very next play after Darnold's score, no one covered Colorado receiver Juwann Winfree, who caught a Montez pass and practically jogged to a 79-yard touchdown.
On the next USC possession four Colorado players penetrated USC's punt protection. Nate Landman blocked it. Kyle Trego recovered and stumbled down to the one-yard line. Phillip Lindsay punched in the touchdown to make it 27-14.
It was enough to get nervous over. The scare ended when USC fed Jones, who set up a USC field goal by rumbling 25 yards to inside Colorado's 10-yard line. Colorado defender Evan Worthington was draped on Jones' back for many of those yards. Jones undraped him and continued.
After a Colorado field goal, Jones scored from 20 yards out on a cutback that left him alone on one half of the field.
"They all went to the right," Jones said. "That's why I went left."
Jones has now rushed for a combined 552 yards with five touchdowns in the last three games. He has 1,224 rushing yards on the season. He moved up to sixth on USC's all-time rushing list, passing Reggie Bush and Mike Garrett.
Afterward, he wanted to talk playoffs.
Linebacker Cameron Smith urged caution. He said it wasn't time to think about possibilities.
"I think we've got to look forward to UCLA and the Pac-12 championship, and that's all we can take care of," Smith said. "Whatever happens after that — it's everyone's dream to play in a playoff. But we're living in the now."
The now was worth living for coach Clay Helton, who wrapped offensive coordinator Tee Martin in a hug coming off the field.
"Each year you try to improve," Helton said. "We weren't in this position last year. And now we are."
Follow Zach Helfand on Twitter @zhelfand
---
Get the latest on L.A.'s teams in the daily Sports Report newsletter.
You may occasionally receive promotional content from the Los Angeles Times.