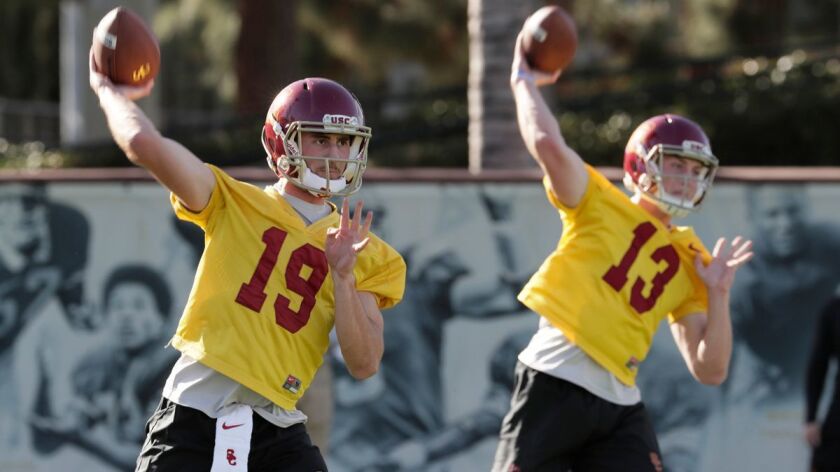 In the weeks leading up to the biggest battle of his quarterbacking life, Matt Fink has not lacked for inspiration. He and his father, Mike, are die-hard Philadelphia Eagles fans, and they made sure to get a copy of Nick Foles' recently released autobiography "Believe It," which chronicles the Eagles quarterback's rise from discarded backup to improbable Super Bowl champion to, as it currently stands, New York Times bestselling author.
"We've already been through it," said Mike, who hails from Reading, Pa., "and it's quite a story. In some ways, it's very similar to Matt."
As Mike Fink talked, it was just days away from the start of USC's fall camp. He was stuck in traffic on the Foothill Freeway coming back from a round of golf, so he had nothing but time to discuss the ways Matt can take motivation from Foles, the family's February hero, into Friday's first practice at USC's Howard Jones Field.
"Matt went to a small high school," said Mike, a real estate agent in Rancho Cucamonga. "He was a three-star quarterback, in part because he didn't really participate in the seven-on-sevens and didn't go to a Trinity League school. Matt just did it a different way. He had a lower profile and probably didn't get the same fanfare that was due him, simply because he was from a really small school."
But Glendora High won 27 games during three years with Matt at the helm. The scholarship offers came in, too many to count. And when it was time to make a college decision, even though he could have had an easier road to a starting job at other programs, Matt chose to play at USC.
Today, he is the only returning quarterback on the roster who has attempted a college pass. By virtue of being around for three spring practice sessions and two fall camps, he has the most experience with the offense. On paper, that gives the redshirt sophomore an advantage, but this is the quarterback position at USC, where traditionally there has not been much room for underdog tales.
"I don't think people quite thought that Nick Foles was the right guy," Mike continued, "simply because he didn't have the same kind of pedigree that Carson Wentz had. Well, USC just recruited a young freshman kid named JT Daniels, and this kid is a superstar. He's got the pedigree that you folks in the media love to see and love to write about, and I'll be honest: This kid JT is the real deal. He's a great quarterback. But so is Matt. And I don't think Matt's just going to hand over the keys to the kingdom, so to speak."
For Matt Fink and redshirt freshman quarterback Jack Sears, who competed in spring practice with neither separating himself on the depth chart, there is no more dancing around it: JT Daniels is finally going to get his reps wearing that bright gold practice jersey. It will be up to Fink and Sears — the four-star prospect who traced Sam Darnold's footsteps from San Clemente High to USC — to prove that they are better for the Trojans right now than Daniels, the Gatorade national male athlete of the year, the five-star phenom who led Santa Ana Mater Dei to the 2017 national championship (according to USA Today).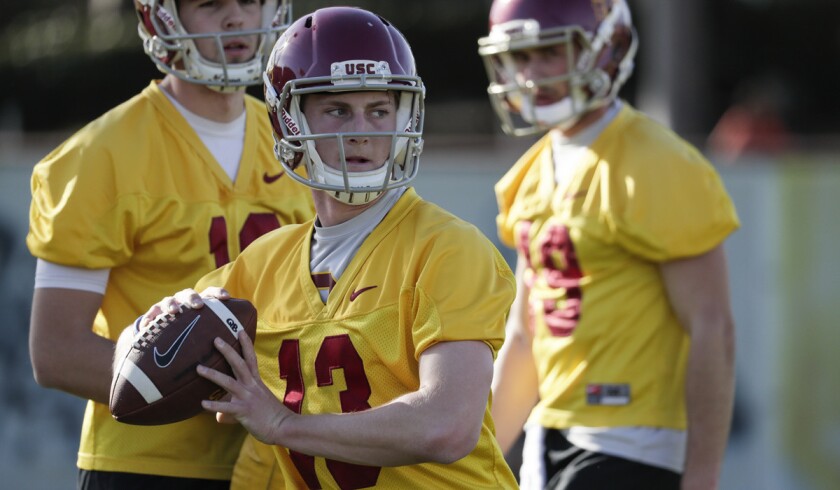 From the moment Daniels announced that he would graduate from Mater Dei a year early and reclassify to the 2018 freshman class, it was assumed by USC fans and observers from around the country that he would be the favorite to succeed Darnold, who just signed a $30-million contract with the New York Jets as the third overall pick in April's draft.
While Fink and Sears worked their way up the recruiting rankings later in their high school careers, Daniels has been on the fast track since he was 13. Encouraged by his father, Steve, Daniels took an extra eighth-grade year to get bigger and devote himself to learning the position before high school. It was then that he started working with personal trainer Scot Prohaska and found his way to quarterback coach Jordan Palmer. Daniels has since added Adam Dedeaux, who has worked with more than a handful of current NFL quarterbacks, as another guru. Now, he is in the hands of USC's staff.
"It makes me smile," USC coach Clay Helton said of the outside expectations of Daniels. "I look forward to seeing it at this level. I'm never going to put too much pressure on a kid. I want him to be able to grow and to develop. We are going to give him the opportunity to compete at a very, very young age and see where he is.
"I've known JT since he was in the seventh grade, and he's been in our camps. Every time he's been in those situations with USC coaches watching him in competitive situations, he's always thrived. I would expect nothing less. … JT Daniels is a damn good quarterback."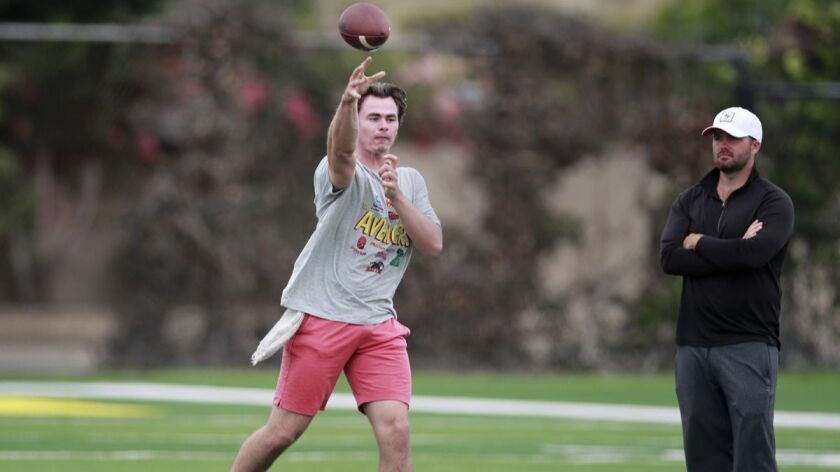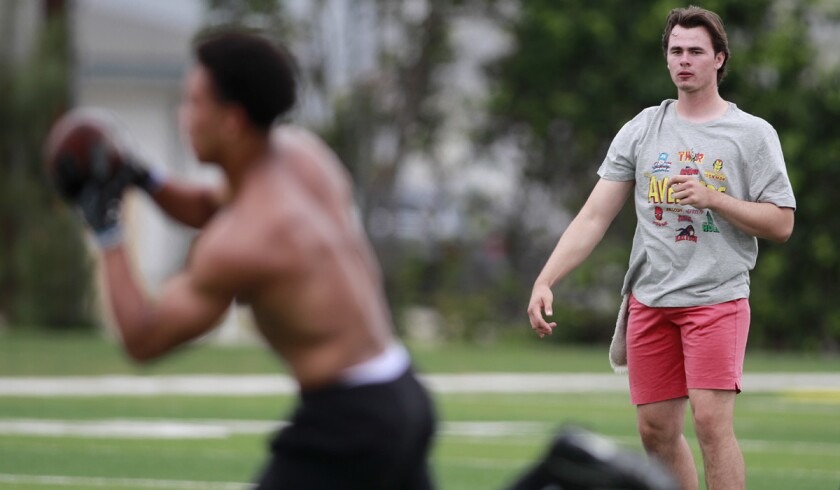 Daniels fits the USC prototype — a precision passer first who spent the end of his high school career working to make more plays with his feet. Alternatively, Fink and Sears were dual-threat types who played in run-heavy offensive systems and evolved into better passers as their careers progressed.
Sears already has a blueprint laid out for him. He played in the same read-option system at San Clemente that produced Darnold. Sears, like Darnold, redshirted his first year and now will try to beat out a ballyhooed five-star recruit (in 2016, Darnold eventually won the job from Max Browne, once the Gatorade national player of the year like Daniels).
Helton said that Darnold helped USC see the value in recruiting quarterbacks who were athletic and could create when plays break down. If Sears is going to make a major play for the job this camp, that is where he will need to stand out.
"It's hard to evaluate the total package with Jack, because coaches have a tendency to blow the whistle [early]," San Clemente coach Jaime Ortiz said. "I know Sam was frustrated because he thought he could extend the play, but they would blow the whistle. Once they get into scrimmage mode and they are able to play an actual game, that's where you see Jack's true colors come out."
At San Clemente, Sears led the Tritons in 2016 to their first Southern Section Southwest Division championship and two games later their first state championship.
"I don't think that's really possible without Jack being the leader of our program," Ortiz said.
Helton has 25 practices leading up to the opener against Nevada Las Vegas on Sept. 1 to evaluate his options. Because none of them have any real experience, Helton said age would not factor into his decision.
For Matt Fink especially, as the veteran of the trio, the time is now to stake his claim.
Mike Fink remembers his son's reaction to the news that Daniels was going to be joining the Trojans this fall. He hopes it is a sign of what's to come.
"Matt absolutely thought it would enhance the team and bring even more high-profile recruits," Mike said. "Because he's a big name. Matt looked at it as a net gain. Frankly, Matt thought it would actually help him because it would push him harder. Matt wants to be the starting quarterback, and having JT there is only going to make Matt better. The fanfare that comes along with JT, it certainly doesn't intimidate Matt."
Twitter: @BradyMcCollough
---