Two former USC football recruiters point out how administrator could have manipulated admissions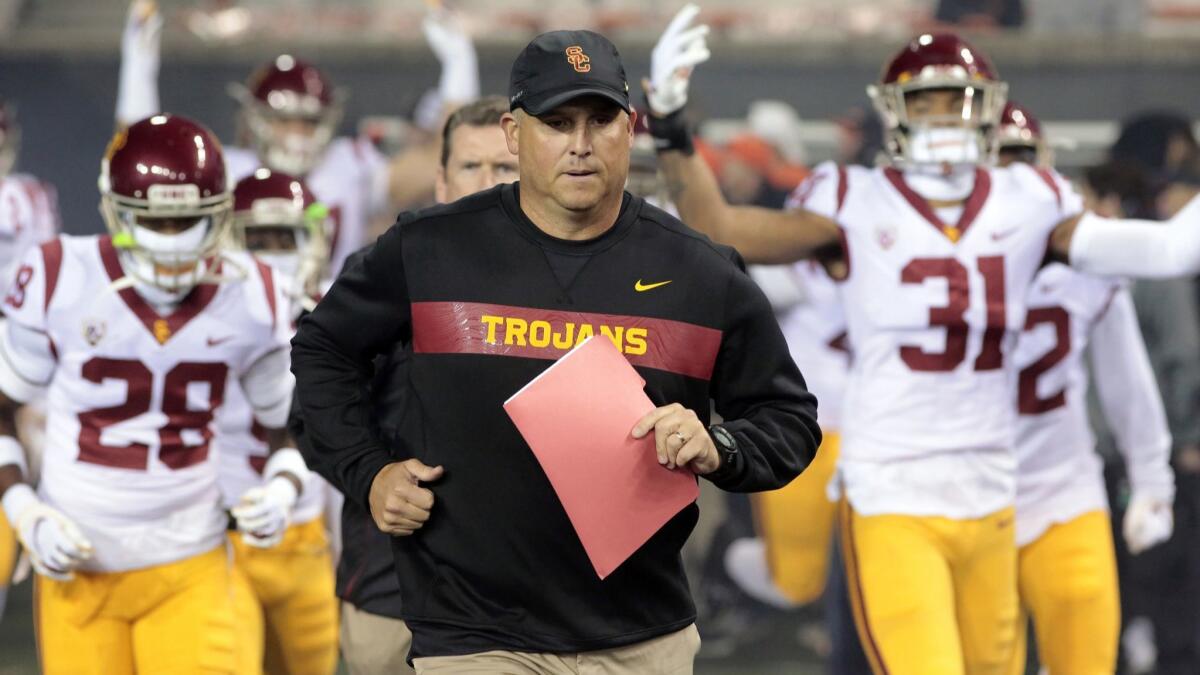 The federal investigators named their landmark case "Operation Varsity Blues" as a tongue-in-cheek nod to the hit late-'90s film depicting an obsessed football culture in small-town Texas. Yet, despite the clever name, only three of the students who allegedly wiggled their way into prominent universities through the college admissions bribery scandal were presented as fake football players.
Over the span of a few years, all three of those students, according to investigators, somehow breezed through the "side door" of USC's football program sight unseen, an act that could be its own movie plot.
The alleged use of USC football's coveted preferred walk-on slots to funnel in boys who weren't football recruits is perhaps the best example of the ease with which former USC senior associate athletic director Donna Heinel was said to have manipulated the athletic admissions process to her own benefit.
The 200-page complaint released last week detailed many instances of Heinel using non-revenue sports with big rosters and minimal oversight like women's crew, water polo and track and field. But football, the crown jewel of USC's athletic department?
The Los Angeles Times spoke Tuesday with two former USC football recruiting staff members who worked directly with Heinel to get real recruits admitted to the university. Both Eric Ziskin and Alex Rios said they had no knowledge of the alleged scheme but, based on their knowledge of USC's protocols, saw exactly how it could have happened.
"She was definitely the gatekeeper and the liaison between athletics and admissions," said Ziskin, a former USC assistant athletic director for recruiting and player personnel who left his high-ranking role in the football program two weeks ago. "She certainly had the ability to say, 'Look, coach Helton really needs this guy.' She could push a little harder for the kids she knew were a priority. Whether she presented some guys that were basically made up …"
According to the complaint, the first student was admitted through football in April 2015, but not without a snag. In February, Heinel sent an email requesting that the boy, who did not play football, needed a "better picture" that was "more athletic." The boy eventually matriculated into USC in 2017.
Heinel allegedly got the next two fake football players in as a long snapper and a kicker, respectively. The complaint details the established dynamic between Heinel and the athletic admissions subcommittee that is charged with making the decision on who gets in and who doesn't.
"They do not follow up after Donna presents," a corroborating witness told a parent in the complaint.
Said Rios, USC football's former director of recruiting who left the program in September, "She held the power and she knew it. And who was going to check her?"
Rios was asked if USC athletic director Lynn Swann could have been that person.
"She held the power, and she was there for so long, I don't think anybody ever questioned her," Rios said. "All of her titles and accolades kind of said it all. Because she oversaw Title IX things, she did special investigations, all of the women's things. She was the head honcho almost and the only person people went through to admissions."
Heinel's attorney, Nina Marino of Kaplan Marino in Beverly Hills, issued a statement to The Times on Tuesday, the first response from Heinel or on her behalf since her arrest and firing last Tuesday.
"These charges come as a complete shock," the statement read. "Anyone who knows Donna Heinel knows she is a woman of integrity and ethics with a strong moral compass. We look forward to reviewing the government's evidence and fully restoring Donna's reputation in the college athletic community."
USC coach Clay Helton read a prepared statement after Tuesday's spring practice relating to the admissions scandal.
"I know it's been a hard week for our university," Helton said. "I learned about the investigation and the facts alleged by the government at the same time that everybody else did. When the news broke Tuesday, I was not aware of any of it before then. And like so many of our USC family, I'm totally shocked by the allegations."
With Ziskin's departure from the program March 7, Helton is now without his top recruiting staffer — the latest major defection from USC this offseason. Helton compared the loss of Ziskin to losing an offensive or defensive coordinator. He said he will aim to fill Ziskin's role by the end of spring practice April 13 and announced that Kelsea Winkle has joined the program as the director of on-campus recruiting.
The timing of Ziskin's leaving, days before the announcement of the indictment against Heinel, was just a coincidence, Ziskin said.
"I had absolutely no knowledge of it whatsoever," Ziskin said. "We did work with Donna and were very familiar with the system and the process. I just came to a decision that I wanted to find something that would allow for a better work-life balance."
Rios echoed Ziskin's sentiment in all aspects. He said he did not leave this fall because of any issue relating to the admissions scheme. And he said that, despite getting his "dream job" at his alma mater in the football recruiting role, the hours and exhaustion became too much for him. He now works at a startup downtown, he said.
The men said that USC's football recruiting staff is smaller than that of most programs that consider themselves national championship contenders. The Trojans have four recruiting staff members, while the trend among Southeastern Conference schools appears to be six to eight.
"It obviously doesn't help to have fewer people than everybody else," Ziskin said, "but the culture of college football is that even if we had a thousand people, every single one of those thousand would be finding something to do for 130 hours a week. Because that's what it is."
Said Rios: "It gets exhausting, because you have to compete with the best when you are severely undermanned. To say that I was burnt out would probably be an understatement."
Rios said it is possible Heinel got fake athletes into USC over real ones who were on their list.
"I would say, if we sent 10 to 20 walk-ons a year, we always got maybe, I'm spitballing, three to 10 got denied," Rios said. "You never knew who was going to get in and who wasn't, and we never questioned it, because, hey, we did our work, it's in her hands."
Ziskin and Rios said that their process in readying profiles for their preferred walk-on candidates was exactly what was explained in the complaint — except their profiles were true. They would prepare a profile with all of the player's accomplishments and give it to Heinel to take to the subcommittee. But neither Ziskin nor Rios was ever in a subcommittee meeting.
"So she could have presented whoever she felt was necessary," Ziskin said, "and it never got back to us. Even if she was doing it as a football recruit, it never got back to us."
Sign up for our daily sports newsletter »
Twitter: @BradyMcCollough
Get the latest on L.A.'s teams in the daily Sports Report newsletter.
You may occasionally receive promotional content from the Los Angeles Times.