Column: USC gets Holiday Bowl win that's too close for comfort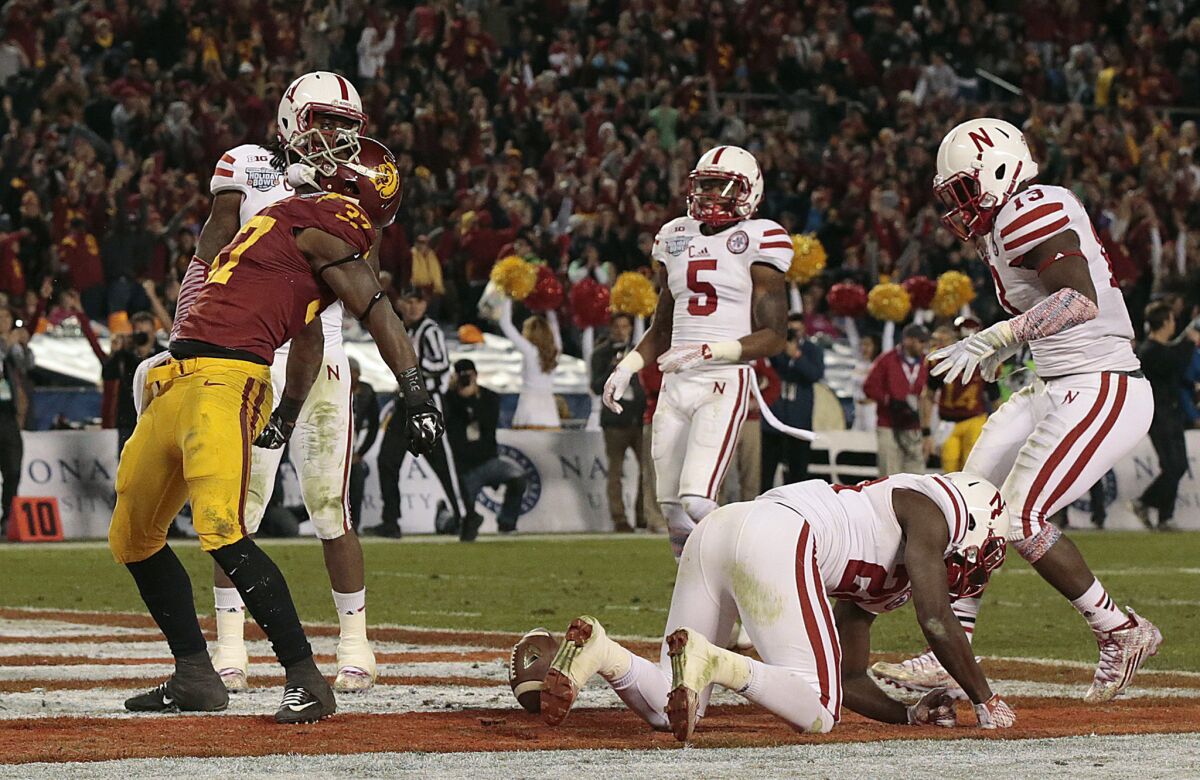 From San Diego —
It was a chilly night that mirrored a shiver of a season.
In a Holiday Bowl game that should have felt more like a holiday, the USC football team was at once frantic and foolish, skilled and silly, endearing and enraging.
There were horrendous mistakes, and spectacular successes. There was Leonard Williams taunting, then terrorizing. There was Adoree' Jackson flying for a touchdown, beaten for a touchdown, then flying for another touchdown.
There was a Trojans 18-point lead against distracted Nebraska with mere seconds remaining in the third quarter, then there was a Trojans meltdown during which Nebraska pulled within a field goal and drove deep into Trojans territory in the final minutes before Leon McQuay III made two huge consecutive defensive plays to save them.
Then, of course, there was the requisite Hail Mary pass that turned thousands of cold Trojans fans blue before Nelson Agholor hailed that sucker into the ground and ended it. After which, appropriately, a Holiday Bowl official excitedly took the field and announced that player-of-the-game awards had been won by "Leon Williams" and "Cody Keller."
In all, the Trojans' 45-42 victory over the game Midwesterners on Saturday night at Qualcomm Stadium was like the timing of the Holiday Bowl itself. It wasn't exactly the richness of Christmas or the tackiness of New Year's Eve, but somewhere in between.
It wasn't high art, but it was sort of breathless, and sort of fun, and it ended with thousands filling the aging stadium with chants of "U-S-C."
More important, for Steve Sarkisian, the rookie Trojans coach in search of a final grade after his first semester, it was just enough.
Sark passed. Barely. By percentage points. His imperfect first season didn't end with a perfect score, but it ended with the sort of victory that should propel him into the off-season with more high hopes than veiled threats.
"It was a total success," Sarkisian said afterward when asked to judge his first year.
Well, it was a total something. Success is probably too strong of a word if one is judging by the standards of USC tradition, but failure is also too strong.
His first season was a total "so-so." Does that work? With a 9-4 record, he won one fewer game than last year's Trojans, but his team played in one fewer game. His Trojans were beaten in the final minutes by Arizona State and Utah, but they won in the final minutes at Stanford and Arizona. His team was blasted by UCLA, but blasted Notre Dame.
Then, on Saturday, his team came into the kind of secondary bowl game that has submarined other USC coaches, and the Trojans survived. They survived 11 penalties. They survived despite trailing on three occasions in the first half. And they survived with players who could push them into championship contention next season.
Cody Kessler probably will be back after completing 23 of 39 passes for 321 yards and three touchdowns, giving him 39 touchdown passes, tying Matt Barkley for USC's single-season record.
Jackson will be back on both defense and offense — maybe more on offense next year? — after scoring once on a 98-yard kickoff return and again on a 71-yard screen pass.
Led by Su'a Cravens, several other guys will be coming back from a defense that held Nebraska's 1,500-yard rusher Ameer Abdullah to 89 yards.
And though Javorious Allen is probably not coming back after gaining 152 yards and scoring twice, the entire offensive line is returning to block for the likes of Justin Davis, who kept one scoring drive alive with a thrilling 28-yard run.
"Our future, I've said it before, is ridiculously bright," said Sarkisian.
It was important that Sarkisian was able to hold this edgy group together for the last month since the end of the regular season. Trojans history is littered with coaches who paid heavily for failing to convince.
Larry Smith was fired days after a Freedom Bowl loss to Fresno State in 1992 even though he had three years left on his contract. Lane Kiffin was fired less than a full season after the Trojans' debacle against Georgia Tech in the Sun Bowl two seasons ago.
These Trojans were nearly beaten by a Nebraska team that was competing less than a month after the program was thrown into turmoil with the firing of popular coach Bo Pelini, a move that elicited angry tweets from players and a profane tirade from Pelini during his farewell address to the team.
Even the ensuing hiring of good-guy Mike Riley from Oregon State did little to quell the discontent; witness senior guard Jake Cotton. On Saturday night, he taped "BO" to the back of his helmet in honor of Pelini even though Cotton's father, Barney, is serving as the Cornhuskers' interim head coach.So the Trojans should have won here. And, barely, they did. And, right now, for this rebuilding program, that's enough. Sarkisian won't win rookie of the year, but he also doesn't deserve to get sent to the minors.
"It sends a pretty good message about the type of program we have here," he said of Saturday's victory.
But exactly what sort of message, we'll have to wait nine months to find out.
bill.plaschke@latimes.com
Get the latest on L.A.'s teams in the daily Sports Report newsletter.
You may occasionally receive promotional content from the Los Angeles Times.