USC mailbag: No, Sam Darnold probably doesn't hate the Browns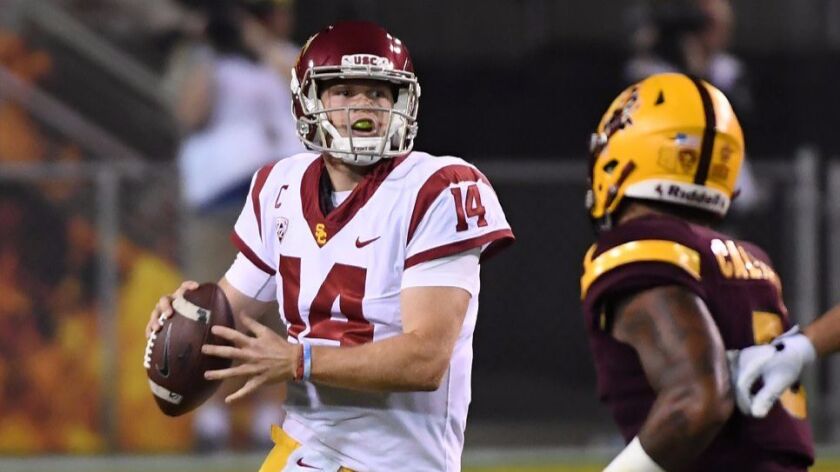 Imagine it is the beginning of the season. Someone went to Las Vegas and tried to make an exotic wager. This person tried to get odds that when USC played Arizona in November, one of the quarterbacks would be a Heisman Trophy candidate. And that quarterback wouldn't be Sam Darnold. What kind of odds could that bettor get?
Games like Saturday's between USC and Arizona are what is great about college football. USC was supposed to run through the Pac-12 South easily. Arizona was supposed to be horrible.
Now Khalil Tate is, suddenly, a fringe Heisman Trophy contender, despite having just three starts.
Is he the best quarterback on the field? No. Darnold is. Is he the scariest? Yes.
Saturday should be a very fun game.
Let's take some questions:
This is a good question, and we'll get to it, but first let's talk about the most unexpected storyline of this season: That Darnold hates the Browns. Why is it unexpected? Mostly because there is zero evidence to suggest that Darnold in any way hates the Browns.
Let's look at this report from Sports Illustrated's Albert Breer. Breer went on Collin Cowherd's radio show and said, "I've heard that's gonna be part of his decision-making process, is who has the first pick, who's picking high, and those sorts of situations."
What is noteworthy about this report? First, when reporters say "I'm hearing" or "I've heard," that is a signal that it is best to disregard what they say next. Reporters hear lots of rumors. Many are false. It's the job of reporters to vet those rumors, with sources. Reporters are not supposed to just pass on what they've heard. That is bad reporting.
Second, what is missing from this report? Any mention of the Browns. That's because Breer did not mention the Browns. He said only that Darnold will consider questions such as, "What team might I end up on?" before he makes a decision. Cowherd was the first to lump the Browns into this story. The rumor worked its way through the mindless world of content aggregation until people on television were talking about Darnold refusing to play for the Browns.
There is, of course, no factual basis to this.
Now to Tom's question: Darnold is very talented. I think Darnold would be slightly better off if he worked past his (correctable) interception habit while in college. But he could go to the NFL tomorrow and still have the potential to be very good. If he's likely to be the first quarterback taken, it would be very hard to say no to that opportunity.
No, coach Clay Helton said he did no regret how the team used Porter Gustin following his toe surgery.
"You don't do anything until the doctors clear, and they're as good as they get," Helton said. "And you hope and pray that everything goes well. With toes, whether it's a broken toe, turf toe, they're so finicky. And credit Porter. He's a warrior. He was chomping at the bit two, three weeks ago. And until the doctors clear you, you can't even go that route. And [we] felt good about it from a medical standpoint, a player standpoint, and we're always going to do what's right for the kid."
Of note: Helton said last week that Gustin would likely be on a limit of about 15 to 20 plays against Arizona State. According to Shotgun Spratling, Gustin ended up playing 37.
Mr. The Builder, if I knew that, I'd be a very successful and wealthy defensive coordinator. Expect USC to load the box and hope that's enough to at least slow down the running game and that its secondary wins its one-on-one battles.
I asked safety Chris Hawkins this week about what USC's defense must do well to be successful against Tate.
"Good eyes and tackle well," Hawkins said. "He breaks a lot of tackles. If we tackle well, I think we'll have a great chance."
Probably not. As addressed here (and in about half of all the other mailbags), there are pluses and minuses with the shotgun. But switching to a completely different offense, as lining up under center would do, is never a smart idea midseason. Also, it wouldn't help the line get push.
Chris emails: Do you have any insight into Joseph Lewis? (Pittman's dad was all upset about his son not playing more …) Lewis was a big star nationally ranked top 5…any insight would be appreciated.
USC gave Lewis a shot, and he has played well for a freshman. But he hasn't done anything in games or in practice to demand that USC play him more.
USC has had a long run of freshman receivers who have made a big impact immediately. It has hit a lull in that stretch recently. Does that mean that Lewis will never become a No. 1 receiver? No. Deontay Burnett and Tyler Vaughns both needed time to develop. Now they're USC's top two receiving options.
When Darnold looks to the sideline, he is getting the play call. There's not much USC can do to get around that, short of having the quarterback call every offensive play himself. Unless Darnold turns into mid-career Peyton Manning overnight, that is not going to happen.
John is right about the up-tempo offense. USC does do better when speeding up. In fact, USC sped up the entire first half last week and it worked very well. It's a good bet you'll see more of it.
Paolo, excellent question. I had a meal from Washington State's creamery that, in my lowest moments, I will remember as a reminder that there is goodness and beauty in this world. The meal consisted entirely of cheese. There was Cougar Gold, which is the best cheese in the world. There was spicy cheese. There was dill garlic cheese. There were curds. It was outstanding.
I understand that some people would not consider this a proper meal. For those people, I had ramen with Joey Kaufman of the Orange County Register last weekend in Tempe, Ariz., at Tampopo Ramen. It was good.
Excitement meter
Twitter: @zhelfand
---
Get the latest on L.A.'s teams in the daily Sports Report newsletter.
You may occasionally receive promotional content from the Los Angeles Times.