USC coach Clay Helton did not see the season turning out this way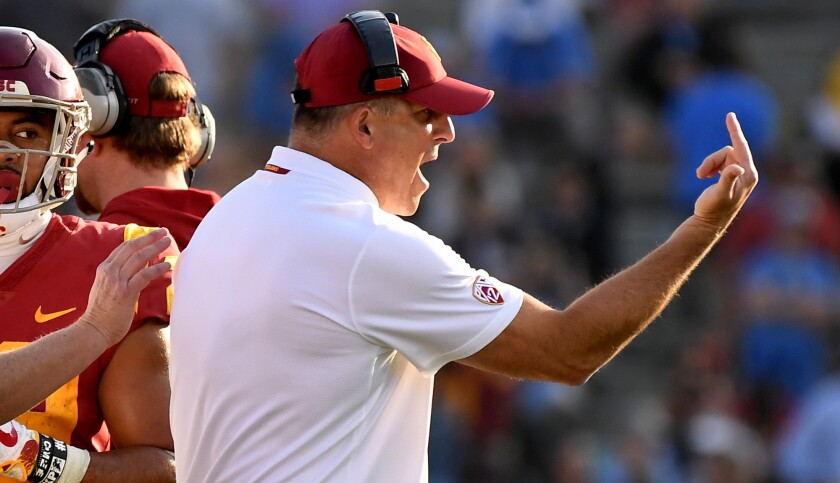 After consecutive losses at Stanford and Texas in September, USC coach Clay Helton was defiant about his team's direction, and he had every reason to be.
He had coached a season-long rally in 2016 that turned a 1-3 start into a 10-3 record and a Rose Bowl win. This time, he had a talented freshman quarterback who predictably took his lumps in two tough road games. Given the soft Pac-12 Conference schedule ahead, it was easy to imagine the Trojans bringing a respectable record and another South Division title into the season finale against intersectional rival Notre Dame at the Coliseum.
"I can't wait for people to see this team come November," Helton said in September after the Texas loss, "because I believe in where they're going, I see where they're going."
As the season went along, though, the bastions fortifying Helton's program began to tumble. No matter how overmatched the Trojans looked in some of their biggest games the last few years — Alabama in 2016, at Notre Dame and against Ohio State in the Cotton Bowl in 2017, at Texas and at Utah this season — USC had that Coliseum winning streak, which grew to 19 games. The Trojans also held a 14-game winning streak over California. Plus, Helton was 3-0 against UCLA and had compiled a 7-0 record in November as permanent head coach.
Well, USC fell to Arizona State at the Coliseum, bringing its record to 4-4. It fell apart in the second half against Cal, also at the Coliseum, and on Homecoming no less. Against UCLA at the Rose Bowl, the Trojans couldn't muster more than a field goal in the second half and lost to the 2-8 Bruins.
USC enters Saturday night's game against Notre Dame at 5-6, needing a win over the No. 3 Fighting Irish to become bowl eligible. This is a season gone very, very wrong, but one final chance for Helton's team to show something on a big stage remains.
At least there is that as USC's forgettable November comes to a merciful end.
"I think it's a complete team in every phase," Helton said of Notre Dame, which would lock up a spot in the College Football Playoff with a win Saturday. "I don't see any weakness across the board. They are a team to be reckoned with. It's going to take our best effort, and they're going to get it."
To this point, when have the 2018 Trojans shown anything resembling a great effort for a roster stocked full of four- and five-star recruits? They do have that 39-36 win over No. 8 Washington State, in which they came back from a 13-point deficit in the second half. Their second-quarter explosion of 21 unanswered points against Colorado was impressive, but then again, the Buffaloes went on to lose six in a row and have fired Mike MacIntyre. USC handled a tough Cal team for one half, but the goodwill built in taking a 14-0 lead to halftime soon evaporated.
The truth is, if USC gives its best effort again Saturday, and gives it for four quarters, it would be the first time this season. And that still may not be enough to beat this Notre Dame team, which has its eyes focused on the biggest prize in college football.
The Trojans could play their best game and lose by double digits. They are an 11-point underdog in Las Vegas.
"Who cares?" USC senior captain linebacker Cameron Smith said. "Who cares about 'underdogs?' Anybody can win on Saturday. At the end of the day, it's USC-Notre Dame. It's a lot of passion, a lot of excitement, and we're going to play our best football."
To hang with Notre Dame, USC's offense will have to be able to run the football, a task that has proven too great much of the season. Helton's play-calling will have to give JT Daniels more options for intermediate completions and quick-hit passes. If USC is forced into predictable passing situations, the Fighting Irish will feast on the freshman like Thanksgiving turkey.
Defensively, a unit that is one of the worst in the nation at creating turnovers — USC has collected only nine — will have to steal a few from a Notre Dame offense that has turned it over only 14 times. Notre Dame quarterback Ian Book completes 72% of his passes and has only had five passes intercepted this season.
But, this is a rivalry game. And weird things do happen. The Trojans say they want Helton around for next season, and here is their last opportunity to show that they care.
"This is a great group of young men," Helton said. "I know the results have not been what we've all wanted, but this is a group of young men that have done a lot for the program and the university. I hope they come out and celebrate with those kids. I hope it's a great college atmosphere. When you talk USC-Notre Dame, that's why you come here, those big games in the national spotlight."
Twitter: @BradyMcCollough
---
Get the latest on L.A.'s teams in the daily Sports Report newsletter.
You may occasionally receive promotional content from the Los Angeles Times.