USC suspends Kevin Porter Jr. indefinitely, ends trip with loss to Oregon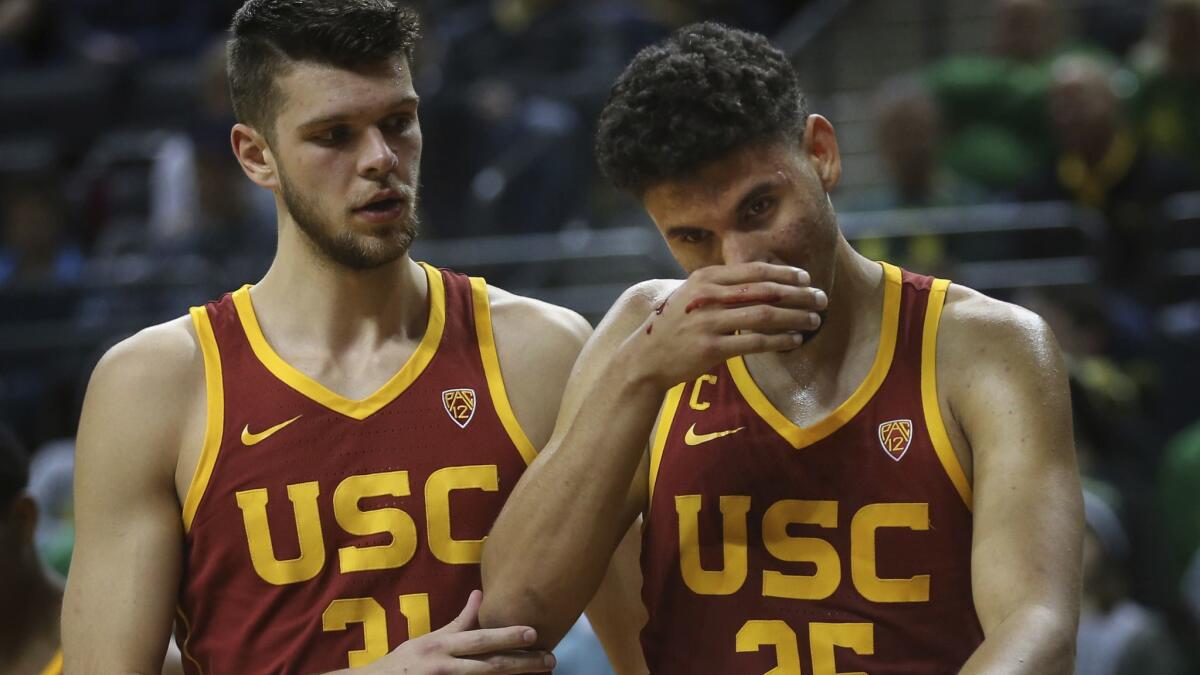 Reporting from Eugene, Ore. —
This long weekend in Oregon was supposed to be the moment this year's USC Trojans finally became whole.
Kevin Porter Jr. was returning to the lineup after a mysterious six-week recovery from a thigh bruise. His family made the trip down from Seattle to watch Porter, projected as a consensus NBA lottery pick, play his first Pac-12 games. Thursday night, Porter played 25 minutes as the Trojans lost a heartbreaker in overtime at Oregon State. After the game, Porter appeared to be emotionally wrecked by the defeat and put the blame on himself.
If one had witnessed Porter then, one never would have been able to see what was coming in just a few days. What was in the basement hallway of Gill Coliseum was a frustrated 18-year-old kid who really wanted to lead his team to a victory and couldn't get it done.
But these Pac-12 trips can test a young player's focus.
"We just sat around Eugene for three days now," USC coach Andy Enfield said.
Apparently, there was plenty of action, too, none of it much good for the Trojans. Porter had an undisclosed conduct issue, and Enfield felt he had no choice but to suspend the freshman.
It was no surprise that USC came out flat Sunday night against Oregon, and the Ducks gladly sent the Trojans back to Los Angeles with an 81-60 whipping and another grotesque wart on their resume.
That was only the beginning of USC's problems. After the game, Enfield said that Porter's suspension was indefinite and indicated that there was a chance Porter could have played his last game for the Trojans.
"We'll reevaluate his future with the program this week," Enfield said.
"It's very disappointing. We need all our players to be healthy and available. The last thing you want to do as a head coach is suspend any of your players, but when there's conduct issues, we have no choice."
USC's roster is short because Enfield suspended Jordan Usher indefinitely for another undisclosed conduct issue Dec. 31. Usher soon announced he was transferring and chose Georgia Tech as his destination.
Charles O'Bannon Jr. has had a lingering finger injury all season. Until this week, when Porter returned to practice for the first time since Nov. 22, it seemed as if he might never suit up again.
It is always something with these Trojans (9-8, 2-2 Pac-12), and, suddenly, it won't be Porter's health that could keep him sidelined for a run of three home games against UCLA, Arizona and Arizona State that have the potential to set the direction for what is becoming a lost season in Troy.
Sunday, facing more unwanted drama, USC chose not to fight. The Trojans could not have played more lazily on both ends of the floor. Defensively, they did not consistently close out on shooters, allowing the Ducks to make 13 of 24 threes. Offensively, they had 12 assists and 12 turnovers. Oregon was playing without towering big man Bol Bol, who is out for the season with a foot injury, and still outrebounded USC 35-24.
The biggest difference in USC's two wins last weekend at Galen Center and these two losses was the play of junior center Nick Rakocevic. After averaging 25 points and nine rebounds and being named Pac-12 player of the week, Rakocevic averaged 8.5 points and five rebounds. The drop in production was more a symptom of USC's guards not creating advantageous situations for the big man.
"When we were playing against Stanford and Cal, I felt collectively as a team we were all having fun," Rakocevic said. "It was enjoyable playing with each other, and knowing if you passed the ball you'd get it back and you would make something for yourself or for your teammates. I feel like this trip, I don't know what happened."
USC's reality is stark. It will not make the NCAA tournament as an at-large team, so, to accomplish that goal, it will have to improve enough the next two months to win the Pac-12 tournament and make the field the old-fashioned way. Now, the Trojans might have to attempt the task without Porter.
Rakocevic was asked Sunday night if USC feels cursed. "It's not feeling that way yet," he said, "but if it keeps going that way, it might be. My freshman year, we went to the NCAA tournament and we set the school record for most wins. We were on top of the world.
"Coming into my sophomore year, we were top 10 in the country preseason, and having the FBI investigations and everything like that and the luck we had last year and going into this year with the injuries and all the other stuff we've had to worry about, it's been a tough two years. But this year isn't over yet."
USC next
Saturday vs. UCLA, 1 p.m., Galen Center, Channel 2 — The Trojans and Bruins will both feel desperate to win this edition of the crosstown rivalry game. USC will be looking to avenge last year's game at Galen Center, won by the Bruins 83-72.
Twitter: @BradyMcCollough
Get the latest on L.A.'s teams in the daily Sports Report newsletter.
You may occasionally receive promotional content from the Los Angeles Times.