USC controls the line, and beats Stanford at its own game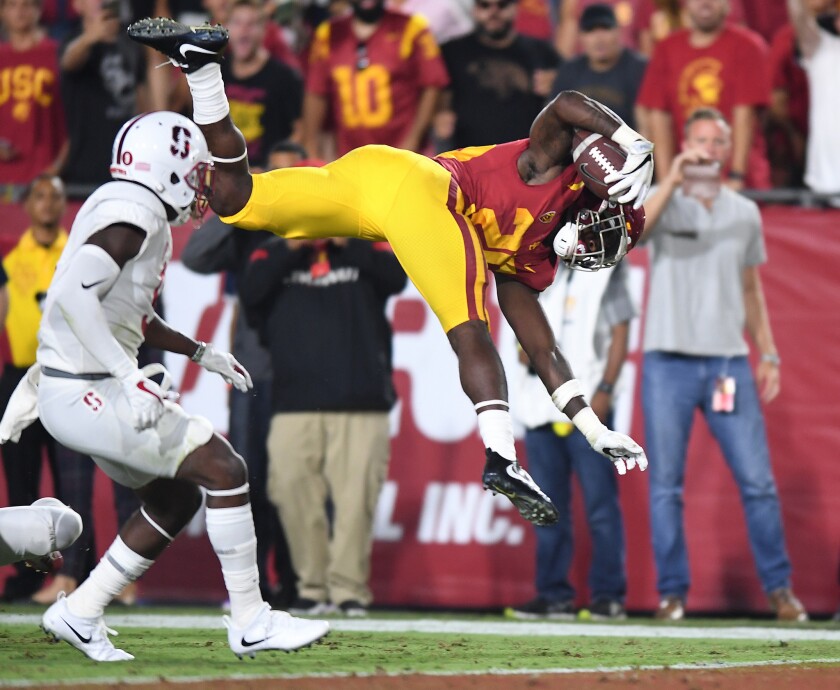 As USC coach Clay Helton walked off the Coliseum field Saturday evening, he wrapped his arms around players on either side of him and grinned. All three stopped for a moment. Helton looked like a fisherman posing to show off the results of a good day on the boat. And he had a weighty catch.
He hadn't sought out star quarterback Sam Darnold. The other skill position players weren't near. Most of the starting defense had already walked up the tunnel. Helton wanted his linemen. To his right was guard Viane Talamaivao. On his left was center Nico Falah, laughing.
Talamaivao, Falah and USC's line pulverized Stanford in a 42-24 win Saturday that didn't do full justice to USC's domination. Finally, USC had defeated Stanford. And it did it by playing Stanford's style better than the Cardinal.
"We beat them at their own game," safety Chris Hawkins said.
For a decade, Stanford has owned the Pac-12 Conference and dominated USC in particular with a simple, consistent formula. Stanford runs the ball better than anyone. It stops the run better than most. It chokes out opponents through ball control and command of the game.
But it was USC's line that savaged Stanford's front seven. It was USC that outgained Stanford 623 to 342 — and 75 of those Stanford yards came on one play early. It was USC with 307 yards on the ground, 119 from freshman Stephen Carr and 116 by Ronald Jones II — and suddenly USC, with 11 wins in a row, has a good problem. It has a competition for the No. 1 option in the backfield.
"They ran it better than we did tonight, and I'm not used to saying things like that," Stanford coach David Shaw said.
Helton said that his linemen "right now are playing high-level football."
USC never trailed. In the second half, Stanford never came closer than two scores. After the first three drives, Stanford scored only 10 points.
The Trojans faced the biggest test of their regular-season conference slate in Week 2 and passed it emphatically.
The Trojans' first four plays, and six of their first seven, were runs by Jones. Helton said he wanted to show that USC could dominate the line of scrimmage. USC's first drive was flawless: 13 plays, 80 yards, no negative plays. The ball never touched the ground.
USC scored touchdowns on its first three drives. And the early running attack gave Darnold room to find a rhythm. After an opening game he called "definitely my worst in college," he returned closer to his typical form. He tallied 11 completions and 141 yards before his first incompletion.
Darnold moved with the confidence and control he'd dissected teams with last season. Stanford sacked him once.
"We got to him as much as anyone gets to him," Shaw said. "We got a sack. He's that good."
Otherwise, the defense hardly touched him. He stepped up or escaped the pocket to extend plays and punished Stanford's stout secondary with the extra time.
"I felt better than I did last game," Darnold said. "I don't know what it was, but it was just a good feeling to be out there again."
Darnold's habit of forcing passes continued to nag him, however. Stanford intercepted a pass on a third down in the first half on a prayer Darnold heaved into traffic. And he squandered a chance for a body blow in the third quarter when he threw a pass into double coverage, leading to another interception.
But he was dynamic and efficient otherwise. He finished 21 of 26 for 316 yards and four touchdowns. He also received help from his receivers. Mitchell assembled the best game of his career: four catches for 94 yards and two touchdowns.
And Deontay Burnett, who is becoming difficult to ignore as a budding star in the slot, played a nearly flawless game. He compiled 121 yards and two touchdowns on nine receptions, including two highlight reel catches. He completed a full-extension, diving catch for a touchdown in the first half and set up USC's fifth score with a one-handed grab on third down.
Starting with the Rose Bowl, Burnett has averaged 142 yards per game in his last three contests.
USC didn't pull away until late, but it commanded the game from the start. The Trojans scored touchdowns on their first three drives, but the rush defense didn't plug its holes early.
Love took one run 75 yards to tie the score at 7-7 early. Stanford scored on its next drive. It wouldn't score another touchdown for more than 36 minutes. Stanford, losing for only the third time in 10 games against the Trojans, rushed for only 25 yards in the second half.
By the end of the game, defensive end Rasheem Green said, USC's front seven saw something it had never seen before in the faces of Stanford's offensive linemen. They looked tired.
"We just started to suck the air out of them," linebacker Cameron Smith said.
A season ago, Stanford so thoroughly dismantled USC in a 27-10 win that Darnold, then the backup quarterback, had to call out players for quitting during halftime. On the flight home, Helton decided to make Darnold the starter.
The Trojans lost the game right after that, then won and won again, and they haven't lost since.
Follow Zach Helfand on Twitter @zhelfand
ALSO
The Sam Darnold of old is back, and he's brought USC new confidence
USC's receivers get higher grades against Stanford
Former USC kicker Matt Boermeester loses bid to return to school
---
Get the latest on L.A.'s teams in the daily Sports Report newsletter.
You may occasionally receive promotional content from the Los Angeles Times.