Column: The Sam Darnold of old is back, and he's brought USC new confidence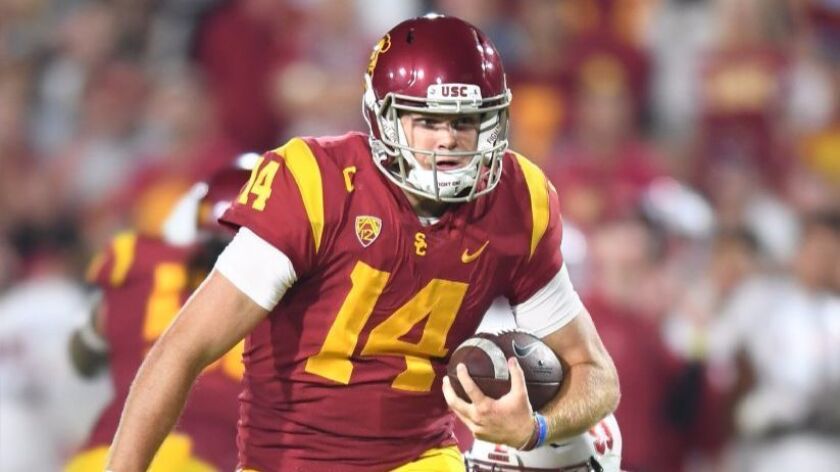 The relief washed through the overheated USC football fans like that cool breeze that poured into the Coliseum.
In his second game of the season, Sam Darnold finally threw his first touchdown pass.
And his second. And his third. And his fourth.
One week after saying the muddled victory in baking temperatures against Western Michigan was "probably the worst I've felt after a game in college," Darnold was soothed, the Trojans were refreshed, and their peskiest of rivals were rolled.
For only the third time in 10 games, USC actually beat Stanford — actually beat the Cardinal here, and actually beat them with smarts and toughness and a quarterback who epitomized both. This was a story of an athletic defense, acrobatic receivers and runners who flew behind a dominant offensive line. But it is a story that began and ended with Darnold, who threw for 316 yards and four touchdowns despite two more interceptions in a 42-24 victory Saturday at the Coliseum.
"It was nice to kind of feel like — it's kind of cliché — but to kind of feel like my old self," Darnold said.
From Darnold, Trojan fans love cliché, because cliché is him leading them to 11 consecutive wins while barely raising his voice. The unusual was Darnold being shut out against Western Michigan. The cliché was Saturday when at times it seemed the only person who could stop him was himself.
And you thought all the Los Angeles quarterback hype today would be about UCLA's Josh Rosen.
Not so fast. The preseason Heisman favorite Darnold reestablished himself as a force who will battle the nine-touchdown Rosen for headlines. It's going to be a fun autumn, watching those two go back and forth, and Saturday was yet another showdown.
No sooner did Rosen throw for five touchdowns in UCLA's afternoon rout of Hawaii at the Rose Bowl, than Darnold took over down the street and started firing flares of his own.
"Great job by this guy, creating over and and over and over," USC coach Clay Helton said.
Darnold completed his first 11 passes from all different angles. By the time that streak was finished, the Trojans had a seven-point, second-quarter lead they never lost.
Darnold started everything, his first touchdown pass of the season coming at the end of the Trojans' first drive of the game, on a four-yard fling to Steven Mitchell Jr. in the back of the end zone.
Darnold also essentially finished it up, leading the Trojans to the clinching touchdown at the start of the fourth quarter. Darnold hit Deontay Burnett with a finger-tip pass that led to an incredible grab for 35 yards, then ran up the middle for five yards to set up an 11-yard touchdown pass over two Stanford defenders and into the hands of Mitchell.
Burnett and Mitchell combined for 13 catches for 215 yards and four touchdowns, thus far answering the preseason question of whether Darnold had suitable downfield targets. Stanford can confirm that he does.
"I'm aware people are going to scrutinize me, and at the same time I have to continue to play," Darnold said.
Darnold's fourth touchdown pass gave them a 35-17 lead, and while it didn't finish the scoring, it made the point.
Darnold is just the sort of quarterback USC had been missing in its previous three consecutive losses to Stanford, and the sort who set the tone in a game against the traditionally toughest of Pac-12 opponents.
"We got to him a couple of times, but a couple of times he'll slip out and make a play with his arm, he's that good,'' said Stanford Coach David Shaw. "He made three big-time throws, throws that other guys don't make, and we give that to a great player. If you're in great position and he puts it in perfectly, there's nothing you can do.''
It's early, but make no mistake, this is a landmark win against a program that recently has seemed to possess what USC has lacked. Running game? This time it was USC that gained 307 yards on the ground, featuring breakout rookie Stephen Carr and his 11 yards per carry. Resilient defense? This time it was USC that held Stanford to 25 rushing yards in the second half.
Then, of course, there was Darnold, who missed on just five of 26 passes as he established clear control of the line of scrimmage. Darnold didn't just lead drives, he often willed the Trojans down the field. The Trojans' second scoring drive featured a scrambling heave to Tyler Petite for 19 yards, followed a few plays later by another scrambling launch caught by Mitchell for 30 yards. Plays like those have placed him atop most NFL draft lists.
When his 11-completion streak ended, it was on a deep overthrow, which is also the sort of pass that scouts are watching, and not in a good way. Darnold is known for being confident to the point of occasional recklessness, and both of his interceptions Saturday were balls needlessly forced into traffic.
Darnold made up for his mistakes, however, with the sort of leadership without which the Trojans could not have won this game, the best example being their drive at the end of the first half.
After Stanford had closed the gap to 21-17, the Trojans had the ball on their 25-yard line with 2:43 left in the half. They had two timeouts. Do they rest on their four-point lead or do they go for it?
Helton went for it, and Darnold made it work. The quarterback unleashed a perfect 49-yard pass to Mitchell, then ran right and threw a perfect lob to a diving Burnett for a 25-yard touchdown and a 28-17 halftime lead.
The Trojans danced into the locker room, danced out for the second half, and continued to show the emotion of a team that is now on a clear path behind a clear leader.
"We're going to continue to bring that emotion every single week," Darnold said.
Darnold doesn't show much of that emotion. But on an encore night that felt like a season debut, he flung it everywhere.
Get more of Bill Plaschke's work and follow him on Twitter @BillPlaschke
---
Get our high school sports newsletter
Prep Rally is devoted to the SoCal high school sports experience, bringing you scores, stories and a behind-the-scenes look at what makes prep sports so popular.
You may occasionally receive promotional content from the Los Angeles Times.