USC at Stanford: How they match up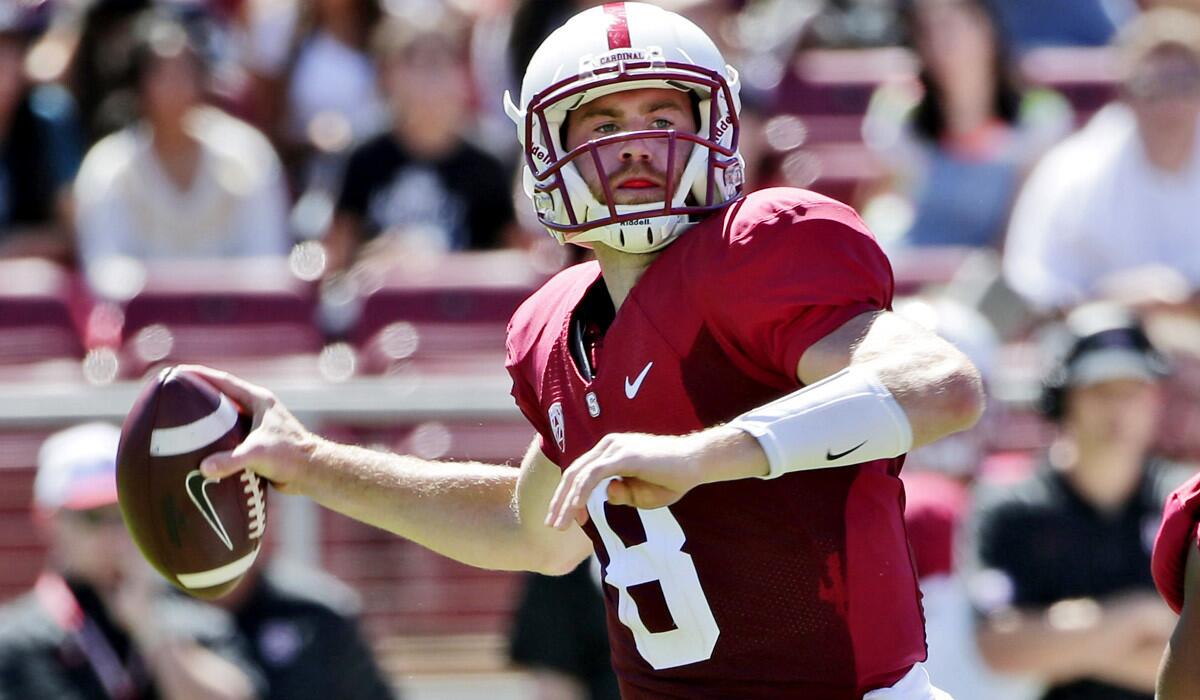 USC returns to Stanford Stadium, where it has not won since 2008, for a Pac-12 Conference opener that could have a big impact on both division races. Stanford has a 17-game home winning streak, the longest in major college football. Staff writer Gary Klein examines the story lines and matchups:
Veteran leaders
In a conference full of talented quarterbacks, USC's Cody Kessler and Stanford's Kevin Hogan entered the season in the shadow of Oregon's Marcus Mariota, UCLA's Brett Hundley and others.
Kessler engineered USC's 20-17 upset over Stanford at the Coliseum last season and started fast in last week's 52-13 victory over Fresno State, passing for a career-best 394 yards and four touchdowns. But the junior was limited during practice this week after undergoing an unspecified procedure on his toe. Backup Max Browne also took first-team snaps.
Hogan passed for three touchdowns, with one pass intercepted, in Stanford's 45-0 victory over UC Davis. The Cardinal has a record of 17-3 with Hogan as the starter.
He faces a USC defense that intercepted four passes against Fresno State. Stanford intercepted two passes against UC Davis.
Running on
USC netted 26 and 23 yards rushing in its last two games against Stanford, so tailbacks Javorius Allen and Justin Davis are intent on reversing the trend.
Allen rushed for only 26 yards in 16 carries against the Cardinal last season. He ran for 133 yards and a touchdown in 22 carries against Fresno State last week.
Davis suffered a broken ankle against Notre Dame and did not play against the Cardinal in 2013. He rushed for 30 yards in 12 carries against Fresno State.
USC Coach Steve Sarkisian described Davis as "a little bit of a home-run hitter," who forsakes conservative cuts for those with potential to result in long gains.
"He might get tackled there, even lose a yard, but if he steps out of it he might go for 30," Sarkisian said. "That's just his style and that's OK. I think he's close to popping out of some things."
Stanford's Barry Sanders rushed for 43 yards, and Kelsey Young 37, against UC Davis.
On the line
The last time USC visited Stanford, a veteran Cardinal front seven overwhelmed redshirt freshman center Cyrus Hobbi and the rest of the line en route to pounding former Trojans quarterback Matt Barkley.
Junior Max Tuerk, a starting tackle and guard his first two seasons, is now the Trojans' center. USC will start two freshmen — Toa Lobendahn and either Damien Mama or Viane Talamaivao — at guard. Redshirt freshman Zach Banner starts at right tackle.
Many of the marquee players that made Stanford's front seven so formidable the last few seasons have moved on, but plenty of experienced players are back, including linemen Henry Anderson and Blake Lueders and linebackers A.J. Tarpley and James Vaughters.
Tight fit
Nelson Agholor, Darreus Rogers and freshmen JuJu Smith and Adoree' Jackson were among the USC receivers who produced in the opener.
Stanford's Ty Montgomery and Michael Rector caught touchdown passes last week. Devon Cajuste returns from a one-game suspension.
But tight ends could be the key to the passing game.
USC senior Randall Telfer is looking for his first reception. Freshman Bryce Dixon caught a touchdown pass against Fresno State.
Stanford's Austin Hooper, Greg Taboada and Eric Cotton combined for six receptions against UC Davis. Hooper caught a touchdown pass.
The new deal
It's not quite Pete Carroll vs. Jim Harbaugh, but Steve Sarkisian and Stanford Coach David Shaw showed last season they are capable of mixing it up.
After Sarkisian's Washington team lost to Stanford, 31-28, he accused Cardinal players of faking injuries to slow the game's tempo. Shaw fired back with a denial of the accusation and added some barbs of his own.
The coaches said this week that all was good between them.
We'll see.
Just for kicks
In last season's victory over Stanford, Andre Heidari provided the game-winning 47-yard field goal.
He struggled against Fresno State.
Heidari kicked a 27-yard field goal in the second quarter, but he missed a 39-yard attempt near the end of the first half and then kicked the ball out of bounds to start the second half.
"That ability to learn from a mistake and/or a positive play and then move on to the next one and not carry some of those thoughts with you — that's something that we've been focusing for this week with Andre," Sarkisian said.
Stanford kicker Jordan Williamson made one of two field-goal attempts against UC Davis.
Twitter: @latimesklein
Get the latest on L.A.'s teams in the daily Sports Report newsletter.
You may occasionally receive promotional content from the Los Angeles Times.