Track meet at USC brings together the five women coaching the men's and women's teams at major programs
He remembers the day she sat in his living room, recruiting him to compete for USC.
Her personality was infectious and her drive contagious. She made him want to run.
It didn't cross Michael Norman's mind that Caryl Smith Gilbert was a woman. His only thought was that she could make him a winner.
"She was probably one of the only coaches who got me hyped up," Norman said. "She got me excited to run for her program."
Two years later, Norman is one of the top quarter-milers in the world.
Five years ago, Gilbert became the first woman director of track and field at USC, tasked with leading both the men's and women's teams. She was also the first woman to hold the position in the Pac-12 Conference.
Among 60 Power Five track and field programs, five are directed by women.
On Friday, Gilbert will welcome the four other women directors and their teams to Loker Stadium and Cromwell Field on USC's campus to compete in the "Power 5 Trailblazer Challenge."
The meet is the first of its kind in track and field and an event Gilbert began planning more than a year ago to promote the need for more opportunities for women in leadership roles.
"People say it's important for women to see women in leadership positions, but I disagree," the 48-year-old Gilbert said. "I think it's important for men and women to see women in leadership positions because men need to see strong women as well.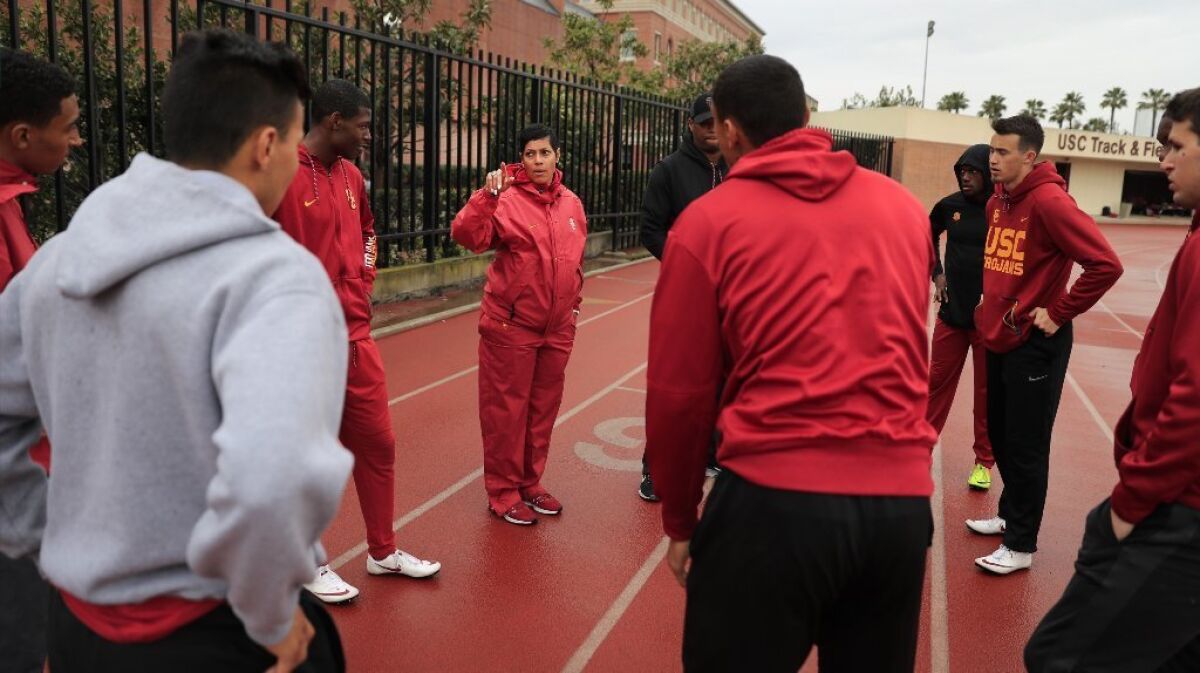 "I hope that athletic directors see that women can do the job just like anyone else and I hope that athletic directors will give more women the opportunity to interview for jobs and be part of, not just track and field jobs, but all jobs."
When Gilbert reached out to the other four women directors — Amy Deem at Miami, Beth Alford-Sullivan at Tennessee, Connie Price-Smith at Mississippi and Karen Dennis at Ohio State — they were on board.
"It was something that was really exciting" said Price-Smith, a four-time U.S. Olympian in the shotput and discus between 1988 and 2000.
"Girl power!" thought Dennis, the first woman to be named the men's Big Ten indoor coach of the year.
"It's really gives men the opportunity to experience women in leadership," Dennis said. "It's also important for people that are in this position like the five of us, that we continue to have a strong network of leadership that's available for other young women who aspire for this kind of position."
It has also been important for the women to support each other. Text messages are often exchanged and it's a near certainty that they will make time to seek each other out at meets.
"We do have personal relationships with each other where we would call and when we are together we'll sit down and maybe have a glass of wine and bounce ideas off each other," said Price-Smith, a longtime mentee of Dennis at Ohio State.
At a recent coaches convention, Gilbert and Deem joined forces on a panel to share their experiences with hundreds of women coaches from all levels. The questions they received were endless.
"We could just answer the questions because we had been through it," Gilbert said. "That's when it kind of dawned on me that I could make an impact and help people further than just coaching."
One of the directors said she was stunned during a job interview when an athletic director asked her how she would coach the men.
"The better question," she responded, "is how am I going to coach the women?"
Deem, who was promoted to director at Miami in 2008 after coaching the women's team for 18 seasons, said she hasn't had an issue recruiting male athletes or coaching them because of her gender.
"Younger people respond better to it," Deem said. "They're in club programs, so there's more female coaches that are around. … They just want somebody who can coach them to be great and if they feel that you can do that then I don't think they're really caught up in the gender."
Robert Ford, a senior middle distance runner at USC, was unsure what to expect when he decided to run for Gilbert, a wife, mother of three and his first woman coach. It didn't take long for his uncertainty to vanish.
"It's like a whole other mother figure that I get to look up to," Ford said. "You always feel taken care of and she's really a coach you want to run fast for."
Gilbert won't hesitate to share her thoughts about an athlete's performance on the track, before offering direction for improvement.
Off the track, she expects her athletes to complete their schoolwork and show up to class on time, often reminding them that showing up late to a job could get them fired. If there's a lapse, athletes can expect to be called into her office and disciplined, which sometimes is in the form of cleaning the equipment shed.
Under Gilbert's direction, both the men's and women's teams at USC have flourished.
"She's not afraid to tell us what we did wrong and how to better ourselves," said Norman, who recently won the 400 meters at the NCAA indoor championships in world-record time. "She's a really good life coach too."
After an injury-riddled start last season, Norman contemplated redshirting. But Gilbert encouraged him to push through. Norman achieved a then-personal best in the 400 and finished fourth at the NCAA championships, earning All-American honors.
Gilbert, a three-time All-American sprinter at UCLA, recalled a moment while ascending the coaching ranks when a colleague told her that as a woman, no one would hire her to coach men.
Gilbert responded: "Well, if you think they don't, then they won't."
And that was the first time Gilbert thought, "I'm going to be a men's head coach."
In 2015, Gilbert was named the Pac-12 Conference's men's coach of the year, the first woman to earn the honor. Two seasons later, the USC women's team finished third at the 2017 NCAA championships.
Earlier this month, Gilbert led the men's team to a second-place finish at the NCAA indoor championships, the best finish for a men's team coached by a woman.
"That's fine," Gilbert acknowledged, "but we didn't win."
Becoming a trailblazing woman isn't enough for Gilbert or any of her four peers. They want to enable other women, while also breaking down gender barriers.
Alford-Sullivan, who became the first woman to lead a men's program in any sport in Southeastern Conference history when she took over at Tennessee in 2014, said there's no denying that being a woman has an impact on how she's viewed.
"But at the end of the day, I really want people to say, 'Hey, she was just a great coach,' " Alford-Sullivan said.
Gilbert won't be satisfied until USC wins a national championship, and even then, she'll move the goal line.
"I want to be known as one of the greatest coaches there ever was," Gilbert said. "Not one of the greatest female coaches that ever was."
Each coach looks forward to Friday, when they'll take a moment before the meet to catch up and snap a photo before preparing their teams.
It will be a celebration, but it will be bittersweet.
"It's an accomplishment for the five of us," Dennis said. "But there should be more."
Follow Lindsey Thiry on Facebook and Twitter @LindseyThiry
---
Get the latest on L.A.'s teams in the daily Sports Report newsletter.
You may occasionally receive promotional content from the Los Angeles Times.