Kenechi Udeze will not return as USC's defensive line coach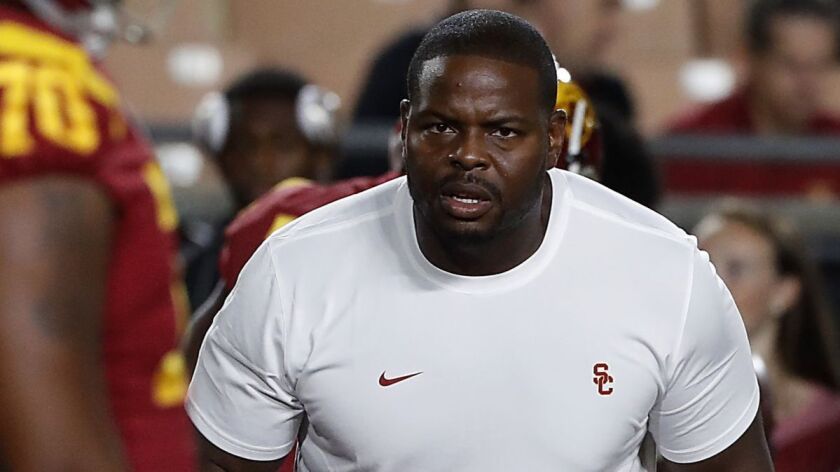 The first domino in Clay Helton's offseason revitalization plan for USC football fell Tuesday morning, and it was a true Trojan casualty.
Kenechi Udeze, an All-America defensive end on the school's 2003 national championship team, announced on his Twitter account that he would not be back as the Trojans' defensive line coach next season.
"For the last three years, it has been my privilege coaching you guys in more than just football," Udeche wrote in a message aimed at his players. "I couldn't be more happy with the growth of you guys and couldn't be more excited with what is on the horizon in your careers. Unfortunately, I will not be here to see it. I'd like to thank Coach Helton and his family for my opportunity here. To the Trojan Family know that I will always bleed Cardinal and Gold and I thank you for your support!
"Lastly, I always ask you young men to thrive in adversity because in those times you truly find out who you are. Now it is time for myself to once again thrive and grow. I love you guys and can't thank you enough for every drop of sweat you have given me over the years. FIGHT ON young men. God Bless"
Udeze joined USC's staff in 2015 as the assistant strength and conditioning coach. He was promoted to defensive line coach beginning in 2016.
Memory of young friend gives USC's Kenechi Udeze new outlook on life »
Saturday night after USC's season-ending 24-17 loss to Notre Dame, Helton said he had a plan for how to advance the program after a disappointing 5-7 campaign. USC athletic director Lynn Swann referenced that plan Sunday when he announced Helton would be back as head coach for a fourth season. Swann and Helton mentioned that an evaluation of Helton's staff would be coming.
USC may be losing another assistant soon, and possibly not by its choosing. Quarterbacks coach Bryan Ellis is reportedly leaving to become the offensive coordinator at Western Kentucky. Helton's brother, Tyson Helton, recently was hired as coach at Western Kentucky.
Twitter: @BradyMcCollough
---
Get the latest on L.A.'s teams in the daily Sports Report newsletter.
You may occasionally receive promotional content from the Los Angeles Times.