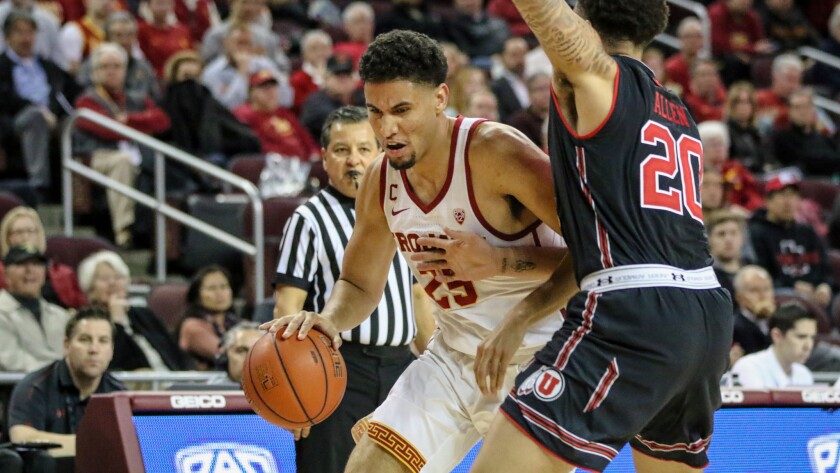 After the USC men's basketball team's latest head-scratching defeat Wednesday night, a 77-70 stinker at the hands of the Utah Utes to start the second half of Pac-12 Conference play, a comment from a Trojans captain revealed a disconnect from reality that will help explain why USC finds itself in the middle of a lost season.
"We're as talented as any team in America," junior guard Jonah Mathews said. "We just didn't play hard."
The latter of those statements was true. The Trojans were dead from the moment they hit the hardwood. As for the former, USC is surely among the more talented teams in a weakened Pac-12, but, to reach its potential as a team worthy of an NCAA tournament at-large berth, it does not have the margin for error that the nation's elite teams may have on an off night to play through a lapse in effort.
Yet, to hear Mathews and fellow captain Bennie Boatwright tell it, no matter how much they pleaded with their teammates Wednesday, some weren't willing to come along for what could have been a splendid comeback.
"You can only say so much as team captains," Mathews said.
USC (13-10, 6-4 Pac-12) is again searching for answers after finally starting to feel as if it understood what it took for this collection of players to win games.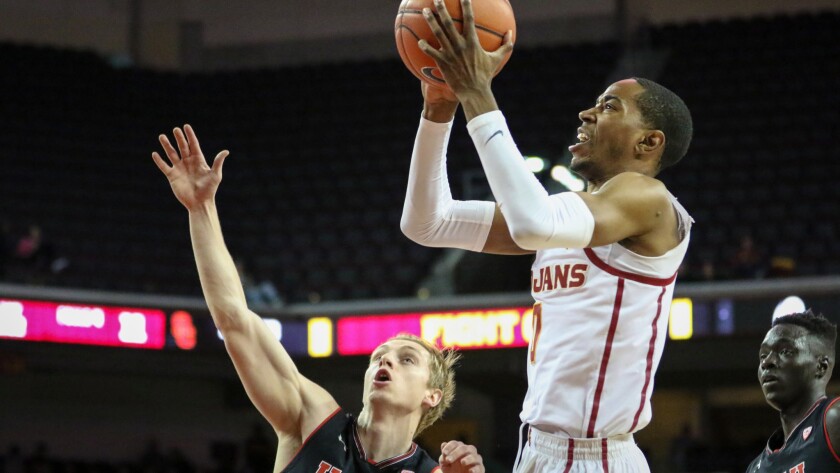 "This is the most disappointing game we've had in a month and a half," coach Andy Enfield said. "We didn't play well on the road at Oregon, but we're at home here. Utah played well tonight, but this had more to do with us than it did with them."
Enfield did not mean to discredit the Utes (12-10, 6-4). His team is more talented than Utah, though, and star ratings and eye tests can get a team only so far.
"We didn't come out with energy," Enfield said. "We had one offensive rebound and only three assists [at halftime]. That's embarrassing."
Utah's visit to Galen Center, where USC had won seven consecutive games, appeared to be a ready-made victory for the Trojans. USC swept the Utes last season, winning both games by double digits, and Utah was coming off a rough weekend in Salt Lake City in which it lost to Oregon and Oregon State on its formidable home court.
Perhaps that setup was precisely the problem for the Trojans, who came out flat and put Galen Center to sleep right from the 8 p.m. tip.
Sign up for our daily sports newsletter »
USC fell behind 37-17 with 2 minutes 12 seconds left in the first half and in the process reminded the announced crowd of 2,952 why the Trojans have not been a real threat to make the NCAA tournament at any point this season.
Their nagging issues all surfaced at the same time. Point guard Derryck Thornton missed his first three shots, two of them three-pointers, not his strength, and was promptly benched by Enfield. Thornton finished the half with no assists.
Junior center Nick Rakocevic has been criticized this season by Enfield for losing his composure and being called for flagrant fouls. He drew two flagrant fouls in the first half and played only 12 minutes. He had only two points and one rebound for the half.
Freshman wing Kevin Porter Jr., considered to be a potential NBA lottery pick, continued to struggle to influence the game positively since coming back from injury and suspension, missing his first five shots.
Boatwright's first basket came late in the first half in a 6-0 run that cut the Utes' lead to 37-23 and gave the Trojans a little hope going into the locker room. The Utes took momentum back immediately, though, in the second half, building a 56-33 lead on the lifeless Trojans.
Boatwright tried to bring them back to life, finishing the game with 17 points and 12 rebounds. He got some help from Mathews, who led USC with 18 points, but USC could never pull within closer than seven points late in the second half.
"You make a run in the Pac-12," Boatwright said, "and you lose at home, it's tough. … We just came out slow, plain and simple."
Twitter: @BradyMcCollough
---