Freshmen put on a show, but foul trouble hurts USC in 82-78 loss to Vanderbilt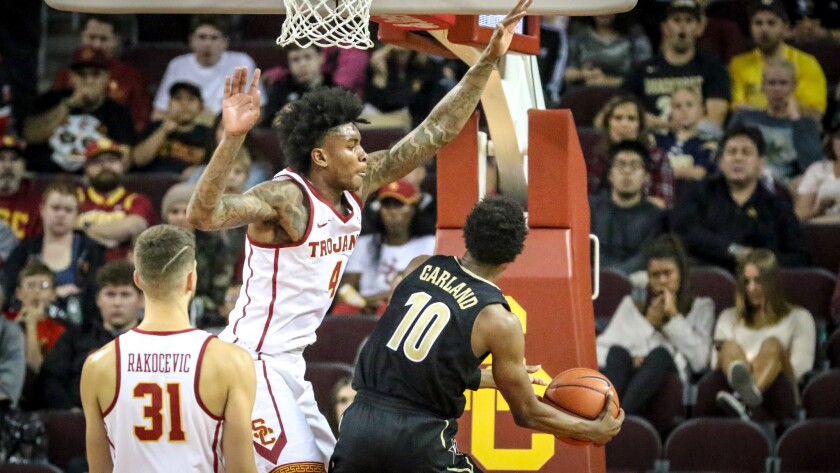 This wasn't Duke versus Kentucky, but USC's matchup with Vanderbilt on Sunday night became a freshman showcase nonetheless.
The Trojans' electric Kevin Porter Jr. — he of the spring-legged dunks and crossover, step-back three-pointers — faced off against Vanderbilt's most decorated recruiting class in program history. Five-star recruits Darius Garland and Simisola Shittu, a pair of prospects both ranked in the top 11 nationally by 247Sports, highlight the Commodores' freshman class and produced some of the game's top plays.
Porter one-upped them on the highlight reel. He slammed home dunks. He hit deep shots while fading away. On his initial offensive touch, Vanderbilt tried to double team him. He caught the ball just outside the lane, spun away from both defenders and finished with an up-and-under shot off the opposite side of the backboard.
But Garland and Shittu outlasted Porter and the Trojans in an 82-78 Vanderbilt victory in front of 3,804 at Galen Center.
To the dismay of the scouts in attendance, all three freshmen were saddled with second-half foul trouble that forced them to sit for a stretch. The Trojans took advantage with a 10-2 run to take a 61-60 lead with 8:14 remaining, but Porter had just been sent to the bench after picking up his fourth foul. Vanderbilt coach Bryce Drew's hand had been forced. He gambled and put Shittu back in the game alongside Garland despite both having four fouls.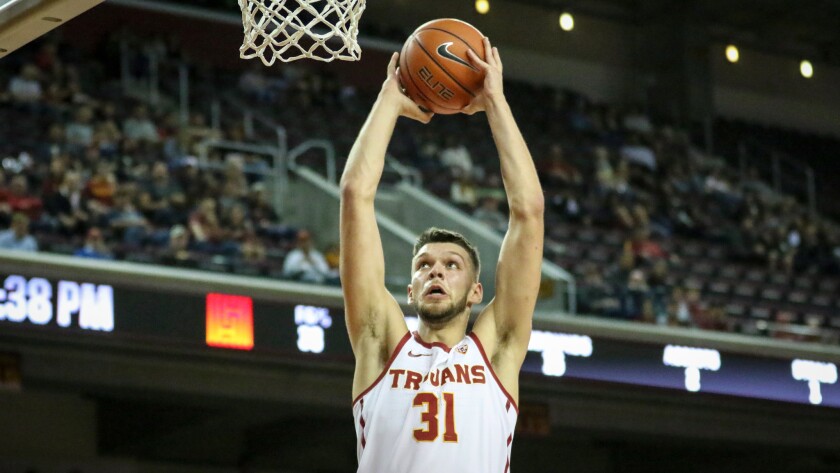 Shittu cleaned up a Garland miss to give them a lead. USC rallied to retake the lead, but only after Porter was whistled for his fifth foul and disqualified with 5:47 remaining. He finished with 14 points on five-of-nine shooting in 23 minutes.
"It's a big loss for us, especially when you don't have [Bennie] Boatwright and Elijah Weaver and Chuck O'Bannon," USC coach Andy Enfield said. "It's one thing if Kevin Porter fouls out, it's another thing if you look down the bench and you're other better offensive players are out with injuries, so it's extremely challenging tonight."
USC was without Boatwright (knee) and Weaver (ankle) as they recover from offseason surgeries. O'Bannon will be "out a few weeks" after breaking a finger on his non-shooting hand, Enfield said.
The Trojans have been a different team with Porter on the court the first two games. He's been the team's top playmaker. He was the only Trojan to finish Sunday with a positive plus-minus rating.
"He's a player. You see how he played in the first half, kept us in the game," junior guard Jonah Mathews said. "It just comes naturally to him, honestly. He doesn't have to shoot before, he doesn't have to work out. He's just one of those kids that can go all day and is naturally gifted at basketball."
Vanderbilt made the most of Porter's absence. It tied the score after a Shittu steal. It took the lead on two Joe Toye free throws after Garland snatched a rebound and pushed the action. Jordan Usher bumped Toye and fouled out on the play.
Toye's free throws were the first of 12 the Commodores took in the final 2:14. They made 11 and Garland made their last shot from the field with 1:03 left as they held off every USC rally. Derryck Thornton scored six of his 17 points in the final 14 seconds, but the Trojans could never get close enough for a game-tying shot.
Garland scored 19 points. Shittu added 14 and grabbed 15 rebounds, eight on the offensive end. USC junior Nick Rakocevic had his fourth double-double in a row stretching back to last year, scoring 19 points with 18 rebounds, nine of them offensive.
In the final seconds, Thornton fouled out, forcing USC to use a walk-on with six scholarship players injured or disqualified.
"We played hard and we're getting better, but we need to play as a complete team and that's getting our guys back healthy, learning from our mistakes and hopefully improving from them," Enfield said.
UP NEXT >>> The Trojans will host Stetson on Wednesday at 7 p.m. The Hatters are 1-1 after losing 83-70 to Missouri State on Sunday. Their win came against Johnson University- Florida of the National Christian College Athletic Association.
---
Get the latest on L.A.'s teams in the daily Sports Report newsletter.
You may occasionally receive promotional content from the Los Angeles Times.