Andy Enfield guides USC's rise out of obscurity and into Sweet 16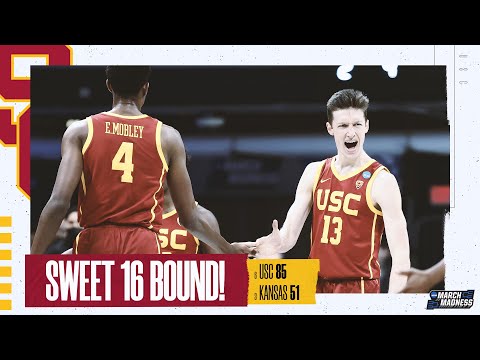 Highlights from USC's blowout win over Kansas in the second round of the NCAA tournament on Monday.
Over eight long years on the path back from hoops obscurity to the Sweet 16, Andy Enfield made sure to make note of the mile markers. He was quick to remind of incremental progress, quick to defend his plans, quick to scrounge up obscure statistics to show how far they'd come in dragging USC's basketball program back from the depths.
There would be no need for reminders on Monday, not as USC dominated Kansas 85-51 in Indianapolis, bullying the blue bloods into submission in the second round of the West Region. Not as USC (24-7) stamped its ticket to its first Sweet 16 since 2007. Not as its offense rolled from long range and its defense rocked the Jayhawks, grinding them down to chalk.
As Enfield walked off the floor at Hinkle Fieldhouse, he raised clenched fists in triumph. Eight years after his last trip to the Sweet 16 with Florida Gulf Coast had earned him the job with USC, the Trojans had clawed their way back to the tournament's second weekend, where they'll face Oregon, with a chance to go to the Elite Eight for the first time since 2001.
The second round of the NCAA tournament is complete. Here are the start times and TV channels for every Sweet 16 game, including UCLA and USC.
"USC basketball is on the rise," Enfield said. "Over the last 80 years, it's been like a roller coaster. A lot of great players, great coaches, great teams. But we've tried to sustain the success. Build a program and sustain the success, and I think beating a team like Kansas to go to the Sweet 16, that's a step in the right direction."
That doesn't mean the chip he constantly carried on his shoulder was gone. Not by any means. In his opening remarks, Enfield was sure to thank a pair of CBS analysts he'd heard pick Kansas and call his teams "undisciplined" on the air.
"Imagine if we were disciplined," he joked.
It's difficult to envision a more dominant effort than what USC unleashed on Kansas, which, until Monday, had never lost in the tournament by more than 18 points. The Trojans had a bigger lead by halftime, their stalwart defense holding the Jayhawks to a miserable 29% from the field, the same paltry percentage USC held Drake to in its first-round rout.
Once the Trojans found their stroke from the perimeter, another rout was on. USC shot a stunning 57% from the field and 61% from three-point range, its best performance from the perimeter all season.
The spark, again, came from Isaiah Mobley, who scored 17 points, added eight rebounds, and swelled with confidence. Enough, at least, to egg on the Ducks, who were trounced by the Trojans just a month ago in their last defeat ahead of Pac-12 title.
As he considered another matchup with the Ducks, after USC stomped Oregon just a month ago, he even took a shot at their upcoming foes.
"They've been on a roll," Mobley said.
"I don't want to say necessarily they've got luck. They're a good team. But they stole the Pac-12 championship from us."
Kansas didn't have a chance to steal anything from USC on Monday. It started 0 for 8 from the field, while USC opened one of six. Both missed layups and putbacks and wide-open jumpers, neither able to buy a basket. Both settled in for a rock fight.
But then Isaiah Mobley caught a pass on the wing and pulled up confidently from behind the arc, snapping the Trojans out of their sloppy start. The elder Mobley had played a mostly complementary role in USC's run this season, overshadowed by his lottery-bound brother, Evan.
But March had ignited a new sense of self-assurance in the sophomore. Earlier in the week, after a 15-point performance in the first-round win over Drake, Isaiah had proclaimed no one in the country could beat USC at its utmost confident.
Here, as his second three-pointer sunk — then his third, then his fourth — was a reminder of just how far that swagger could carry you.
Together, the Mobleys hounded Kansas big man David McCormack underneath. What was billed as a tussle between two giants turned quickly into a two-brother beatdown. McCormack, who led Kansas with 22 in the first round, was a complete non-factor, scoring just five points.
Spring practice should offer perspective for USC coach Clay Helton on who will replace NFL-bound lineman Alijah Vera-Tucker.
He did little to slow down Evan Mobley, whose usual swarming defense down low kept Kansas completely out of the lane. While his brother took the lead, the Trojans' star freshman did the dirty work, cleaning the glass for 10 first-half rebounds. He finished with 10 points, 13 rebounds, five assists, and three blocks.
But it was Isaiah who set the tone, scoring inside and outside, face-guarding speedy wings and bullying big men. As two minutes remained in the first half, Isaiah Mobley got the ball again on the perimeter, took one glance at his defender, stepped back, and sunk another three. He smiled and strummed an air guitar, the signature move of his March revival.
USC was rolling. It wouldn't be stopped in the second half. And as its suffocating defense locks down and its swagger continues to grow and the stage grows with it, there's no telling how far the Trojans might keep rolling from here.
Get the latest on L.A.'s teams in the daily Sports Report newsletter.
You may occasionally receive promotional content from the Los Angeles Times.