Recipe: Fennel and sausage bread pudding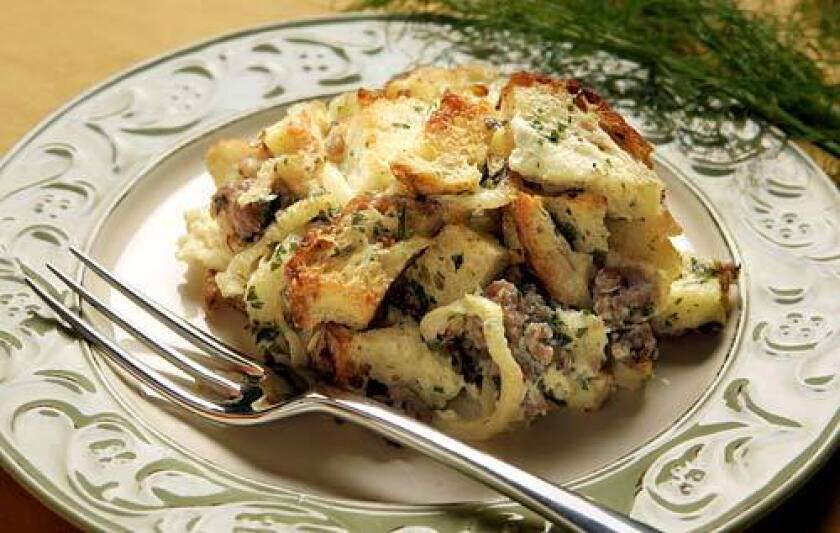 ---
FOR THE RECORD:Bread pudding recipe: A recipe for fennel and sausage bread pudding in the Oct. 17 Food section called for three links of mild Italian sausage, about 15 to 18 ounces each. The sausage should be 15 to 18 ounces total. --
---
Total time: 1 hour, 25 minutes
Servings: 6 to 8
2 tablespoons butter, plus more for buttering the pan
3 cups whole milk
1/2 teaspoon fennel seed
1/8 teaspoon freshly ground black pepper
3 links mild Italian sausage (about 15 to 18 ounces total)
2 tablespoons olive oil
2 large fennel bulbs, trimmed, cored and thinly sliced crosswise (about 4 cups)
1 tablespoon minced shallots
1/2 teaspoon kosher salt
5 eggs
8 cups stale sourdough bread, crust on, cut or torn into about 1/2 -inch pieces (about a 1-pound loaf)
1/4 cup finely chopped fresh parsley
1. Heat the oven to 375 degrees and butter a 9-by-13-inch baking dish. In a medium saucepan, combine the milk, fennel seeds and black pepper. Heat over high heat until just before the milk reaches a simmer. Remove from the heat and allow to cool.
2. Remove the sausage from its casings and break apart into small pieces in a medium sauté pan. Cook over medium heat until the sausage is thoroughly cooked and beginning to brown. Remove the sausage from the pan and set aside on a plate covered with a paper towel to absorb excess oil.
3. Wipe out the pan and heat the 2 tablespoons of butter and the olive oil over medium heat until frothy. Add the fennel and cook until caramelized, about 20 to 25 minutes. Add the shallots and salt and cook for an additional 2 minutes, stirring frequently. Remove from the heat and set aside.
4. In a large bowl, whisk the eggs. Whisk in the cooled milk and then stir in the bread, sausage, fennel mixture and parsley until well combined. Pour the mixture into the baking dish, pressing down to make sure the bread is submerged. Let the mixture sit for about 15 minutes while the bread absorbs the liquid.
5. Bake for 35 minutes, until golden brown, rotating once for even cooking. Serve immediately.
Each of 8 servings: 434 calories; 19 grams protein; 39 grams carbohydrates; 3 grams fiber; 23 grams fat; 8 grams saturated fat; 167 mg. cholesterol; 896 mg. sodium.
---
The essential weekly guide to enjoying the outdoors in Southern California. Insider tips on the best of our beaches, trails, parks, deserts, forests and mountains.
You may occasionally receive promotional content from the Los Angeles Times.