Bar Marmont, back in the game
The Bar Marmont is looking a bit fresher since coming back under the wing of the Chateau Marmont's owner, André Balazs. Strings of Chinese lanterns decorate the entrance to the front patio on the Sunset Strip.
(Ken Hively / LAT)
Halibut comes with a romesco sauce, on a bed of chorizo and clams.
(Ken Hively / LAT)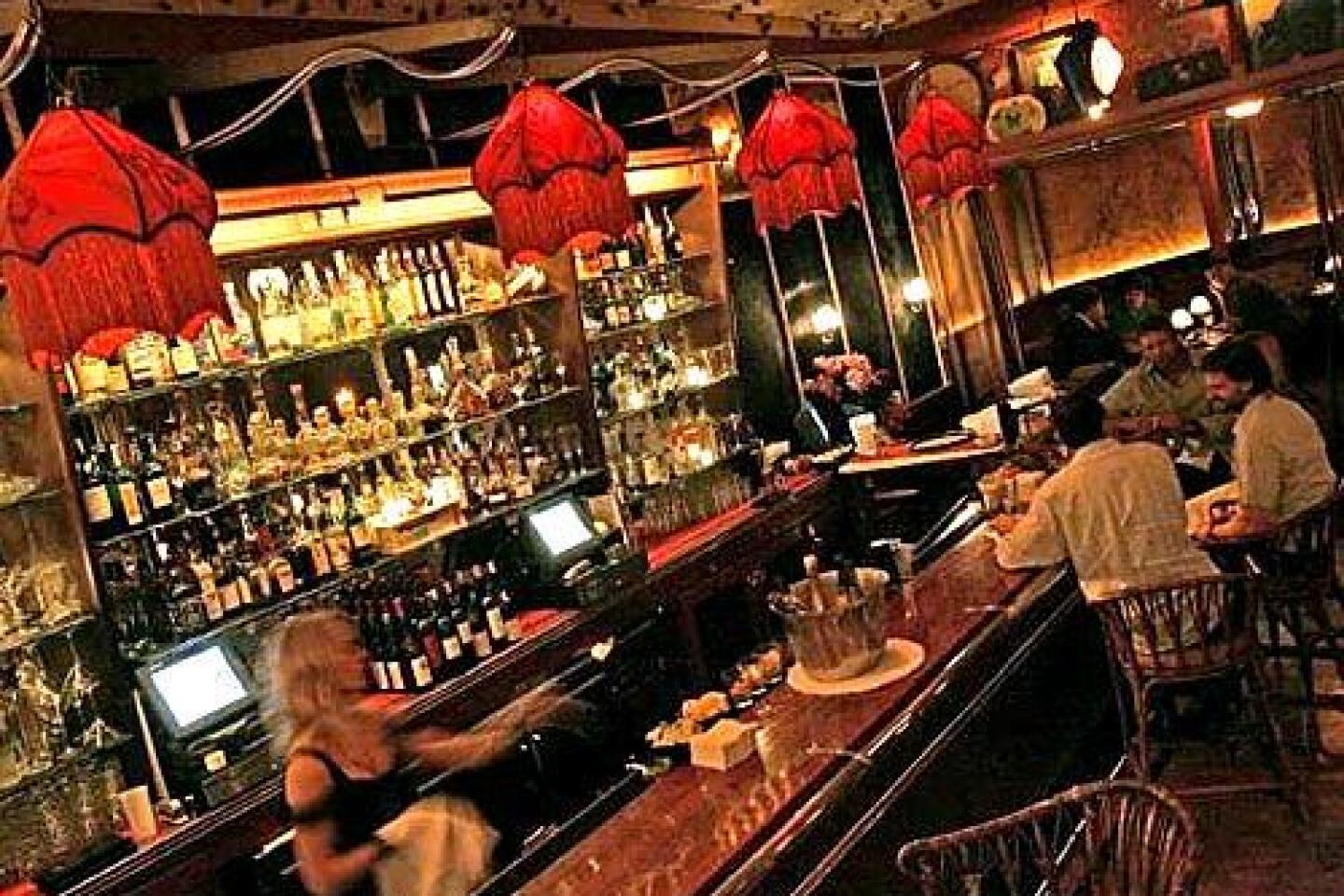 The main bar, with its black lacquered walls and swaying red silk lanterns, offers old-style glamour.
(Ken Hively / LAT)
Renovation in the Bar Marmont's long, narrow dining room includes skylights fringed with dangling succulents. Curvy black chairs line up along the plush banquettes.
(Ken Hively / LAT)
Carolynn Spence comes to Bar Marmont from New York's Spotted Pig, a gastropub where she was chef de cuisine.
(Ken Hively / LAT)
WHEN you slide into the head of the line to park your car at Bar Marmont on a Friday or Saturday night, the valet will ask for $18 -- up front. Ouch. Welcome to the Sunset Strip. But don't let this high-handed tactic put you off going inside the once and forever hipster haunt. Bar Marmont is much more than another trendy clip joint. Now that the fabled hotel Chateau Marmont on the hill above has regained control, its namesake bar-restaurant is back in the game.
The space had been run by entrepreneur Sean MacPherson (Swingers, Bar Lubitsch, etc.) until earlier this year, when Chateau Marmont owner André Balazs declined to extend the lease. First order of business was to freshen up the place. Nothing too radical, just some slight, respectful touch-ups. To the casual eye, the warren of long skinny rooms looks very much the same. The scrapes and scars of years of partying aren't as evident, though it still has a louche glamour. And nobody's touched the butterflies, moths and dragonflies glued to the ceiling. The only change I could swear to other than the reupholstered banquettes is the rectangular open skylight cut into the dining room roof, letting in a slight, welcome breeze and offering a view of a sliver of sky fringed by dangling succulents.
The most dramatic change is in the food. And it's a big one. In a smart move, Balazs hired Carolynn Spence, former chef de cuisine of the Spotted Pig, the New York gastropub where the city's chefs head after work. Bar Marmont used to be pure scenery, but now you can also eat Spence's ingenious bar snacks and hearty pub food.
It still is quite the scene.
An oil portrait of Ho Chi Minh hangs above the maitre d's station. Chinese lanterns made of wire and rice paper are strung across the entrance to the front patio bar where all the bad boys and girls congregate, puffing away like sailors on leave. The crowd is as eclectic as it ever gets in L.A., more so the later the hour.
--
More boozy prunes, please
THE main bar with its black lacquered walls and swaying red silk lanterns is down a few steps from the long, narrow dining room, which is all yellowed ivory with a wonderful old-fashioned painted tile floor and curvy black chairs lined up along the plush banquettes. The whole effect is romantic and mysterious, the lights dim enough that everyone disappears in the tenebrous light. It feels like a dream.
Spence's lusty food is no dream, though. It's rustic and direct -- she doesn't know how to do dainty -- and comes on like a powerhouse. The menu isn't massive, maybe a dozen appetizers and first courses, 10 mains and some sides.
Her bar snacks are smart and delicious with drinks. First up, "boozy bacon prunes," deliriously delicious bites of soft, velvety prune wrapped in crisp salty bacon. Make that two orders. Then there are her famous potato chips.
Hand-made chips have got to be one of God's gifts to drinkers. Spence's are billed as warm BBQ potato chips. The first time I ordered them, I burst out laughing when confronted with a basket of what must be the biggest chips the world has ever seen. Made from humongous baking potatoes, they're rubbed with a secret blend of spices -- it has to include paprika and chile and salt -- until they resemble sheaves of leather. They're also really, really salty, which is, of course, perfect with beer. But the cool, creamy Roquefort dip helps tame these guys. I don't know, somehow the entire basket disappeared.
I love that she makes gougères, those golden cheese puffs Burgundian households serve visitors with their wine. The Gruyère in the dough tends to make wines show well.
Two can share an assorted tapas plate, and they're real tapas too. A long serving board comes covered with half a dozen items: baby block-sized cubes of Spanish potato tortilla with Manchego cheese, spunky chorizo, squid stuffed with tapenade, wild mushrooms cooked in sherry and some little toasts covered with a mess of roasted red peppers and anchovy. Oh, and a bowl of fried chickpeas. Unfussy and delicious, this plate can keep you busy for a while.
Waiters here have seen everything, and however you want to eat, they will cheerfully accommodate. Order in dribbles or everything at once, no problem. The one time we had to wait for our wine, it was because our waitress had spilled a tray over herself and had to change into another uniform -- if you can call a short sundress a uniform.
Spence goes for bold flavors, but nothing I've had has been overwrought. This is food from someone who loves to eat.
Like the Spotted Pig, Bar Marmont is known for its late-night scene. Most nights the place only gets going around 11, when they turn the lights even lower and ramp up the music. In most places, it's annoying, but here the eclectic soundtrack grabs your interest. Much of it I've never heard before, but I'm listening. And so is everybody else.
I'm also eating oxtail bruschetta -- a slab of grilled country bread topped with a rich, unctuous oxtail stew that resembles pulled pork, crowned with bright emerald flat-leaved parsley. Not chopped -- entire leaves. Fried artichokes are a must too. They're steamed and then fried with sprigs of rosemary so that they're soft on the inside, crisp on the outside, ready to dip into an assertive lemon aioli. Smoked trout is another great appetizer to share, a plate of small potato skins filled with smoked trout and topped with crème fraîche.
--
Very warm reds
MOST of my favorites, as you can see, are from the bar snacks and appetizers, which is not to disrespect the entrees at all. Sheep's milk ricotta gnocchi are wonderful, tender little bites strewed with sweet peas and speck (a smoked Italian ham). Halibut comes in an excellent romesco sauce, with chorizo and clams. Char-grilled porterhouse is very decent, if a bit thin. But if you want meat, go after the double-cut pork chop, mainly because the accompaniments suit it so well. Love those golf ball-sized corn fritters and Bourbon-braised peaches.
The wine list isn't big (I'm sure most people drink cocktails or beer), but it includes some appealing choices. My one complaint is that red wines are served very warm, so much so that they're really undrinkable at that temperature. I don't know where they're stored, but it's not good.
If you're drinking red, the best strategy is to start with either the C.V.N.E. (Compañia Vinícola del Norte de España)Rioja rosé (dry and delicious -- and already chilled) or the Thivin Brouilly Beaujolais. Because many people like to drink their Beaujolais cool, Bar Marmont keeps some bottles in the fridge. Order a second bottle of rouge at the same time and ask for it to be chilled in a bucket of ice and water, so by the time you finish your first bottle, the second will be the proper temperature.
Sometimes waiters get in a huff when you point out that the wine is warm. Not here. I think they know it's an issue and take care of getting an ice bucket immediately. But management has to solve the problem.
Sweet noshes include a dynamite salty pistachio crumble, which is like a brown butter tart loaded with pistachios and sprinkled with salt, so you get that delicious sweet-salt thing happening. There's also an affogato -- walnut Nocello ice cream drowned in espresso -- and a dreamy coconut crème caramel with toasted coconut shortbread. "Grasshopper walks into a bar cake" is better as a title than a dessert. It's a fudgy chocolate cake flavored like an after-dinner mint.
As we head out after 11, the party is just getting started. Groups of eight and 10 are squeezed around tables in the patio bar, it's three and four deep at the bar, and out front, the velvet rope holds back the crowd of folks that don't have reservations. And they look hungry. Where else can you eat so well on the Strip? Bar Marmont scores a hit with a gastropub menu from a chef who knows her way around a kitchen.
virbila@latimes.com
Rating: **
Location: 8171 Sunset Blvd., Hollywood, (323) 650-0575; https://www.chateaumarmont.com .
Ambience: Eccentric bar just below Chateau Marmont hotel with a romantic décor and a new menu of lusty bar snacks and food from chef Carolynn Spence.
Service: Friendly and adaptable.
Price: Bar snacks, $5 to $7; appetizers, $8 to $18; main courses, $19 to $29; desserts, $8.
Best dishes: Boozy bacon prunes, gougères, crispy rosemary artichokes, fried squid, oxtail bruschetta, sheep's-milk ricotta gnocchi, double-cut pork chop, burger, corn fritters.
Wine list: Short, but with some good, well-priced selections; no corkage fee.
Best table: The banquette in an alcove.
Details: Open from 6 p.m. to 2 a.m. daily. Food service until 12:30 a.m.
Rating is based on food, service and ambience, with price taken into account in relation to quality. ****: Outstanding on every level. ***: Excellent. **: Very good. *: Good. No star: Poor to satisfactory.
Get our L.A. Goes Out newsletter, with the week's best events, to help you explore and experience our city.
You may occasionally receive promotional content from the Los Angeles Times.