Recipe: Oatmeal raisin cookies from Auntie Em's Kitchen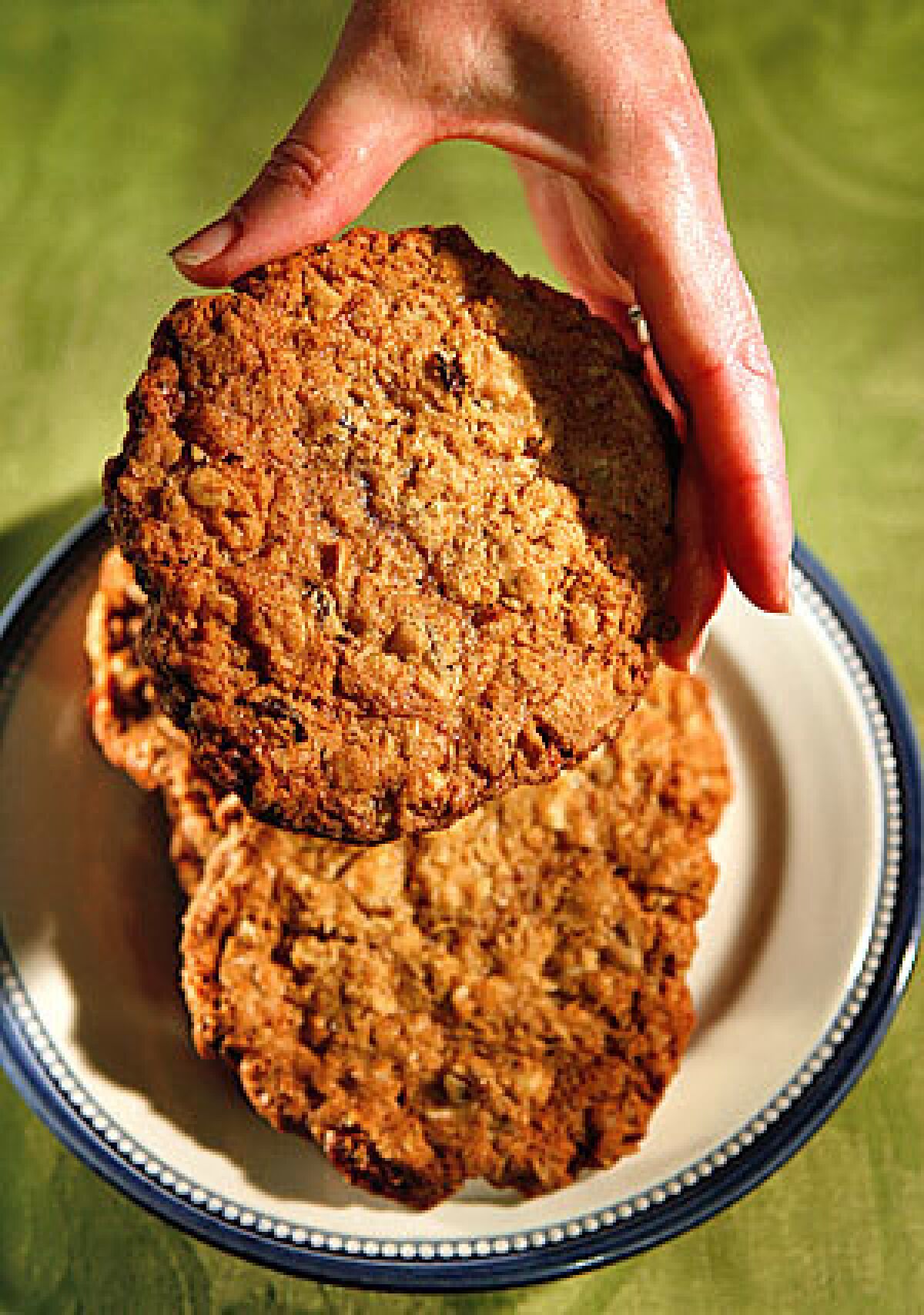 Dear SOS: I was at Auntie Em's Kitchen in Eagle Rock today for the first time. While they are known for their amazing cupcakes and fantastic food, today I had the best oatmeal cookie I've ever eaten. It was thin, chewy and crispy at the same time, with subtle hints of spices. Absolutely delicious! I'm sorry I didn't bring home a few more. Do you think they might share the recipe with us?
Michelle Richards
Santa Monica
Dear Michelle: These oatmeal cookies are packed with oats and raisins, and the scent of cinnamon and vanilla as they bake is all but overpowering. And you're right: with crisp outer edges and wonderfully chewy centers, these combine the best of both cookie worlds. You might want to plan ahead and make a double batch.
Auntie Em's Kitchen oatmeal raisin cookiesTotal time: 30 minutes, plus baking timeServings: 2 dozen large cookiesNote: Adapted from chef Michelle Risucci of Auntie Em's Kitchen.1 1/2 cups (3 sticks) butter, room temperature1 1/3 cups (10 1/2 ounces) sugar1 1/3 cups (10 1/2 ounces) light brown sugar3 eggs1 1/2 teaspoons vanilla extract3 cups old-fashioned rolled oats2 cups plus 2 tablespoons (8 1/2 ounces) flour 3/4 cup wheat germ1 1/2 teaspoons baking soda1 1/2 teaspoons baking powder 3/4 teaspoon ground cinnamon 3/4 teaspoon salt1 1/2 cups ( 1/2 pound) golden raisins1. Heat the oven to 350 degrees.2. In a stand mixer fitted with the paddle attachment, or in a large bowl with a hand mixer, cream together the butter and sugars until light and fluffy. With the mixer running, add the eggs, one at a time, until each is incorporated. Stir in the vanilla extract.3. In a medium bowl, mix together the oats, flour, wheat germ, baking soda, baking powder, cinnamon and salt.4. With the mixer on low speed, gradually add the dry ingredients until just combined. Gently fold in the raisins.5. Line several baking sheets with parchment paper. Scoop one-fourth cup dough for each cookie and slightly flatten them, leaving 2 inches between each cookie (they will spread). Slightly flatten the top of each cookie and bake one tray at a time, on the center rack, for consistent baking and coloring. The cookies will be done when set and lightly colored and the edges are slightly browned, 12 to 15 minutes.Each cookie: 317 calories; 5 grams protein; 47 grams carbohydrates; 2 grams fiber; 13 grams fat; 8 grams saturated fat; 56 mg. cholesterol; 199 mg. sodium.
Got an S.O.S. request? Send it to noelle.carter@latimes.com or Culinary SOS, Food, Los Angeles Times, 202 W. 1st St., Los Angeles, CA 90012. Please include your name and phone number and the restaurant's phone number.
Get our L.A. Goes Out newsletter, with the week's best events, to help you explore and experience our city.
You may occasionally receive promotional content from the Los Angeles Times.