Beverly D'Angelo's Beverly Hills home listed at $2,185,000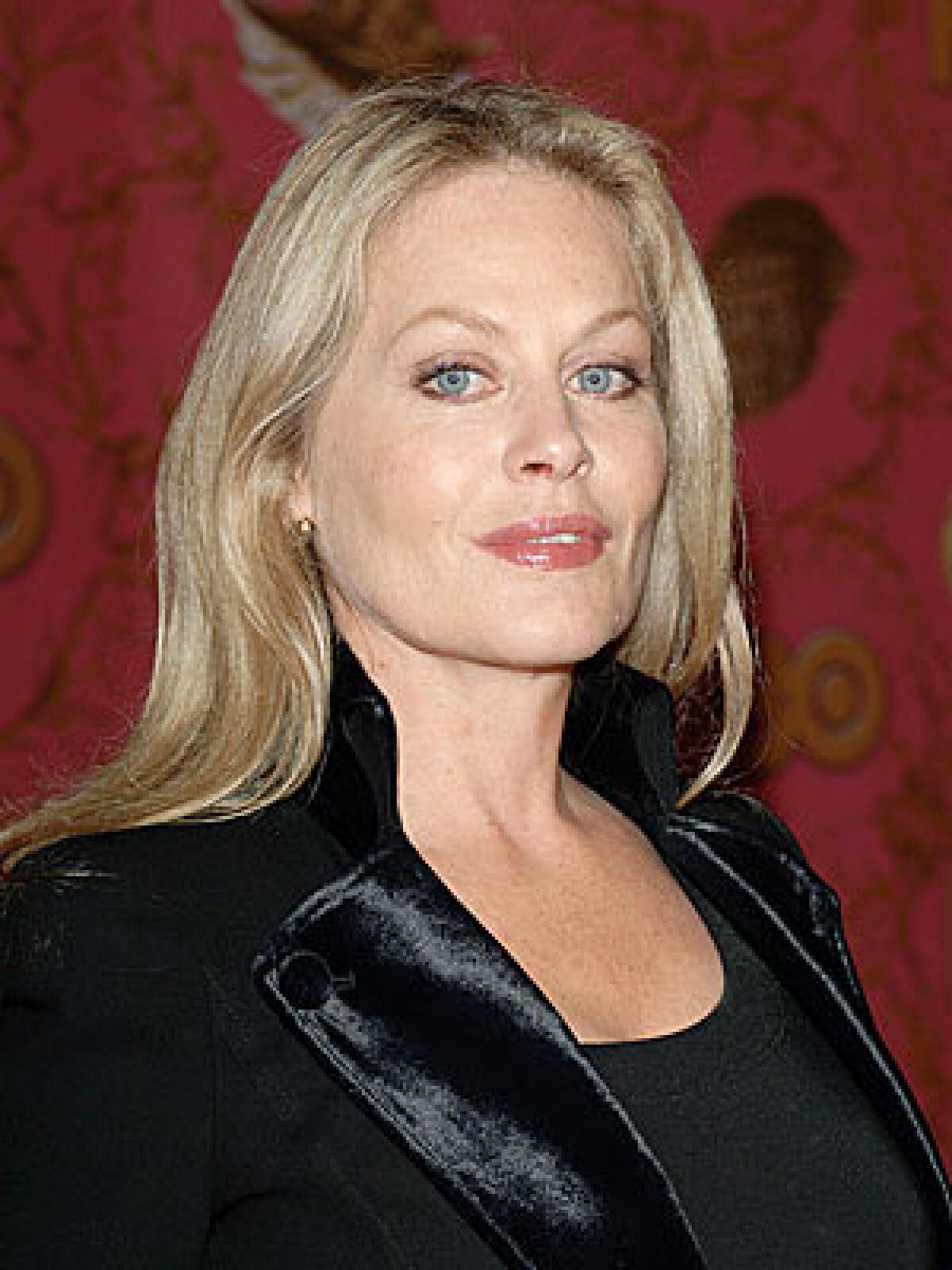 There is much to envy about actress Beverly D'Angelo: ageless beauty, a Hollywood career of lasting duration, the fact that hunky Al Pacino parked his slippers at her front door for years and that she owns a 1920s Spanish-style gem of a house in Beverly Hills that has come on the market at $2,185,000.
---
FOR THE RECORD:
Alan Ladd's wife: Saturday's Hot Property column gave the name of actor Alan Ladd's wife as Carol. The correct name is Sue Carol. —

---
The five-bedroom, 4 1/2 -bathroom, 4,045-square-foot house has a two-story entryway, arched doorways and hardwood floors.
There is a step-down formal living room with beamed ceilings, garden views and a detached studio with a porch, pool and courtyard.
D'Angelo, 57, has recurring roles as alpha-female Barbara "Babs" Miller in the HBO series "Entourage" and defense attorney Rebecca Balthus in " Law & Order: Special Victims Unit." She starred in several " National Lampoon" movies and, closer to home, played Kitty Menendez in "Menendez: A Killing in Beverly Hills" (1994).
Ginger Glass and Jessica Juyent, both of Coldwell Banker Beverly Hills, share the listing.
Genuine gold in Hollywood Hills
"Body of Lies" and "Fool's Gold" producer Donald De Line just shaved about $400,000 off the price of his Hollywood Hills home, now listed for $4.35 million.
The five-bedroom, 5 1/2 -bathroom 1936 villa has three fireplaces and a formal dining room-library. The public rooms overlook a soccer field-sized lawn. The 4,689-square-foot house features an outdoor pavilion with a fireplace near the pool and a guesthouse with a bathroom.
The property was listed in November at $4,750,000.
"Body of Lies" (2008) starred Leonardo DiCaprio and Russell Crowe; "Fool's Gold" (2008) featured Matthew McConaughey, Kate Hudson and Donald Sutherland.
De Line, past head of both Paramount and Touchstone studios, was also a producer of "The Italian Job" (2003), "The Stepford Wives" (2004) and "Without a Paddle" (2004).
Ernie Carswell of Teles Properties Inc., Beverly Hills, is the listing agent.
This one's coming out of its shell
First, there were John, Paul, George and Ringo. Then came Leonardo, Raphael, Michelangelo and Donatello -- the Teenage Mutant Ninja Turtles created by Kevin Eastman. We can argue all day about which quartet will ultimately have the deepest impact on pop culture, but for now, Eastman has a house to sell.
The mastermind behind the concept of having four turtle mutants battle evil megalomaniacs from their home in a Manhattan sewer just lowered the price of his view home in Beverly Hills to $3,495,000 from $3,995,000.
It's been on the market since August.
The five-bedroom, six-bathroom Mediterranean-style home has 5,458 square feet and is in a guard-gated community. The villa sits on a double lot, which could be split. In addition to the main house, there is a pool, spa, poolhouse (or guesthouse) and an additional detached structure that can be used as a studio, office or gym. The main house has high ceilings, hardwood floors and an attached garage.
Eastman's Ninja Turtles originated in a comic book that quickly became one of the most popular comics of the early 1980s. Toy figurines and a TV series followed, and at the height of Turtlemania, there were mutant turtles on toothbrushes, backpacks, Pez dispensers and seemingly everything else.
Michael Eisenberg of Keller Williams Realty, Beverly Hills, has the listing.
Private happy hour in Los Feliz
Who needs a puny old wine cellar when you can buy a house with a full-fledged pub in it? And not just any old pub -- one where Bette Davis, Bing Crosby, Louis Armstrong, Ginger Rogers and hundreds of others carved their names in the bar top. Imagine falling off the same stools where the Four Horsemen of Notre Dame once perched.
The bar, and the 4,100-square-foot house that surrounds it, was once the home of actor Alan Ladd and his agent wife, Carol, who apparently really liked to entertain. The Los Feliz property just sold for $2.55 million, after being listed for $3,495,000 for a relatively short 79 days on the market.
The new owner of the landmark property is songwriter and composer Scott Cutler.
The four-bedroom, 3 1/2 -bathroom house, designed between 1926 and 1928, was the work of architect Marshall P. Wilkinson. It has high ceilings, hardwood floors, four fire- places -- including one each in the kitchen and bar. There are also park-like grounds with a koi pond and patio. The home has original wood moldings, an intimate reading nook and an enhanced foyer with hand-painted Gracie wallpaper. The upgraded gourmet kitchen has a Viking stove and soapstone countertops.
The bar, called the Silent Woman Pub, saw a ton of celebrity foot traffic during Hollywood's Golden Era and the Prohibition.
Ladd, who died in 1964, starred in the 1953 western "Shane."
---
FOR THE RECORD:
Alan Ladd's wife: The Hot Property column in Saturday's Home section gave the name of actor Alan Ladd's wife as Carol. Her name is Sue Carol. —

---
New owner Cutler wrote "Sanctuary" with Madonna and "No Man's Woman" with Sinead O'Connor.
Lynne Beavers of Lynne Beavers & Associates, Los Angeles, had the listing. Eric Lowry of Coldwell Banker, Sunset Boulevard office, and Dawn Young of Coldwell Banker, Beverly Hills East, represented the buyer.
Get our L.A. Goes Out newsletter, with the week's best events, to help you explore and experience our city.
You may occasionally receive promotional content from the Los Angeles Times.